An EU Official Lets Loose on Trump
"I'm going to promote the independence of Ohio and the exit of Texas" if the U.S. president continues to promote Brexit to other EU members, Jean-Claude Juncker said.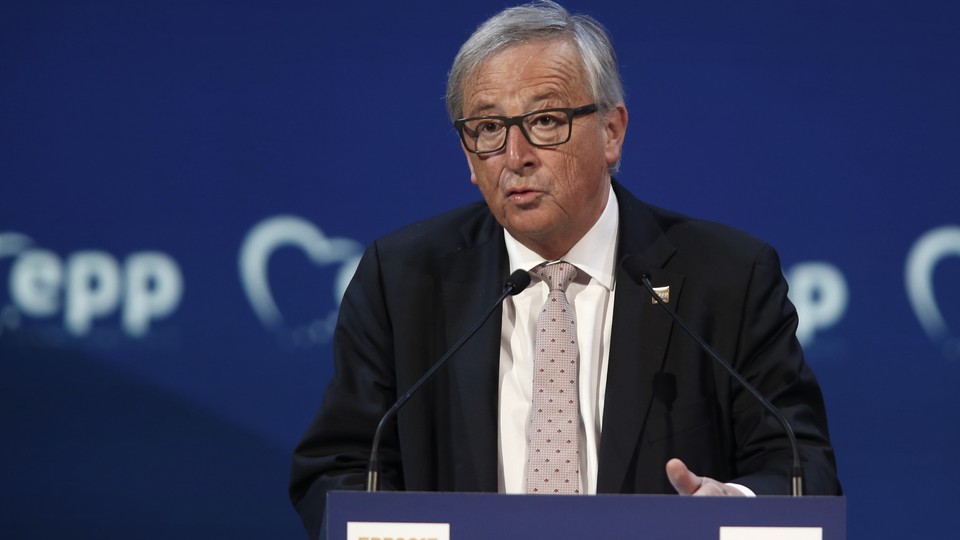 By the ordinarily staid standards of EU officials, Jean-Claude Juncker can be outspoken. The European Commission (EC) president might couch his criticisms in humor—such as when he addressed Hungarian Prime Minister Viktor Orban as a "dictator," shook his hand, and slapped his cheek (Orban wasn't amused)—but there's often little doubt what he means. So when on Thursday in Malta Juncker spoke to his fellow Christian Democrats from across Europe, it was not totally out of character for him to declare that if President Trump continues to promote Brexit to other members of the European Union, "I'm going to promote the independence of Ohio and the exit of Texas."
First, a brief lesson on what the EC is and what Juncker does: The EC, the EU's executive arm, proposes and enforces European law, manages EU policy, and represents the bloc internationally. The EC has 28 commissioners, one from each of the EU's member states, including a president, who leads the body. Juncker, who is about halfway through his five-year term, became EC president in 2014, against the wishes of EU leaders like David Cameron, who at the time was the U.K.'s prime minister. Cameron feared that Juncker, a former Luxembourg prime minister, represented the kind of unelected European bureaucrat whom the U.K. media and certain sections of the public had railed against for years. Juncker believes in open borders, and a federal EU with ever-closer relations among its members. This view, while perhaps appealing to global conglomerates keen to hire across borders without the need for cumbersome immigration restrictions, and workers who want to move, are less popular among EU states that want to retain more than a modicum of sovereignty while continuing to remain part of the EU and enjoy the benefits of membership.
Juncker's remarks in Malta came a day after Theresa May, the U.K. prime minister, officially invoked Article 50 of the Lisbon treaty and triggered two years of negotiations that would lead to her country's exit from the EU. The U.K. is the first country in the 28-member bloc to say it wants to leave. Juncker had not only warned against Brexit, as the U.K.'s exit is known, but labeled Britons who wanted to leave "deserters," said the consequences of a Brexit would be a "catastrophe" for the U.K., said it owned the EU 60 billion pounds, and added "Britain's example will make everyone realize that it's not worth leaving." All of which led even a British supporter of the U.K.'s continued membership of the EU to urge German Chancellor "Angela Merkel and whoever leads France … to … take Juncker and lock him in cell until the whole thing [Brexit] is over. He's a menace."
His critics may view him a "menace," but Juncker, who was described in one profile as an "arch-pragmatist with a love of a drink and a dry sense of humor" is passionate about Europe. He was born in 1954 in a continent ravaged by World War II, and he spent his entire professional life in politics working to strengthen European integration, a utopian ideal just decades ago. The EU today may conjure up jokes, complaints about bureaucracy, and fears of a European superstate, but the EU has fostered unprecedented unity in an area engaged in war almost constantly through history until 1945.
It's that vision of Europe that Juncker has tried to preserve. This month, he told European leaders, "It would do us all good if we simply stopped Brussels-bashing, EU-bashing," and laid out his vision for the EU as being "about more than market, goods and money." That view clashes with the one held by many Europeans, including politicians and parties that have made common cause with Trump, and have viewed his election as a boost to their own electoral prospects and as a win for populism against the elitist establishment that Juncker represents. Trump cheered Brexit, and appeared to suggest other EU members states will follow the U.K.'s lead. This prompted Juncker to comment in January, just before the American president's inauguration, that Trump should not be "indirectly encouraging" countries to leave the EU. "We don't go around calling on Ohio to pull out of the United States." Indeed, he said he told U.S. Vice President Mike Pence that Trump's alleged encouragement of other countries to emulate Brexit could result in a breakup of the EU and war in the Balkans. "If we leave them alone—Bosnia Herzegovina, Republika Srpska, Macedonia, Albania, all those countries—we will have war again," he told the Financial Times last week, referring to the bloody wars in the 1990s that followed the breakup of Yugoslavia.
Juncker is scheduled to visit Washington this month. It's unclear if he'll meet with Trump, and his remarks to the FT suggested he didn't really care. "They're trying to fix it [a meeting], but he has other priorities," he said. "By the way, he does not understand anything about Europe. He had Tusk [Donald Tusk, president of the European Council] on the phone and he thought it was me."
It's that quality that's unlikely to endear him in Trump's Washington. As a European official said of Juncker: He has "two fatal flaws—he has an opinion and he is not afraid to share it."