​​​​​​​Benoît Hamon: France's Utopian Candidate?
The far-left Socialist leader is seen as a long shot in next month's presidential contest.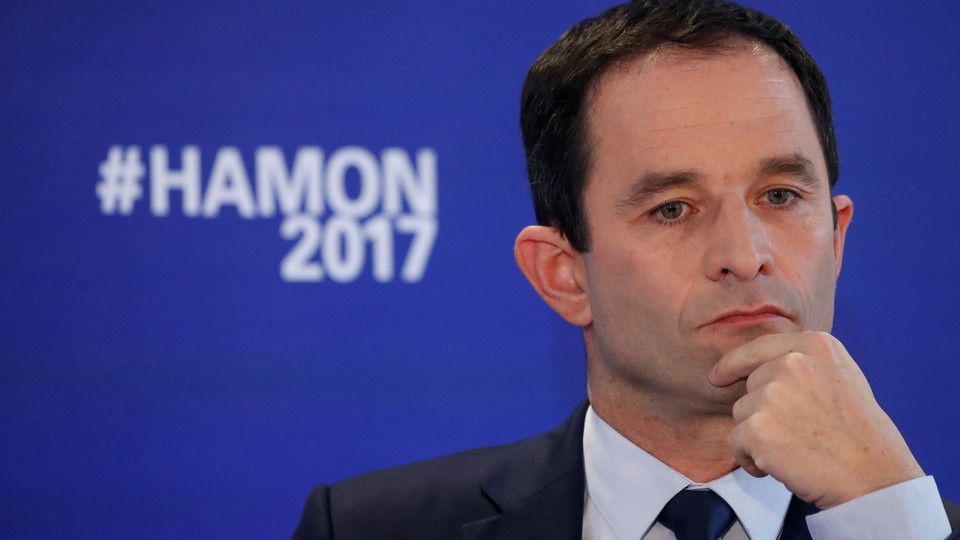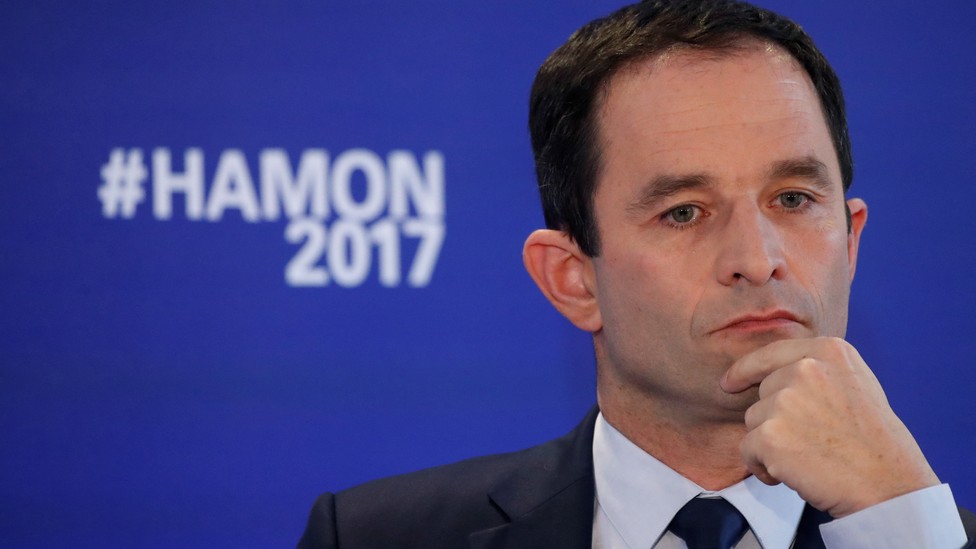 In January, Benoît Hamon, the far-left politician, beat out former Prime Minister Manuel Valls to lead the French Socialist Party's ticket in next month's presidential contest, but you wouldn't know it by some of the party members' endorsements.
In the past few weeks, Socialist leaders like Jean-Yves Le Drian, the defense minister, and Thierry Braillard, the sports minister, have thrown their support behind Hamon's independent rival Emmanuel Macron, signaling a divide within a party already bruised by the deeply unpopular presidency of François Hollande. This division only widened Wednesday after Valls announced his decision to defect from the Socialists and endorse Macron—a candidate he once dismissed as "populism-lite." Valls told French broadcaster BFMTV that his decision "isn't out of love for the candidate" but rather "about being reasonable."
But for Hamon, the lack of support from his party's more centrist members may not be such a bad thing. The 49-year-old Brittany native has actively tried to distance himself from the current Socialist government, in which he briefly served as finance and education minister before quitting in August 2014, citing opposition to the government's more centrist economic policies. In response, Hollande reportedly asked: "What would Benoît Hamon be without the Socialist Party?," to which he himself answered, "Not much."
Hamon has long represented the far-left of the center-left party—a role that has earned him comparisons to Jeremy Corbyn, the leader of the U.K. Labour party. His more than 100-point platform, which Hamon says aims to "make France's heart beat," would reduce the 35-hour working week by three hours, impose a "robot tax" on automatization that replaces workers with machines, and establish a universal basic income of 750 euros ($815) for all citizens—an endeavor opponents say could cost as much as 400 billion euros a year (though Hamon estimates it will cost closer to 300 billion euros).
It's a platform many of his critics have described as utopian. It's also one Dr. David Lees, a researcher on French politics at Warwick University, says could sway the more left-leaning voters who make up the party's base.
"He's essentially saying, 'I'm going to break the status quo. I'm going to break with what's come beforehand' in terms of the Socialist party and create something new there," Lees told me in an interview. "That certainly will appeal to some people who are very much disillusioned with François Hollande and his legacy."
Though Hamon's left-leaning platform may successfully distance himself from his deeply unpopular predecessor, it does little to solve another challenge: distinguishing himself from Jean-Luc Mélenchon, the similarly far-left candidate. The 63-year-old former education minister and veteran Socialist politician quit the party after 35 years in 2008 to create the Parti de Gauche, or Left Party. In this current presidential bid, however, Mélenchon has no formal party backing, opting instead to run under the banner of a movement he calls La France insoumise, or "Unsubmissive France."
"Mélenchon is very radical or perceived to be very radical," Lees said. "Hamon therefore really needs to push more toward the right, but he seems to be instead careering really toward the left."
This lack of differentiation is probably best seen in opinion polls, which earlier this month put both candidates neck-and-neck for fourth place behind Marine Le Pen, the far-right candidate and first-round frontrunner, Macron, the independent candidate and Le Pen's projected second-round rival, and François Fillon, the center-right Republican candidate. And though both candidates reportedly entertained talks of forming an alliance last month, they failed to reach an agreement. Since the candidates' first televised debate last week, in which they sparred for the same pool of voters, Hamon has fallen behind in polls, with an Ifop poll Monday showing him taking 10.5 percent of the vote compared to Mélenchon's 14 percent.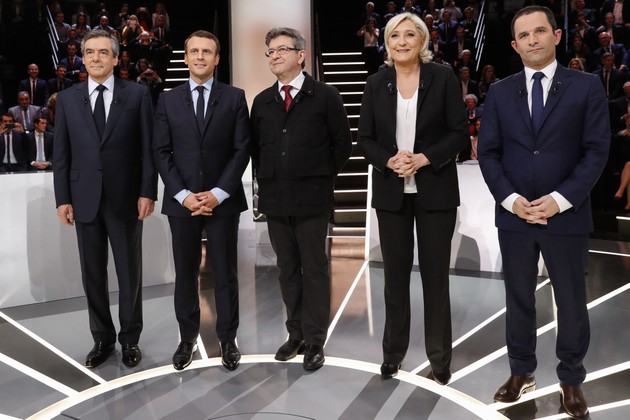 Though neither candidate is expected to advance to the election's second round of voting in May, a loss to Mélenchon would be a major blow to an already fragmented Socialist party.
"The Socialists are really done for at the moment," Lees said. "They need a bit of time to kind of regroup and reshape themselves as the center-right did post-Hollande. ... They'll probably need to rethink their image a bit."
In some ways, he added, Hamon never really stood a chance.
"I think it could be anyone instead of Hamon," Less said, "and it wouldn't make a huge amount of difference."