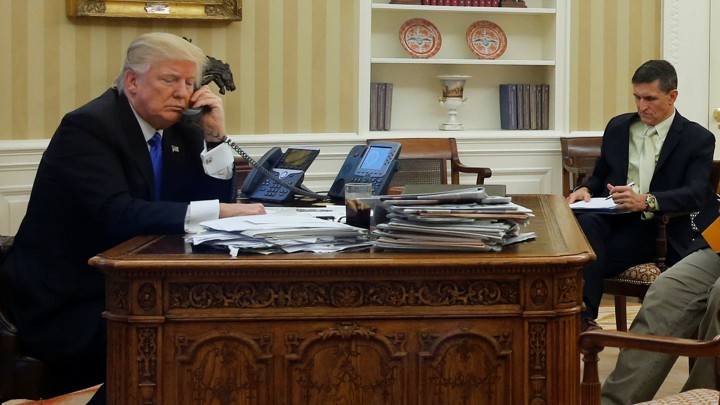 Donald Trump's reportedly tense conversation on Saturday about refugees with Australian Prime Minister Malcolm Turnbull is indicative of just how much the president wants to limit who's allowed into the U.S.
At issue are the 1,250 refugees from Afghanistan, Iran, Malaysia, Vietnam, and other countries that the Obama administration committed to accepting from an offshore Australian detention center after last November's presidential election. That deal came two months after Turnbull agreed to help the U.S. resettle refugees fleeing violence in El Salvador, Guatemala, and Honduras who are in a processing center in Costa Rica. At the time, Australian officials rejected the idea that these Central American refugees would be swapped for those being detained in the offshore detention centers. "There will not be a people swap," Scott Ryan, a special minister of state, said at the time.
When asked last November about whether the incoming Trump administration would maintain that commitment to accept the refugees, Turnbull was circumspect: "We deal with one administration at a time," he said.
Indeed, he may have had reason to be cautious: Trump's executive order last week suspended, among other categories of people, the U.S. refugee intake for 120 days, and barred all Syrian refugees indefinitely. The goal, Trump said, was to keep the homeland safe. Refugee advocates, human-rights groups, and even U.S. government officials, have criticized the order. But Australia's refugee policy has long been the focus of similar criticism.
Although Australia accepted 13,756 refugees in 2014-15, the period for which the most recent data are available, the country's policy of offshore-detention centers for asylum-seekers who arrive by boat has been widely criticized. Under a longstanding policy, Australia maintained two offshore facilities—one in Nauru and one in Manus, located in Papua New Guinea. The numbers themselves are relatively small—about 400 in Nauru and more than 800 in Manus, according to the most recent data—but the reportedly poor conditions at the centers, and the time that asylum-seekers spend there, coupled with deaths and reports of sexual abuse, have made them an easy target for criticism. Indeed, Papua New Guinea's Supreme Court apparently agreed, ordering the government in April 2016 to close the Manus Island center, calling the facility a violation of the migrants' personal liberties.
My colleague J. Weston Phippen, who wrote last year about the Australian policy here, pointed out:
To be sure, it's not that Australia has an issue with refugees––in fact, it has agreed to resettle 12,000 Syrians, atop the refugees it typically takes through its Humanitarian Programme. It granted 13,800 refugee visas between 2013 and 2014, and 20,000 between 2012 and 2013.

But the arrivals by sea seem to prompt anger. … Those that are being resettled through its Humanitarian Programme, meanwhile, are registered refugees being accepted under Australia's international obligations. The two main parties also contend that its policies deter human-smuggling.  
It's these offshore detainees—about 1,200 of them—who would be coming to the U.S. under the onetime deal struck last November, terms of which were published by the Guardian and others. Trump, who spoke to Turnbull last Friday, reportedly called it the "worst deal ever," according to The Washington Post—though Sean Spicer, the White House spokesman, on Thursday called the conversation "cordial," but said the president was "unbelievably disappointed in the previous administration's deal."
Trump, the Post said, reportedly accused Turnbull of seeking to export the "next Boston bombers"—a reference to the Tsarnaev brothers whose parents came to the U.S. from Russia on a tourist visa in 2002, and applied for, and received, political asylum—and told the Australian leader that Trump was "going to get killed" politically, apparently because the refugee intake would run counter to his campaign pledges of keeping the homeland safe from those who wish to enter the U.S. posing as refugees and attacking the homeland.
After news reports of the call emerged on Wednesday, Trump took to Twitter and cast doubts on whether the U.S. would keep its word.
Do you believe it? The Obama Administration agreed to take thousands of illegal immigrants from Australia. Why? I will study this dumb deal!

— Donald J. Trump (@realDonaldTrump) February 2, 2017
The Australian view of the call, as well as that of Spicer's was different.  
Turnbull said Thursday: "He is saying that this is not a deal he would have made, but the question is will he honor that commitment? He has already given it." Spicer, speaking Tuesday, said: "Those people—part of the deal is that they have to be vetted in the same manner that we're doing now."
"Extreme vetting" is what Trump has said all potential refugees to the U.S. should go through. The 120-day ban on refugees would allow the Trump administration to put in place new checks on who is allowed in. The top sources of refugees to the U.S. are Congolese, Somali, Burmese, Iraqi, and Syrian. They already undergo more rigorous screening than any other category of visitor to the U.S., often waiting as long as two years after they apply to be resettled in the country to make it to the United States.
The last group of refugees who were in transit when Trump announced the ban last week was due to arrive in the U.S. on Thursday; the refugees excluded citizens of seven Muslim or predominantly Muslim countries—Iran, Iraq, Libya, Sudan, Somalia, Yemen, and Syria. Those refugees, numbering in the tens of thousands, who had been previously cleared for arrival in the U.S. will likely have to restart their applications once the ban has expired, said Linda Hartke, president and CEO of Lutheran Immigration and Refugee Service.
Hartke pushed back at the idea that the U.S. must control the refugees it allows in in order to put "America first."
"This is a big, generous, free, strong, great country, and part of its strength has been the willingness and, in fact, the desire, to welcome newcomers to this country," she said. "If we turned the dial back and said 'Americans First,' this would be a thinly populated nation. The reality is the newcomer 20 years ago is the American today."