Crackdown in Pakistan
The military is targeting militants after a suicide bombing at a Sufi shrine.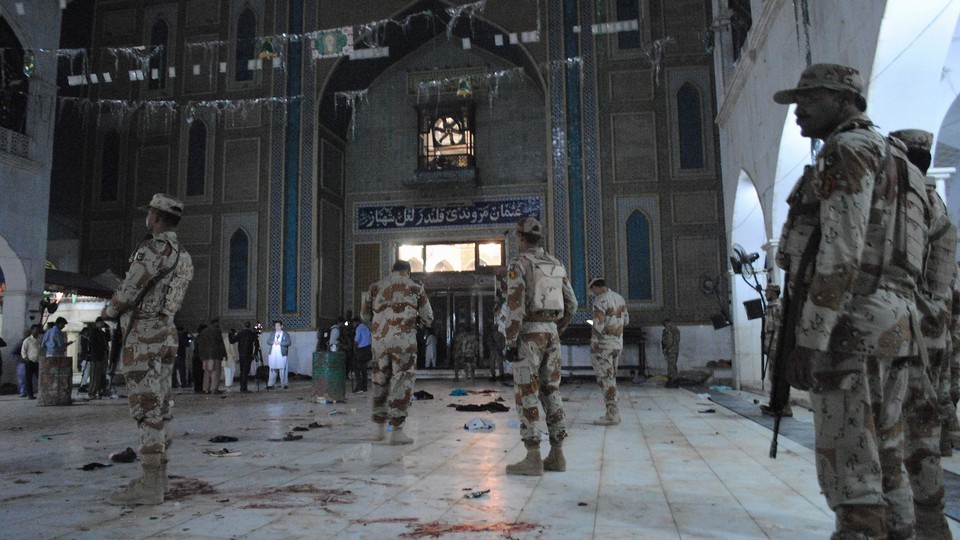 Just hours after a deadly blast killed at least 70 people and wounded more than 150 others at Lal Shahbaz Qalandar Sufi shrine in southern Pakistan Thursday, the country's military issued a series of tweets vowing "no more restraint for anyone."
Recent Ts acts are being exec on directions from hostile powers and from sanctuaries in Afghanistan. We shall defend and respond.

— Maj Gen Asif Ghafoor (@OfficialDGISPR) February 16, 2017
On Friday, about 100 suspected militants were killed and dozens more arrested in raids across Pakistan, according to Major General Asif Ghafoor, Pakistan's military spokesman.
Pakistan and Afghanistan share a porous border that militants have crossed easily for years. Two major groups have been involved in recent attacks inside Pakistan: The Pakistani Taliban and its offshoots and an ISIS affiliate. The Pakistani Taliban, which takes refuge in Afghanistan, has links to, but is distinct from, the Taliban operating inside Afghanistan.  The ISIS affiliate, which claimed Thursday's attack, is present in Nangarhar, the eastern Afghan province. Pakistan reportedly launched an assault on the area Friday.
Pakistani military authorities also said Friday they handed over a list of 76 militants present in Afghanistan, demanding their extradition. The names on the list weren't made public, but in the past Pakistan has said members of the Pakistani Taliban, including its chief, Mullah Fazlullah, are in Afghanistan. It's unclear if the Afghan military can do anything about it. Although the Afghan government controls Kabul and many other large cities, the Taliban and its allies enjoy wide support in more rural parts of the country, and, indeed, control large parts of Afghanistan.
Thursday's blast at the Sufi shrine is the deadliest to have taken place in Pakistan this year and the worst since March 2016 when at least 74 people were killed at a popular park in Lahore. In attacks in 2017, 120 people have been killed in total. Just last year, Pakistan's military launched an offensive in the tribal region that borders Afghanistan and claimed victory over militant groups that operate there. But the recent attacks dent those claims.
Most of these attacks, including a suicide bombing Monday in Lahore, which resulted in the deaths of 14 people, have been claimed by the Pakistan Taliban and its offshoots. Thursday's attack, however, was claimed by the Islamic State through its Amaq News Agency. The shrine was especially crowded Thursday as it coincided with Dhamal, a Sufi ritual known to attract worshippers of varied faiths from across the country. Sufism, a mystical form of Islam, has a centuries-old tradition in Pakistan, but ISIS, which observes an extreme version of the faith, views Sufis as heretics—and hence worthy of attacks. Sufi shrines have also been attacked by the Taliban.
Pakistani authorities said the attacker entered the crowded shrine and threw a grenade, which failed to go off, before blowing himself up. Pakistani Prime Minister Nawaz Sharif called for national unity.
"The past few days have been hard, and my heart is with the victims," Sharif said in a statement. "But we can't let these events divide us, or scare us. We must stand united in this struggle for the Pakistani identity, and universal humanity."
Pakistani military officials signaled the possibility of a more direct response. Qamar Bajwa, the country's army chief, vowed that "each drop of nation's blood shall be revenged, and revenged immediately." Ghafoor, the military spokesman, pinned the series of attacks on "hostile powers" from neighboring Afghanistan before announcing the Pakistan-Afghanistan border's immediate closure.
Relations between the two countries are tense. Pakistan was one of two countries that recognized the Taliban regime (the United Arab Emirates was the other), which was ousted from power after the U.S.-led invasion of Afghanistan following the attacks of September 11, 2001. Many Taliban members, and their al-Qaeda allies, crossed into neighboring Pakistan, from where they frequently launched attacks in Afghanistan, which was engaged in an uphill attempt to build a modern state. The Afghan government accused Pakistan of supporting the militants who carried out attacks on its soil, but Pakistan denies the accusation. More recently the roles have been reversed, with Pakistan accusing Afghanistan of providing safe havens for terrorists who carry out attacks on its side of the border.
The announced crackdown isn't the first time Pakistan has said it will target extremists. After 70 people were killed and scores others wounded last March in a suicide bombing orchestrated by Jamaat-ul-Ahrar, a Pakistan Taliban splinter group, the Pakistan paramilitary announced a crackdown on Islamist militants. That crackdown appeared to work—for a time.