How Is Your Life Situated in History?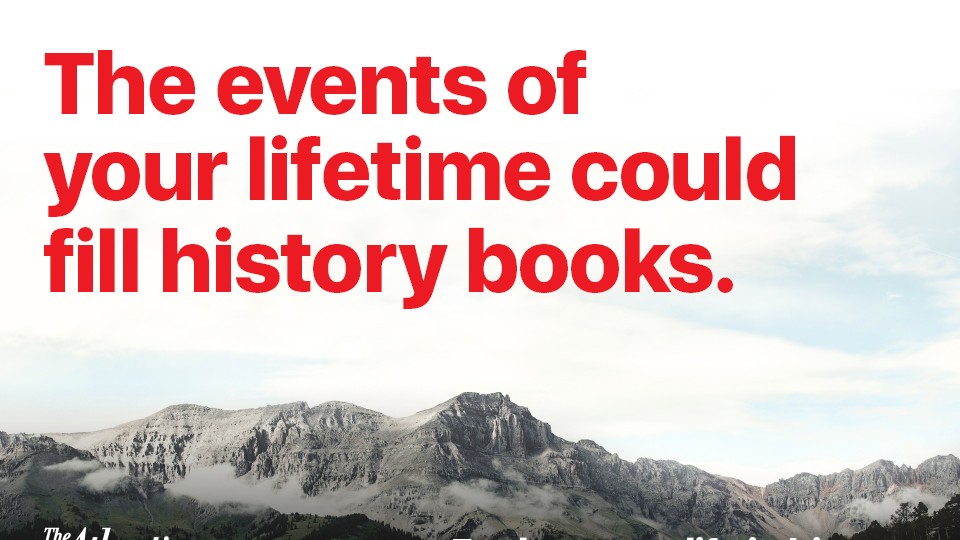 Editor's Note:
This article previously appeared in a different format as part of The Atlantic's Notes section, retired in 2021.
It's difficult to piece together, in the moment, which of the events we live through will be remembered over time. Will it be the resignation of a national security advisor weeks into a new presidency? Will it be the sight of people wearing shorts in the middle of winter, a chaser for the hottest year on record? Or will it be something else altogether, a domino that tumbled mostly out of sight, setting off a chain of events more significant than anything that grabbed headlines at the time? What historic events have you lived through that weren't thought of as historic when they happened?
Today, The Atlantic is launching something we call the Life Timeline. Enter your birthday, and the Life Timeline will show you a brief tour of the history that's happened all around you. You can think of it as a rearview mirror for your life, allowing you to view the milestones that dot your journey to this moment, stretching back until just before you were born. Just like history, each Life Timeline comprises many different types of events—delightful moments and tragic ones, world-changing milestones and moments merely worthy of note, some you probably remember, some you might have forgotten, and a few you might not have known about at all. Many are paired with stories from The Atlantic's archives, so that you can see how these events and their significance play out in the memory of this 160-year-old institution.
My Life Timeline tells me that right around the middle of my life, Google was founded. So right at this moment, I've lived in a world with Google just as long as I lived in the world without it, and as I age, I move further into a world where it's been around for most of my life. Those still-vivid pre-Google scavenger hunts through Dewey Decimal cards will start to recede deeper into the fog of memory. For me, the milestone is a reminder to mark my memories of that time before they get blurrier, to take a moment to think about what I might have gained and lost. But I imagine your Life Timeline will prompt different sorts of reflections.
We plan to continue adding to the Life Timeline over time and in response to your feedback. After viewing your own timeline, you can share your email with us to be notified of future updates. Whether you consider it a blessing or a curse, you're living through interesting times. And you've already lived through enough to fill history books. Consider this a sneak preview of what those books might say.