What Trump's Executive Order on Immigration Does—and Doesn't Do
The Trump administration appears to have reversed the ban on green-card holders from seven predominantly Muslim countries.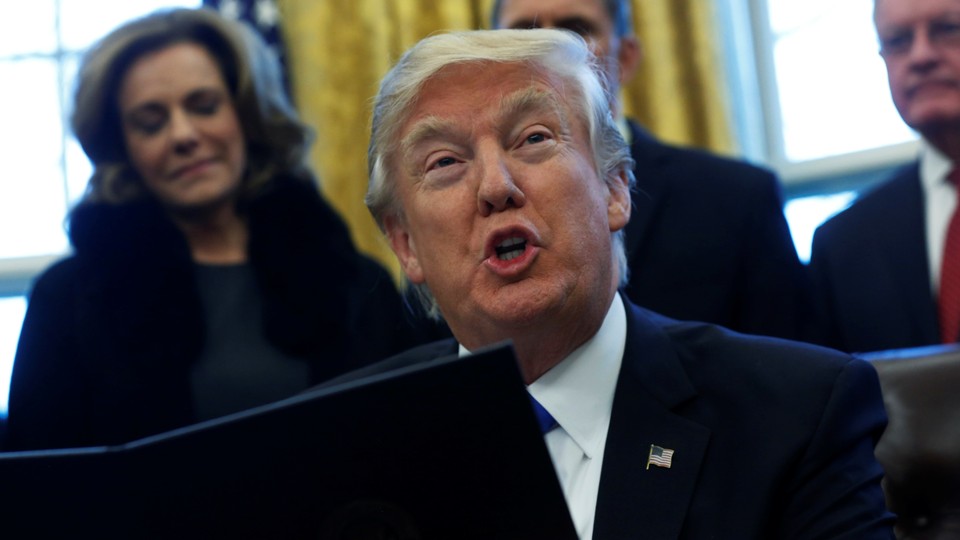 Updated on Monday, January 30, at 1:01 p.m.
President Trump signed on Friday an executive order that severely restricts immigration from seven Muslim countries, suspends all refugee admission for 120 days, and bars all Syrian refugees indefinitely. The order has been widely criticized and praised—but it led to massive protests at several airports across the country where people with valid documentation were detained. Legal challenges against those detentions were successful. The administration's response Sunday only made the situation more unclear, but by Monday there was more clarity.
Here's what the executive order does and doesn't do, the challenges to it, and how the Trump administration responded.
Who is not affected?
The executive order applies only to non-U.S. citizens, so anyone with U.S. citizenship—whether that person in natural-born or naturalized—is not affected. But on Sunday, Reince Preibus, the White House chief of staff, said on NBC's Meet the Press that Customs and Border Patrol (CBP) agents would have the "discretionary authority" to question U.S. citizens coming from the seven countries. CBP agents have had that authority even before Friday's executive order.
"I would suspect that if you're an American citizen traveling back and forth to Libya, you're likely to be subjected to further questioning when you come into an airport," he said.
Who is affected?
For 120 days, the order bars the entry of any refugee who is awaiting resettlement in the U.S. It also prohibits all Syrian refugees from entering the U.S. until further notice. Additionally, it bans the citizens of seven majority-Muslim countries—Iraq, Iran, Syria, Somalia, Sudan, Libya, and Yemen—from entering the U.S. on any visa category.*
On Saturday this included individuals who are permanent residents of the U.S. (green-card holders) who were traveling overseas to visit family or for work—though a senior administration official said their applications would be considered on a case-by-case basis. The official also said green-card holders from those countries who are in the U.S. will have to meet with a consular officer before leaving the U.S.
News reports suggested the White House overruled the Department of Homeland Security's recommendations on excluding green-card holders from the executive orders. Preibus, on Meet the Press, denied that, then appeared to suggest that the order won't affect permanent residents going forward, but when pressed appeared to contradict himself.
"We didn't overrule the Department of Homeland Security, as far as green-card holders moving forward, it doesn't affect them," he said. But when pressed by Chuck Todd, the show's host, on whether the order affected green-card holders, he replied: "Well, of course it does. If you're traveling back and forth, you're going to be subjected to further screening."
On Sunday evening, John Kelly, secretary of the Department of Homeland Security, offered more definitive guidance. "In applying the provisions of the president's executive order, I hereby deem the entry of lawful permanent residents to be in the national interest," he said in a statement. "Accordingly, absent the receipt of significant derogatory information indicating a serious threat to public safety and welfare, lawful permanent resident status will be a dispositive factor in our case-by-case determinations."
The order also targets individuals of those countries who hold dual citizenship with another country. For instance, an individual who holds both Iraqi and Canadian citizenships—though the U.K. foreign secretary said the U.S. had assured him it didn't apply to U.K. nationals.
It does not apply to individuals who hold U.S. citizenship along with citizenship of another country—though a CBP agent can presumably question such a person based on his or her discretion.
Why were those seven countries chosen?
Trump had made national security a centerpiece of his election campaign—at one point calling for a "total and complete" ban on all Muslims coming to the U.S. Although the executive order does not do that, Sean Spicer, the White House spokesman, said on ABC's This Week that the president "hit the ground running, had a flurry of activity, to do exactly what he said he was going to do."
Spicer noted that the seven counties put on the list were chosen by the Obama administration. Indeed, it has its roots in the visa-waiver program. The U.S. allows the citizens of more than 30 countries to visit for short stays without a visa under this program. But that visa waiver does not apply if a citizen of an eligible country has visited—with some exceptions—Iran, Iraq, Libya, Somalia, Sudan, Syria, or Yemen on or after March 1, 2011—under measures put in place by the Obama administration. Those individuals must apply for a visa at a U.S. consulate. These seven countries are listed under section 217(a)(12) of the INA, 8 U.S.C. 1187(a)(12) of the U.S. code, and it is this code that Trump's executive order cited while banning citizens of those nations.
What is the impact?
The number of permanent residents from these countries is relatively small. For instance, 1,016,518 green cards were issued in 2014. Of these, 19,153 went to Iraqis and 11,615 to Iranians, according to the Department of Homeland Security's data. These two countries make up the overwhelming majority of U.S. permanent residents from among the seven nations, which together have 500,000 permanent resident in the U.S., according to ProPublica. But the seven nations, as I reported this week, also account for 40 percent of U.S. refugee intake.
Trump himself seemed to dismiss the impact, tweeting Monday: "Only 109 people out of 325,000 were detained and held for questioning."
Numbers, however, seldom tell the whole story. There have been multiple reports since the executive order was signed of people being prevented from boarding flights; refugees, who had gone through the years-long process before being approved to come to the U.S., stranded in third countries; of Iraqis who had worked for years with the U.S. military being denied entry; of Iranian students stuck overseas; of U.S. tech companies recalling its foreign workers because of the possible impact. And there have been protests against the order at airports across the country, including at New York's JFK International Airport and Dulles Airport outside Washington, D.C. , and the Los Angeles International Airport where lawyers, demonstrators, and the media descended to witness the order's impact.
Is this a Muslim ban?
Technically, no. The ban includes seven majority Muslim countries, but by no means are these states the most populous Muslim countries, nor are they among the top sources of Muslim immigration to the U.S., nor have they produced terrorists in the same numbers as other Muslim countries not on the list. Indeed, Muslims from Saudi Arabia, Egypt, Pakistan, and other countries can still visit the U.S.
Still, advocacy groups challenging the order say a Muslim ban is precisely what it amounts to. Indeed, they cited former the words New York City Mayor Rudy Giuliani's comments Saturday on Fox News. Giuliani said that Trump had asked for a "Muslim ban," but one that was done legally. He said he and a panel of experts "focused on, instead of religion, danger."
"The areas of the world that create danger for us, which is a factual basis, not a religious basis," he said. "Perfectly legal, perfectly sensible."
He went onto say the ban was "not based on religion."
"It's based on places where there are substantial evidence that people are sending terrorists into our country," he said.
"What we've seen here is stunning," David Leopold, a Cleveland-based immigration lawyer who is a past president of the American Immigration Lawyers Association, said on a conference call Saturday with reporters. "No president ever ever has used the authority and statute of the law to ban people based on their religion, ban people based on their nationality."
He said President Carter's ban on Iranians in 1980 after the Islamic revolution "barred certain classifications, not the whole country."
Is there legal action?
Yes. Judges in four cities—Alexandria, Virginia; Boston; New York; and Seattle—ruled against the detention of individuals at airports—in cases filed by the ACLU and others. The rulings appear to be limited to those people already at U.S. airports or in transit. They do not appear to say anything about the legality of the president's actions. DHS said it would comply with the orders—and some,but not all, of the people being detained at airports were allowed to leave.
The rulings were in response to legal challenges filed Saturday by the ACLU on behalf of two Iraqis who were detained at JFK Airport. The group also filed what's known as a motion for class certification, which would allow it to represent others who say they were detained at airports and other ports of entry to the U.S. But there may be challenges ahead.
Indeed, Trump has broad discretion under the law to bar a class of person deemed detrimental to the U.S. from entering the country. Leopold, the immigration lawyer, said the issue will have to be resolved by the courts.
"The problem we've got there," Leopold said, " is that this is unprecedented."
---
* This article originally stated that the ban did not extend to non-Muslims from the seven countries; the ban extends to all citizens of those countries. We regret the error.