The Organization That Sent Tulsi Gabbard to Syria
The Ohio-based Arab American group has been linked to the Assad regime and called anti-Semitic—charges its leader rejects.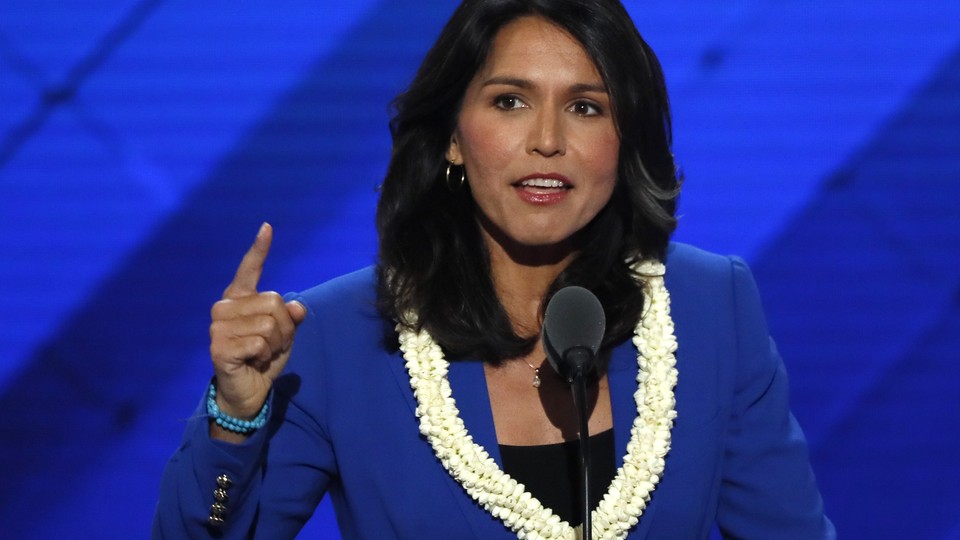 The head of the group that organized and paid for Congresswoman Tulsi Gabbard's trip to Syria says he personally financed the trip in which the Hawaii Democrat met with Syrian President Bashar al-Assad, denied he had links to Assad or a controversial Syrian political party, and rejected news reports that said his group was anti-Semitic.
In an interview with The Atlantic, Bassam Khawam, a former executive director and current board member of the Arab American Community Center for Economic and Social Services (AACCESS-Ohio), said this wasn't the first trip his Cleveland-based organization has coordinated for U.S. lawmakers to the Middle East. Founded in 1991 to serve the Arab American community in Ohio, AACCESS has organized three trips to the region for Dennis Kucinich, the former Democratic congressman from Ohio, between 2006 and 2011;  Khawam said the group did the same for Gabbard, a two-term Democratic congresswoman from Hawaii, because of her expressed interest in the region.
"Congresswoman Gabbard had a position on what's taking place in Syria, and about regime change, and these sort of things," Khawam, a Lebanese health-care consultant, told me in an interview. "So we thought … that would be most likely very helpful for her to see things on the ground similar to what we did with Congressman Kucinich."
Gabbard, a veteran of the Iraq war, has long advocated that the U.S. should focus its efforts in Syria on Islamist groups instead of ousting Assad, whom the Obama administration had called on to step down. She had even criticized Obama for not using the term "radical Islam" to describe groups such as ISIS. And she introduced legislation that would bar the U.S. government from supporting groups allied with or supporting terrorist organizations, some of which are fighting against the Assad regime. Her views on Syria appear to align more closely with those of President Trump, who says the U.S. should focus its efforts on defeating ISIS.
On January 18, Gabbard caused a stir when she revealed her fact-finding trip to Syria this month included a meeting with Assad. She said she hadn't planned on meeting with the longtime Syrian leader, but that when given the opportunity she felt "it was important to take it," adding: "I think we should be ready to meet with anyone if there's a chance it can bring about an end to this war, which is causing the Syrian people so much suffering."
Not all of her colleagues in Congress approved. Representative Adam Kinzinger, a Republican from Illinois and fellow Iraq veteran, called Gabbard's meeting with Assad "disgusting" and said the move "legitimized his dictatorship and in turn, legitimized his genocide against the Syrian people." Democratic leaders have yet to formally comment on the trip, but Nancy Pelosi, the House minority leader, said she wasn't aware Gabbard was making the trip.
It's not uncommon for lawmakers to make foreign trips abroad. In some cases, though, it's illegal. Under the Logan Act, unauthorized individuals are prohibited from contacting foreign governments that are in dispute with the U.S.—as the Assad regime is. But no one has ever been prosecuted under the law. Khawam said the law "didn't come up at all" when his organization proposed the trip to the House Ethics Committee.
Although the trip was sponsored by AACCESS, Khawam said it was he and his brother, Elie Khawam, who funded the trip as a non-grant-making donation. Khawam declined to say how much the brothers spent on the trip. Under House rules, such donations can only be made by an individual or entity with "direct involvement in planning, organizing, conducting, or participating" in the trip. Such trips cannot be taxpayer funded. Gabbard originally declined to disclose how the trip was being financed, a precaution she and Khawam attributed to security reasons.
"It's a very transparent trip," Khawam said. "The reason it was not advertised is because you're going to a country that has a war there. ... it's not something you want to advertise in the media because of safety issues."
Some news reports have linked Khawam to the Syrian government and Imad Moustapha, who served as the envoy to the U.S. before diplomatic relations between the two countries were suspended in 2012. Khawam called the allegations "utterly, 100 percent wrong."
"We are in no shape or form a lobbyist for Assad or speaking on his behalf," Khawam said. "This was a peace mission to visit with the Syrian people and some officials to see how much suffering this country has endured for the last six years."
When asked about reported allegations that he visited the former Syrian ambassador in Washington, he added: "The only time I visited was at the embassy, to get visas to enter Damascus."
Khawam has been accused in some news reports of having links to the Syrian Social Nationalist Party (SSNP), a secular pro-Assad Lebanese–Syrian political party. The group, considered one of the largest political parties in Syria after the ruling Ba'ath party, has been accused of fascism, anti-Semitism, and has even been likened to the Nazi party, though its members have long repudiated such claims. The party supports Assad, and is believed to have sent between 6,000 to 8,000 fighters to fight on the side of his regime in the civil war.
Khawam said he has contact with many political parties in Lebanon, including SSNP, which lists his brother, Elie, as a member. Khawam said he himself is not a member of the party—though he told me he attended an event associated with it—and said SSNP "did not play any role" with the trip.
"AACCESS is not an anti-Semitic organization … I am not anti-Semitic," Khawam said, rejecting allegations about the group that have appeared in multiple news stories about Gabbard's trip. "I don't understand how this came into the picture or what the SSNP has to do with this accusation. SSNP did not play a role in it; this is the bottom line."
When asked about the Gabbard trip's policy goals, Khawam said the organization didn't have any. "This was a humanitarian trip to go see the refugees and the religious leaders there," he said. "To see the destruction and to meet with some of the local people there and witness their suffering, to see what they're all about, and to have accurate information."
But Khawam also criticized what he called a mischaracterization of the conflict in Syria as a civil war.
"In [the Syrian people's] mind, it's a proxy war that's taking place to divide the people there. It's an issue of fighting with ISIS, al-Nusra, and al-Qaeda elements,"  Khawam said. "This is what it is."
That's a position Gabbard appears to share.