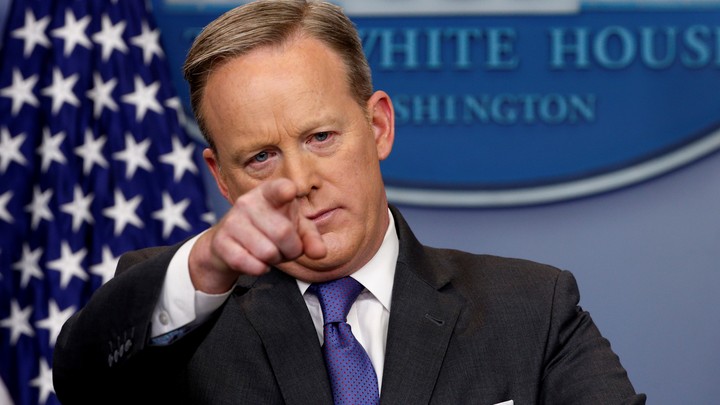 U.S. State Department officials are expected to sign a memorandum opposing President Trump's executive order on immigration, saying "We are better than this ban."
Trump's executive order suspends the U.S. refugee intake for 120 days and bans Syrian refugees for the foreseeable future. It also bars from the country all citizens of seven predominantly Muslim countries—Iran, Iraq, Libya, Syria, Sudan, Somalia, and Yemen—regardless of their visa status for 90 days. The Trump administration says the move is to make the U.S. safer.
But in a draft memo obtained by the The Atlantic, and first published by Lawfare, the State Department officials say: "Looking beyond its effectiveness, this ban stands in opposition to the core American and constitutional values that we, as federal employees, took an oath to uphold."
Asked about it at the daily White House press briefing on Monday, Sean Spicer, the White House spokesman, said: "They should get with the program or they should go."
The memo would be issued on the State Department's Dissent Channel, which was established in 1971 during the Vietnam War as a venue for diplomats to freely express their concerns with U.S. policy. Responses to messages within the channel are guaranteed within two working days, according to the American Foreign Service Association (AFSA), which represents foreign-service officers; a substantive reply is to be provided with 30-60 working days, AFSA adds.
The U.S. State Department expressly forbids reprisals for those who use the channel to express views that are contrary to stated U.S. policy. Here's more:
Officers or employees found to have engaged in retaliation or reprisal against Dissent Channel users, or to have divulged to unauthorized personnel the source or contents of Dissent Channel messages, will be subject to disciplinary action.  Dissent Channel messages, including the identity of the authors, are a most sensitive element in the internal deliberative process and are to be protected accordingly.
The channel has been used several times over the years by diplomats to express reservations—or outright alarm—at U.S. policy. Perhaps the most famous cable sent on the dissent channel was the Blood Telegram in April 1971. It was written by Archer Blood, the U.S. consul general in what was then East Pakistan, and signed by 20 others to protest the U.S. policy of siding with the Pakistani government when it cracked down militarily on what was then the eastern, Bengali flank of its country after a Bengali politician was declared the winner of national elections. Here's more from the telegram:
Our government has failed to denounce the suppression of democracy. Our government has failed to denounce atrocities. Our government has failed to take forceful measures to protect its citizens while at the same time bending over backwards to placate the [West Pakistan] dominated government and to lessen any deservedly negative international public relations impact against them. Our government has evidenced what many will consider moral bankruptcy. … But we have chosen not to intervene, even morally, on the grounds that the … conflict, in which unfortunately the overworked term genocide is applicable, is purely an internal matter of a sovereign state. Private Americans have expressed disgust. We, as professional civil servants, express our dissent with current policy and fervently hope that our true and lasting interests here can be defined and our policies redirected.
Blood was recalled to Washington after writing the telegram. East Pakistan eventually broke away to form Bangladesh.
The channel has also been famously used to express dissent against U.S. policy during the conflicts in Bosnia and Iraq. More recently it was used last June by 51 diplomats who criticized the Obama administration's policies in Syria, urging military strikes against the government of President Bashar al-Assad. John Kerry, the U.S. secretary of state at the time, met with the authors of the memo for about 30 minutes, engaging, The New York Times reported then, "in a surprisingly cordial conversation about whether there was a way, in the last six months of the Obama presidency, to use American military force to help end a conflict that by some estimates has claimed 500,000 lives." Ultimately, that never happened.
Spicer's call on the officers to quit if they disagree with policy is seen as highly unusual. I've reached out to AFSA for comments and will update this story when they respond.
We want to hear what you think about this article. Submit a letter to the editor or write to letters@theatlantic.com.