The CEOs Revolting Against Trump's Travel Ban
Ford, Tesla, Google, Apple, Starbucks, Amazon, General Electric, and other companies are speaking up about the president's executive order.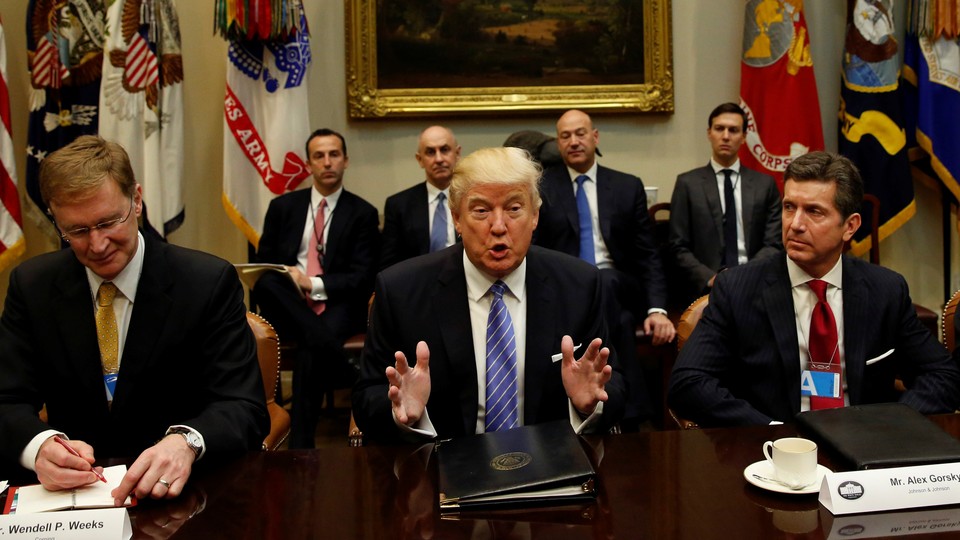 Members of the business community are speaking out against President Trump's travel ban, which several companies and executives say could unfairly target their employees and harm operations. For a president who ran on boosting businesses in the United States, one of his first actions in the White House might actually be bad for business.
On Monday, the Ford Motor Company joined the increasing list companies criticizing the executive order. Bill Ford Jr., the company's executive chairman, and Mark Fields, its chief executive officer, said in a statement that "we do not support this policy or any other that goes against our values as a company."
Fields added later on CNN, "I think we're just going to be a company that lives by its values and let the chips fall where they may."
Ford is based in Dearborn, Michigan, home to one of the largest Arab American communities in the U.S. The company did not say how many employees might be impacted by the ban. (Ford and Trump have already butted heads on other issues, including when the president took credit for the company's decision to invest $700 million in Michigan's Flat Rock Assembly plant, instead of investing $1.6 billion in a factory in Mexico.) For the car company, the decision to stand up against the travel ban was painted as an entirely moral decision, and it's one plenty of companies seem ready, even eager, to make.
Elon Musk, the CEO of another car manufacturer, Tesla, has begun a campaign to convince Trump to fix the executive order.
Many people negatively affected by this policy are strong supporters of the US. They've done right,not wrong & don't deserve to be rejected.

— Elon Musk (@elonmusk) January 29, 2017
Criticism goes beyond just car companies. Netflix CEO Reed Hastings said the ban is hurting his employees around the world, and that "these actions will make America less safe." The CEOs of Starbucks, Amazon, Expedia, Twitter, and Nike, all came out in strong opposition to the ban, and on Monday more than 2,000 Google employees in office around the world walked out of work and staged protests.
Tim Cook, Apples's CEO, said quite plainly, "It is not a policy we support." He also reminded people that the company's deceased founder, Steve Jobs, was the son of an immigrant from Syria, a country targeted in Trump's ban.
Other companies, while not outright criticizing the president, acknowledged the potential harm the executive order may have on employees. JPMorgan Chase executives told employees Monday that they'd have their backs, while General Electric said in a memo the company would "stand with" its workers and try and balance security and the "movement of law abiding people."
For other companies, their criticism goes beyond strongly worded statements. Airbnb offered to host people impacted by the ban for no charge. Its co-founder tersely said the order was "not right." Lyft, for its part, sent users a message Saturday calling the ban "antithetical to both Lyft's and our nation's core values," pledging $1 million to the American Civil Liberties Union, which has filed injunctions in courts across the country to allow detained travelers to remain in the U.S.
Lyft's biggest competitor, Uber, found itself being called a scab because of the way it reacted to the ban. On Saturday, the New York Taxi Workers Alliance held a strike in solidarity with its many immigrant drivers and refused to make pickups at John F. Kennedy International Airport. At the same time, Uber sent out a message to users saying it would cut fares in the area, which some people amounted to undermining the strike. The next day, Uber said it would establish a $3 million legal fund to support drivers impacted by the ban, but by then the hashtag #DeleteUber had already gone viral, with many people taking screenshots of themselves removing the app from their phone.
Many of these companies and executives were members of Trump's Strategic Policy Forum in December, where they agreed to counsel him in the coming years. But almost immediately, they said the president failed to realize the U.S. economy is not just reliant upon immigrants, but that immigrants are its foundation.
About 40 percent of Fortune 500 companies were founded either by immigrants, or by the sons and daughters of immigrants. Companies like AT&T, IBM, Coca-Cola, Microsoft, McDonald's, Goldman Sachs, eBay, Kohls, Comcast, Pfizer, Yahoo!, and many others were all founded by immigrants or their children. And U.S. companies founded by immigrants are only becoming more common; one study found immigrants started more than half of all billion-dollars startups, and that immigrants made up 70 percent of key management roles in those companies.
Putting "America first," as Trump wants, is just not good business for many American companies.