What We Know About the Syrian Ceasefire Announced by Putin
Russia and Turkey say Syrian government forces and rebels will begin a truce at midnight on December 30. Other details are thin.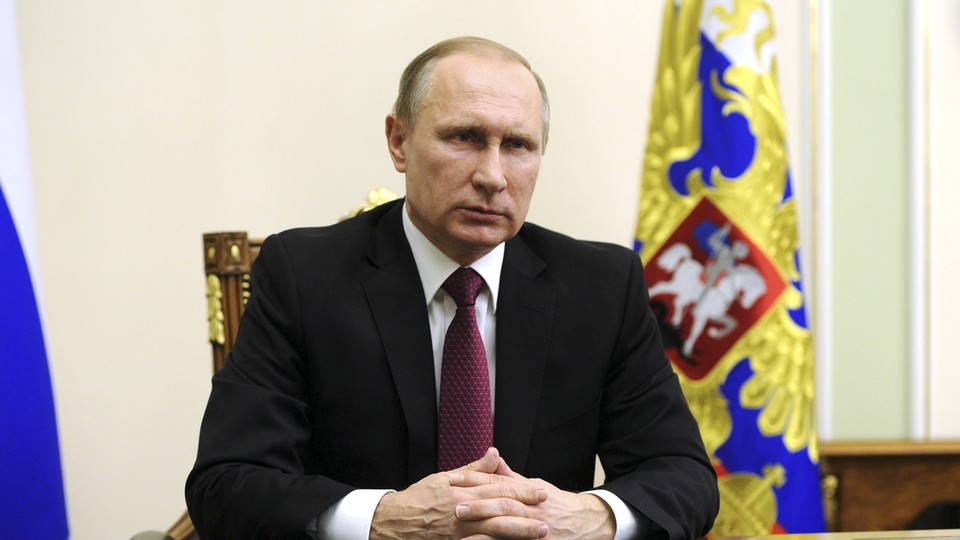 Updated at 10:05 a.m. ET
Russian President Vladimir Putin said Thursday the Syrian government and rebels opposed to President Bashar al-Assad have reached a ceasefire to end the fighting in the more-than-five-year civil war.
Here's what we know so far about the agreement—and its potential implications:
Who is involved?
The Syrian government and, according to Russia's defense minister, seven armed groups who command about 60,000 fighters. The Defense Ministry named the groups as Feilak al-Sham (4,000 fighters), Ahrar al-Sham (16,000), Jaysh al-Islam (12,000), Thuwar al-Sham (2,500), Jaysh al-Mujahideen (8,000), Jaysh Idlib (6,000), Jabhat al-Shamiyah (3,000). Ahrar al-Sham and Jaysh al-Islam are both Islamist groups that Russia has previously labeled as terrorists.
When will it go into effect?
December 30 at midnight, according to Turkey's Foreign Ministry.
Who will ensure the truce isn't broken?
The Turkish Foreign Ministry says Turkey and Russia will jointly monitor the ceasefire; Russian President Vladimir Putin included Iran on that list. Russia and Iran support Assad; Turkey supports some rebel groups.
Who is excluded?
The state-run Syrian Arab News Agency said Jabhat al-Nusra (the group now known as Jabhat Fateh al-Sham), ISIS, and affiliated groups are excluded.
What's next?
The agreement that is reached will be submitted to the UN Security Council later Thursday, the Russian foreign minister said. Both Turkey and Russia said representatives of the Syrian government and the rebels will meet soon in Astana, the Kazakh capital. Turkey added that they will be accompanied by the guarantor countries.
What else do we know?
Putin said the agreement was detailed in three documents. He said the first was signed by the Syrian government and the opposition to stop hostilities; the second to control the ceasefire; and the third "a declaration of intention for Syrian settlement." No other details of the content of those documents have been released.
What is unclear?
No rebel commanders have yet publicly commented on the ceasefire. But Ahmad Ramadan, a spokesman for the Syrian National Coalition, a major opposition group, told the AP that the Free Syrian Army (FSA), a coalition of rebel groups, will abide by the truce, but will retaliate to violations by Syrian forces and their allies. Separately, Al Jazeera reported that on Wednesday the negotiating arm of the largest group of rebels fighting under the banner of the FSA "said they had yet to be in contact with anyone and had not been invited to participate in talks."
Why now?
The Syrian civil war has dragged on for more than five years. Hundreds of thousands of civilians have been killed and millions more displaced. In the early days of the fighting, it appeared as if Assad would go the way of Iraq's Saddam Hussein and Libya's Muammar Qaddafi, but Russia became involved in November 2015. Since that time, Assad, backed by Russian airstrikes and Iranian fighters, as well as members of Shiite Lebanese militia Hezbollah, made steady gains. Earlier this month, government forces captured all of Aleppo, Syria's largest city that was divided since 2012. The recapture of the city means Assad now controls the overwhelming majority of Syria's population centers. Rebels still control territory, including Idlib province, but are on the defensive. Assad is likely to stay in power for now and Russia can scale back its military involvement in Syria—as Putin himself acknowledged Thursday. Assad and his allies can also turn their attention to ISIS, al-Nusra, which was previously linked to al-Qaeda, and other groups it deems as terrorists.
Will the truce last?
Short answer: It's anyone's guess, but past attempts at a ceasefire have failed, and Putin himself acknowledged that conditions are "fragile." It's unclear if Assad has the incentive not to target other rebel groups, though he is believed to be weak without Russian support. It's also unclear if all the rebel groups will abide by a truce—or whether the guarantors of the ceasefire—Russia, Turkey, and Iran—agree on which of the rebels are terrorist organizations, and, consequently, can be targeted. Indeed, commentators pointed out Russia had labeled two of the groups included in the ceasefire list—Ahrar al-Sham and Jaish al-Islam—as terrorists last month.