Rex Tillerson's World: In His Own Words
Remarks by the nominee for secretary of state reveal a pragmatic executive whose views often appear to diverge from Donald Trump's.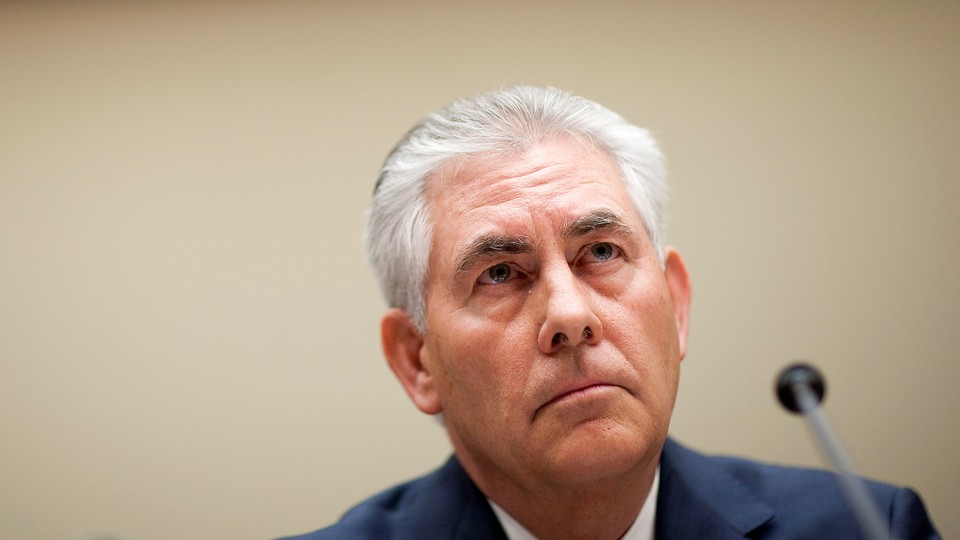 Rex Tillerson, whom President-elect Donald Trump nominated Tuesday to be the secretary of state, has a long history of dealmaking as the chairman and CEO of Exxon Mobil, the world's largest oil company. It's a skill that would be useful in his new role, but it's also an attribute that might cause problems for him during his confirmation process in the U.S. Senate. Already, doubts are being raised about his long relationship with Russia, as well as his lack of political experience. But running a global corporation that would be world's 41st-largest economy were it a country is no small feat; nor are Tillerson's views about some of the world's most pressing problems what his critics might expect.
I read five years worth of speeches made by Tillerson on Exxon's website, and comments elsewhere, and they reveal a pragmatic executive confident about the role of energy in the world, the benefits of deregulation as well as free trade, and the dangers posed by climate change and the best ways to tackle it. Many of these views appear to diverge from Trump's positions. Here's a short list:
Russia
Tillerson's relations with Russia are likely to come under the most scrutiny. President Vladimir Putin once presented him with the Order of Friendship, an award given to foreigners who work to improve relations with Russia. Trump's expressed desire to work more closely with Russia, combined with his dismissal of the CIA's assessment that Moscow interfered in the U.S. presidential election, has already prompted concern about Tillerson's nomination. In October 2015, Tillerson called Exxon's Sakhlin-1 project in the Russian Arctic one he "take[s] a lot of personal pride" in. The project has been stalled because of U.S. and Western sanctions imposed on Russia following the country's invasion of Crimea—sanctions that Trump could move to lift and which Tillerson has called ineffective. Speaking in June 2014, Tillerson touted the potential of the Arctic, noting: "In the years ahead, we look forward to taking advances achieved in these cutting-edge successes in Far East Russia and building upon them to unlock new supplies of oil and natural gas in the Kara Sea and beyond."
Iran
The deal Western nations, China, and Russia struck with Iran on its nuclear program opened the door for Western energy companies to gain access to the Islamic Republic's vast energy resources. Tillerson, as CEO of Exxon, was cautious about the prospects of any such a deal, telling CNBC in March:
U.S. companies like ours are still unable to conduct business in Iran. A lot of our European competitors are in, working actively. I don't know that we're necessarily at a disadvantage. The history of Iranian—in foreign investment in the past, their terms were always quite challenging, quite difficult. We--never had large investments in Iran for that reason. And I don't know that the Iranians are gonna be any different today. We'll have to wait and see and there hasn't been any contracts put out. But I also learned a long time ago that sometimes being the first in is not necessarily best. We'll wait and see if things open up for U.S. companies. We would certainly take a look because it's a huge resource-owning country.
Trump has called the deal with Iran "disastrous" and has pledged to tear it up once he's in office. If that were to occur, it would be Tillerson's job to explain to U.S. allies, as well as his friends in Moscow, the rationale for the decision.
Energy independence and trade
The idea of energy independence has had bipartisan support in Washington since President Nixon announced his plan to wean the U.S. off of foreign sources of energy. And though the U.S., through the energy boom of the past few years, has come closer to achieving this goal, Tillerson has said he believes global interdependence—not energy independence—is the way to stability. In 2007, he told the Council on Foreign Relations:
Should the United States seek so-called energy independence in an elusive effort to insulate this country from the impact of world events on the economy, or should Americans pursue the path of international engagement, seeking ways to better compete within the global market for energy? Like the Council's founders, I believe we must choose the course of greater international engagement. ... The central reality is this: The global free market for energy provides the most effective means of achieving U.S. energy security by promoting resource development, enabling diversification, multiplying our supply channels, encouraging efficiency, and spurring innovation.
Those views carry over to free trade. In 2013, Tillerson said of the Trans-Pacific Partnership trade deal:
Even when a nation does not have a rich endowment of resources, we have learned that open markets and free trade can bring nations the energy supplies they need. But only governments can open the avenues of free trade. In the years ahead, as the economy and energy landscape evolves worldwide, leaders in the United States and Asia will need to examine how their own policies can support international cooperation and energy trade.

One of the most promising developments on this front is the ongoing effort for the Trans-Pacific Partnership.

The eleven nations that have been working to lower trade barriers and end protectionist policies under this Partnership are a diverse mix of developed and developing economies. But all of them understand the value of open markets to growth and progress for every nation.
That position puts him at odds with Trump, who wants the U.S. to leave the TPP because, in his view, it hurts American workers. Trump has also said he wants to renegotiate U.S. trade deals with partner countries in order to protect U.S. workers. One of the president-elect's first moves was, Trump said, to persuade Carrier, the air-conditioning company, not to ship some of its jobs to Mexico. But in October 2014, Tillerson questioned such moves: "By restricting trade or picking winners and losers, government hinders investment and innovation," he said.
Climate change
The attorneys general of New York and Massachusetts are investigating whether Exxon hid from investors what it knew about the link between fossil fuels and climate change. But in recent years Tillerson and Exxon have been advocates of market-driven solutions to mitigate the risk of climate change. Exxon, under Tillerson, supported the Paris climate accord, from which Trump has said he wants to withdraw. Earlier this year, Tillerson said: "We share the view that the risks of climate change are serious and warrant thoughtful action." Tillerson has made the case for a carbon tax "as the best policy of those being considered."
That view—and others—are likely to be raised at Tillerson's confirmation hearing, as senators seek more information on how his worldview matches Trump's and where they possibly differ.