François Hollande's Legacy
Now that the French head of state won't be seeking reelection, how will his presidency be remembered?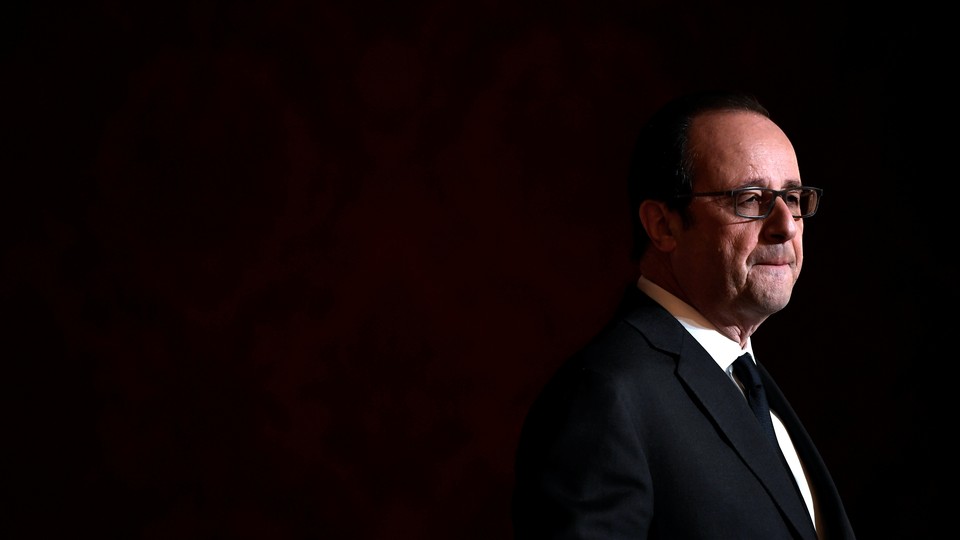 When President François Hollande announced Thursday that he would not be seeking reelection in next year's presidential contest, he began first by outlining all the ways in which France has progressed since he took office in May 2012. It's for his successes— from reducing unemployment to legalizing same-sex marriage— that the 62-year-old Socialist president would likely want to be remembered.
But such achievements won't define his presidency, at least not alone. While he could be remembered as one of only two Socialist politicians to ever be elected to the French presidency (the other was François Mitterrand), he could also go down in history as being the least popular French president since World War II, hobbled by a 4 percent approval rating, campaign pledges that weren't delivered, and a stream of deadly terrorist attacks that hit France seemingly at will over two years.
Dr. David Lees, a researcher on French politics at Warwick University in the U.K., told me that while it's often expected that presidents lose popularity over the course of their term, the reason Hollande's satisfaction rating dropped so low could be because he didn't deliver the promises he made on the campaign trail.
"Change, or le changement, was the explicit title of his campaign," Lees said. "He was there to be real change in the Socialist way, to introduce meaningful, left-wing reform. But he was also there to be real change from Nicolas Sarkozy and his ostentatious, extravagant lifestyle—to be more of a "Monsieur Normal."
In many ways, Hollande did bring change. Early in his term, he introduced a 75 percent tax on companies paying salaries of more than 1 million euros. As one of Hollande's flagship campaign promises, the passage of the "millionaire's tax" in December 2013 was a political victory for the Socialist government. And though it led to the high-profile departure of Gérard Depardieu, the French actor who in opting to avoid being taxed bid adieu to his French citizenship and moved to Belgium (he has since become Russian), the majority of French people favored the reform.
Socially, Hollande achieved another major campaign promise when in May 2013 his government approved a law allowing same-sex couples to marry and adopt children, putting France well ahead of many other Western countries.
"It seemed as though he were trying to help ordinary people," Lees said of Hollande's early years.
Not all of Hollande's reforms were received as warmly. In his effort to address the effects of the 2008 financial crisis, Hollande oversaw the passage of two highly unpopular economic reforms. The first, dubbed the "Macron Law" after its chief architect Emmanuel Macron, the former economy minister and current independent presidential candidate, was passed in July 2015 in an effort to boost economic growth, and included measures permitting businesses to open some Sundays of the year, as well as allow companies and workers to negotiate more flexible pay and working hours. The second round of reforms, which were imposed by decree in July, aimed to make it easier for businesses to employ people and gave employers more leeway to negotiate hours, wages, and time off—reforms that were met with widespread protests.
"He failed to put more money in the pockets of ordinary people, and that's really what you expect from a Socialist president," Lees said.
But perhaps the most memorable aspects of Hollande's presidency will be not his policy decision, but the events that were seemingly out of his control. Several high-profile terrorist attacks on French soil plunged the country into a state of emergency it has yet to emerge from. They began in January 2015 with the deadly attack on Charlie Hebdo, the French satirical magazine, and ended, most recently, with the attack on Bastille Day (July 14) in Nice. In between, there were stabbings, beheadings, and a high-profile attack in Paris in November 2015 that killed 130 people. In all, more than 200 people were killed in all the attacks.
"Every time he appeared to respond to the attacks, there was never any sense that the Socialist government really knew what he was doing," Lees said. "There wasn't a clear plan of action—a sense that we're going to look at the issue of integration, the issue of how Islam is taught in French schools, or how we can try and improve things with regard to making sure that immigrants from across the world feel welcome in France. It was in many ways the opposite."
Indeed, it was his call following the Paris attacks to strip convicted terrorists holding dual citizenship of their French nationality that Hollande identified as his "sole regret" in his public address Thursday, a move he said thought would unite the people, but instead "divided us."
Even Hollande's promise of appearing as being "Monsieur Normal" faded following numerous revelations into his personal life. In January 2014, the president was revealed to be having an affair with Julie Gayet, the French actress, after Closer magazine published photos of the French president waiting outside the actress's apartment on a scooter, donning a motorcycle helmet. Though his approval rating paradoxically rose by two points after the allegations were made, only to plummet again thereafter, the tryst lumped him in with past presidents like Sarkozy and Mitterand, both of whom had well-chronicled love-lives.
Ultimately, Hollande's decision to remove himself from contention for the Socialist nomination could help save the Socialist party, which some polls projected could come in at a disqualifying fourth place behind Macron in the first round of next year's presidential contest. Hollande stepping down opens the door for his prime minister, Manuel Valls, to run to succeed him at the head of the Socialist ticket, but whether or not he stepped down soon enough for Valls to run in next month's primary is unclear. Should Valls decide to run, he'll have to declare his candidacy before December 15.
Regardless of how next year's election plays, Lees said Hollande will likely be remembered for le changement that never came.
"He could have been brilliant,"" Lees said. "He could have been really, really good."