Why Did California Police Shoot a Grandfather Holding a Crucifix?
Kern County, where Francisco Serna died Monday, had the highest per-capita rate of killings by officers in 2015.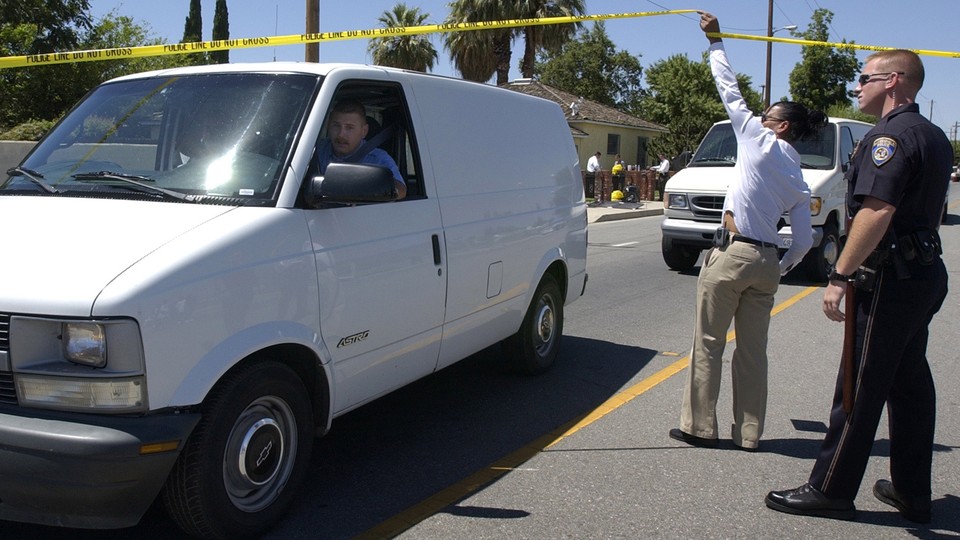 Just after midnight on Monday, police in Bakersfield, California, responded to a call that a man was wandering around a neighborhood holding a gun. When officers arrived, they found 73-year-old Francisco Serna, a grandfather suffering from sleeplessness and signs of dementia. Serna did not make any hostile movements, but when officers asked him to remove his hand form his pocket, he refused. Police shot him seven times. By Tuesday night, the Bakersfield Police Department (BPD) revealed that Serna was not holding a gun, but a "a dark colored simulated woodgrain crucifix."
Serna's death has led to protests and candlelight vigils outside his house in Bakersfield, an inland city two hours north of Los Angeles. It was the 45th police shooting in the U.S. this year of an unarmed person, and, more specifically, the latest in what is in one of the deadliest counties in the country when it comes to shootings by officers. On Wednesday, Serna's family demanded an independent state and federal investigation. "Our Dad was treated like a criminal," the family said in a statement, "and we feel like he was left to die alone without his family by his side."
The statement was released the same day as Lyle Martin was sworn in as the BPD's newest police chief. He is off to a trying start. The Guardian, in an investigation last year, called the police departments in Kern County places where "deputies dole out tough justice." This year two detectives pleaded guilty to federal corruption charges for stealing methamphetamine from drug dealers, then selling it. Martin's task is to turn the department around.
The events that led to Serna's death began at 12:30 a.m. Monday, when a woman arrived home and Serna approached her. The woman was unpacking items from the car, and Serna, who was acting strangely, asked why she was at her house, Martin later said at a press conference. Serna's family said he often had trouble sleeping, and that he took long walks late at night to tire himself. He'd also shown early signs of dementia starting in 2015, sometimes suffering delusions, which had become much worse in the last month. The woman later told officers she saw Serna gripping something in his pocket, ran inside, and called police. BPD released the audio from that call, which The San Francisco Chronicle detailed like this:
First, a boy can be heard saying, "There's a man outside my house with a gun."

Then, his voice is replaced with a deeper one. That person told police that a "Mexican gentleman" in his late 60s outside their house was in possession of a revolver and was "brandishing it at women outside."

When asked by the dispatcher about the gun, the man said, "It looked like a revolver."
This was the second time police had been called to the neighborhood in a day. At about 4 p.m. on Sunday, one of Serna's neighbors reported that the man had been banging on his doors and windows. When the person answered the door, Serna tried to pull the resident out, Martin said. Serna's family told the Los Angeles Times they'd bought him a medical alarm, and officers had responded twice before when Serna became confused and activated it.
When police responded that second time Monday, the officers took cover and demanded Serna take his hand out of his pocket. When he did not, from about 20 feet away, Officer Reagan Selman shot Serna seven times. Serna died in front of his home. A search of his body, and of his house, turned up no guns.
Selman and six other officers who were at the scene have been placed on routine administrative leave.
Criticism of the shooting has focused on many of the same issues other departments in the U.S. have been criticized for: the officers too quickly resorted to deadly force; possible racial profiling; and poor training and lack of preparation to intervene with people who may have mental-health issues. While these may be common problems in departments all over the country, Bakersfield and the county it lies in have struggled in particular.
In 2015, police killed 14 people in Kern County, which has a population of 875,000. As The Guardian pointed out, officers in New York City, with a population 10 times the size, killed 10 people last year. Of the many issues raised by the report, one of the more concerning was that investigations into shootings were regularly conducted by the officer's colleagues, a policy the newspaper said led to an environment of impunity.
Even as Martin takes over the department, faith leaders and community activists are wary. Some say they still don't trust the new administration to conduct a fair investigation, and they're hoping the federal authorities step in—as they have in other parts of the country.
At the vigil outside Serna's home on Tuesday, Joey Williams, the director of a nonprofit aimed at reducing violence in Kern County, said, "We're not against the police. We want every officer to come home safely, but things need to change. Enough is enough."