'Officer Vinson Acted Lawfully When He Shot Keith Scott'
Prosecutors in North Carolina said Wednesday a police officer would not be charged in the killing of a black man.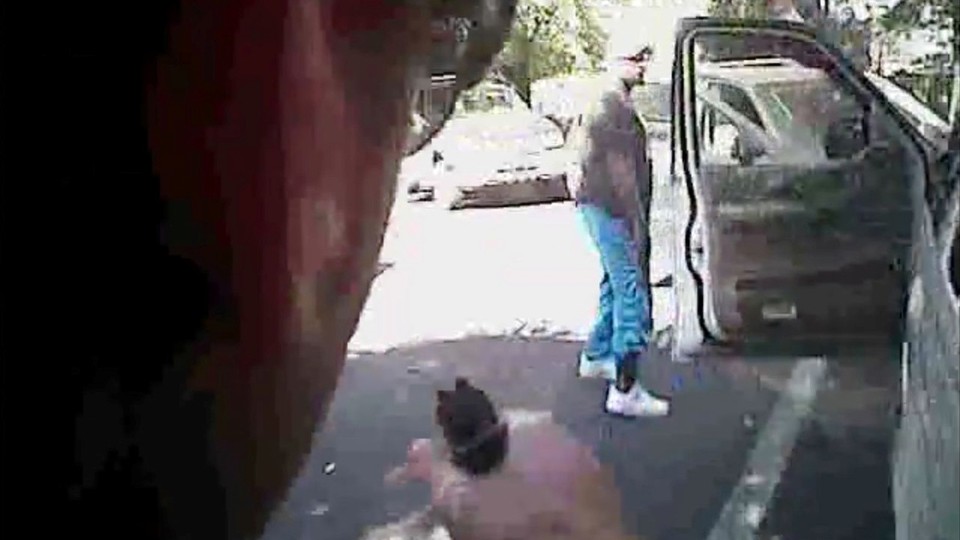 Officer Brentley Vinson will not face any criminal charges in the shooting death of Keith Lamont Scott in Charlotte, North Carolina, in September, a prosecutor announced Wednesday morning.
Mecklenburg County District Attorney Andrew Murray said during a press conference that Vinson, an officer with the Charlotte-Mecklenburg Police Department, had acted reasonably in firing on Scott, whom Murray said had a handgun and was brandishing it in view of the officers. He said he had met with the Scott family earlier on Wednesday and that relatives had been "gracious." He said the event was tragic and that no one should have to deal with it.
"It is my opinion that Officer Vinson acted lawfully when he shot Keith Scott," Murray said. He said that 15 career prosecutors had unanimously agreed on the decision.
The shooting set off several days of protests, some violent, in Charlotte this fall. They laid bare strains in the relationship between the Charlotte-Mecklenburg police and the city's African-American population, as well as lingering racial and socioecononic tensions in the rapidly growing economic center. Scott's was one in a string of cases in which police officers shot a black man under debatable circumstances, and protestors suggested that police had been too hasty in firing.
Murray gave a detailed timeline of the shooting, which was captured in part by police body cameras, at Wednesday's press conference. He said that two officers, including Vinson, who is black, were in an unmarked van and wearing plainclothes, doing surveillance, when Scott pulled up next to them. They believed he was trying to look into the car, but then drove away. Murray showed surveillance video from a convenience store, and said that a bulge visible on Scott's right ankle was a holster. According to police, Scott returned to the scene and parked next to the unmarked van. He opened his door and emptied tobacco out of a cigarrillo, then proceeded to roll a blunt with marijuana.
The officers said they did not intend to apprehend Scott for such a minor offense, but then saw him with a gun in his car, and decided to leave the scene and return with marked cars. While Scott, a convicted felon, was not legally allowed to own a gun, officers did not know that at the time, and North Carolina is an open-carry state. Murray said police returned and made contact with Scott. Officers said they saw Scott reach for his holster. The prosecutor rejected speculation, based in part on analysis of photos from the scene, that Scott was unarmed, saying that several officers saw the gun and it was recovered, with Scott's DNA, at the scene, although Murray acknowledged that videos do not show the gun in Scott's hand. Murray said officers ordered Scott to drop his gun at least 10 times, which he did not do as he exited his SUV, and so Vinson shot Scott four times, striking him in the wrist, abdomen, and shoulder. Murray said that no other officers fired.
Scott was taking several medications, and officers said that he appeared to be in a "trance-like" state, consistent with the side effects of some of those medications.
It's unclear whether Murray's report with satisfy critics of Scott's shooting. Vinson, who shot him, is African American, but several high-profile cases of shootings of black men around the nation have involved black police, and activists point out that the race of officers has no bearing on statistics that suggest disparate use of deadly force against black men in the United States. Charlotte-Mecklenburg Police Chief Kerr Putney, who is also black, said ahead of the announcement that his officers were ready for whatever reaction met the decision.
On Wednesday, Murray said, "I know that some out there are going to be frustrated. I want everyone in this community to know that we meticulously, thoroughly reviewed all of the evidence in this case, made sure it was credible evidence, in order to make the decision that we made today." He also scolded the public, calling on them to read his full report and warning them not to "react viscerally on news snippets."
But Murray acknowledged "long-simmering frustration" in the community, and rejected the refrain, sometimes heard in the midst of protests, that the demonstrations did not reflect the city as it was known.
"This is Charlotte. This is where our friends, families, neighbors, and colleagues felt so passionate that they marched on our streets to call for change," he said.
He said he would not hesitate to prosecute an officer in a case where it was justified, and added, alluding to race, "Throughout our justice system people should have the same experience."