François Fillon: The Man Who Could Be France's Next President
The candidate poised to lead the country's center-right party ahead of next year's election is a staunch conservative.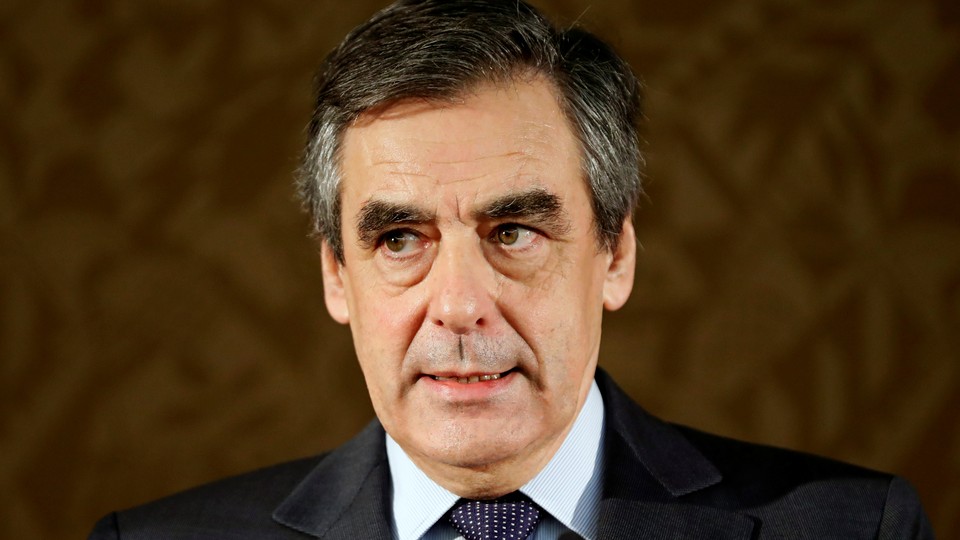 François Fillon, the former prime minister, shocked the French establishment Sunday when he won the Republican primary, upsetting his former boss, former President Nicolas Sarkozy, as well as Alain Juppé, another former premier. Now, he's slated to be the center-right's voice in France's upcoming presidential election—one that could pit him against a yet-to-be-named Socialist candidate as well as Marine Le Pen, the far-right candidate of the National Front.
Fillon's 15-point victory margin was a surprise. Compared to Sarkozy and Juppé, both of whom enjoyed widespread media attention, Fillon, 62, was seen as a little-known conservative—so little known, in fact, he was dubbed "Mr. Nobody" by Le Monde.
But Fillon is no political outsider. He has worked for more than 30 years in French politics, having served as labor minister in 2002, education minister in 2004, and, most notably, prime minister in 2007 under Sarkozy. Dr. David Lees, a researcher on French politics at Warwick University in the U.K., told me it was Fillon's behind-the-scenes role that may have helped propel him to the head of a primary many polls suggested he'd lose.
"People have talked Juppé up over the last year in France, saying he was going to be the savior of the French right," Lees said. "By the same token, a wider spectrum of people in the north were talking up Sarkozy as the savior of the right. So they've both been in the spotlight and they've both been under scrutiny. The only difference with Fillon is that he's been under the radar a little bit more since 2014."
While Fillon's first-round win puts him at an advantage to lead the center-right ticket (the second round of voting, in which he faces Juppé, is Sunday), his politics are emphatically conservative. On economic matters, Fillon, known to some as the "French Margaret Thatcher," has campaigned on a number of business-oriented platforms, chief among them his promise to abolish France's infamous 35-hour work week. Vowing to reduce the size of the public sector, Fillon campaigned to cut as many as half a million civil-service jobs, as well as slash public spending by 110 billion euros ($116 billion).
Internationally, Fillon is a proponent of rapprochement with Russia, whose fraught relations with Europe he attributes to "huge errors" made by the Western powers after the fall of the Soviet Union. He also hasn't ruled out working with Syrian President Bashar al-Assad, arguing that France should consider all partners to fight the Islamic State. This position is likely to endear him not only to Moscow and Assad, but also Donald Trump, the U.S. president-elect, who holds a similar view of how to fight ISIS.
Socially, Fillon appeals to France's traditionally conservative Catholic base. He is a vocal opponent of same-sex marriage and laws allowing same-sex couples to adopt, though he has said he would not repeal them. While promoting his book, Conquering Islamic Totalitarianism, Fillon told Le Figaro he supports the existing ban on religious symbols in public spaces, and that while he does not believe there is a religious problem in France, "there is a problem with Islam." In August, Fillon condemned school curriculum that taught students to be "ashamed" of their country, likening France's colonial past to a "cultural exchange."
Fillon's first-round primary victory is telling not only of where France's center-right stands, but where the country's electorate stands overall. Last Sunday's primary marked the first time a conservative candidate was chosen in an open primary, meaning French voters could cast their ballot regardless of political affiliation, as long as they pay 2 euros and pledge that they share Republican values.
"The 44 percent of people backing Fillon says a lot of how people view his chances," Lees said. "It shows that there are people who might not necessarily be minded towards the right in general,  but who do see Fillon as the best chance toward maintaining a more consensual politics in France."
Some polls suggest a number of traditionally liberal voters cast their ballots in the conservative primary to prevent a victory for Sarkozy, who they feared would be unable to defeat Le Pen, the far-right leader who has made common cause with Western anti-immigration figures. Violette Lacloche, a left-wing voter voting in the conservative primary, told Politico: "In 2002, we voted for Jacques Chirac to stop Jean-Marie Le Pen (Le Pen's father) from becoming president. It's the same thing this time around, just much sooner. … We all know that the presidential election is being played out now."
Whether those voters will come out again to vote in Sunday's runoff, which pits Fillon against Juppé, remains to be seen. Polls suggest Fillon would only need a third of Sarkozy's supporters to clinch the nomination.