An Outsider's Bid for the French Presidency
Emmanuel Macron's independent run could unsettle the race.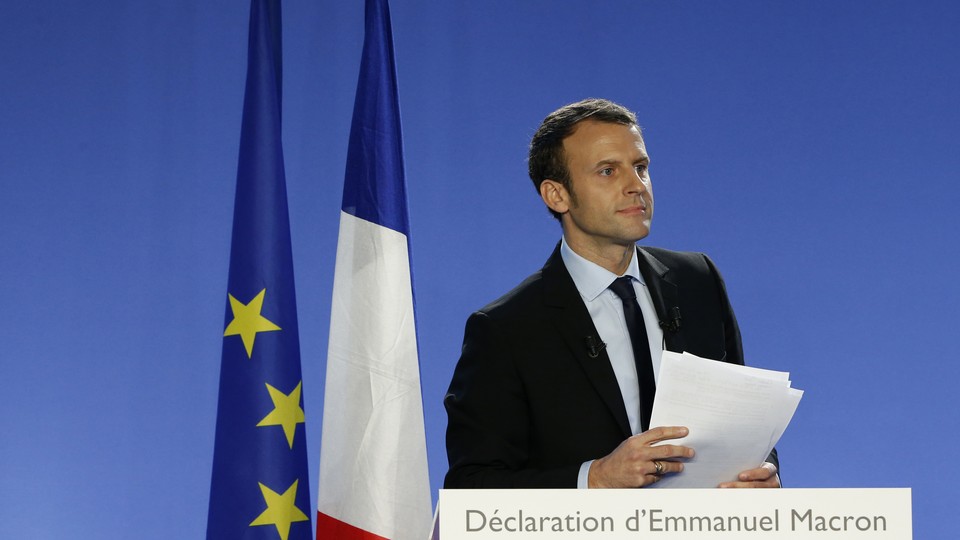 Emmanuel Macron announced Wednesday an independent, centrist bid for the French presidency, throwing his hat into a competitive ring that is seeing tight primaries in both the center-left and center-right parties.
In a speech in Bobigny, a Paris suburb, Macron, a former protege of François Hollande, the deeply unpopular Socialist president, called for a "democratic revolution," vowing to move the country away from what he called an obsolete and clan-based political system.
"This transformation of our country is not a fight against someone, against a camp, against a part of France. It is a struggle for all of us, for the general good, for our children," Macron said, calling for unity between the left and the right. "I can only carry it out with you."
Macron is an outsider. The former investment banker was virtually unknown in French politics before 2014, when he was appointed the minister of economy, industry, and digital affairs by Prime Minister Manuel Valls. During his two-year tenure, Macron branded himself as business-friendly, pushing several business reforms aimed at boosting economic growth through his Macron Law. Despite his brief stint in Hollande's socialist government, the 38-year-old is not a member of any political party, nor has he ever held elected office. It is this separateness that Macron capitalized on when he resigned from the Cabinet in August to launch his own centrist political movement En Marche!, or "On the Move!"
The nascent party faces a tough test as it goes up against the French establishment. On the center-right, Macron pits himself against Alain Juppé, the former prime minister who in an Opinionway poll this week leads both former President Nicolas Sarkozy, and François Fillon, the former prime minister, by 8 percentage points. On the left, Macron could face Hollande, who, faced with slumping approval ratings,  hasn't yet announced whether he will seek a second term. Macron could also face his former boss, Valls, who previously dismissed him as promoting "populism-lite."
If Macron is representing himself as an alternative to France's establishment politicians, he certainly is not alone. Marine Le Pen, the head of France's far-right National Front, has positioned herself as a contender to represent France's populist sentiments, calling the victory of Donald Trump in the U.S. presidential election "a sign of hope." Le Pen, however, did not appear fazed by Macron's announcement Wednesday, calling him a "banks' candidate" who "will not be stealing any of our voters."
Although it's unclear how Macron would fare in an actual election, an Elabe poll following his resignation from the Hollande government in August found that 34 percent of voters wanted the former economy minister to make a presidential bid. An Ifop poll from that same period showed that 47 percent of voters wanted Macron to run.