The Bloody Battle for Aleppo
The toll of Syrian and Russian bombing in the rebel-held city—and what the rest of the world is doing about it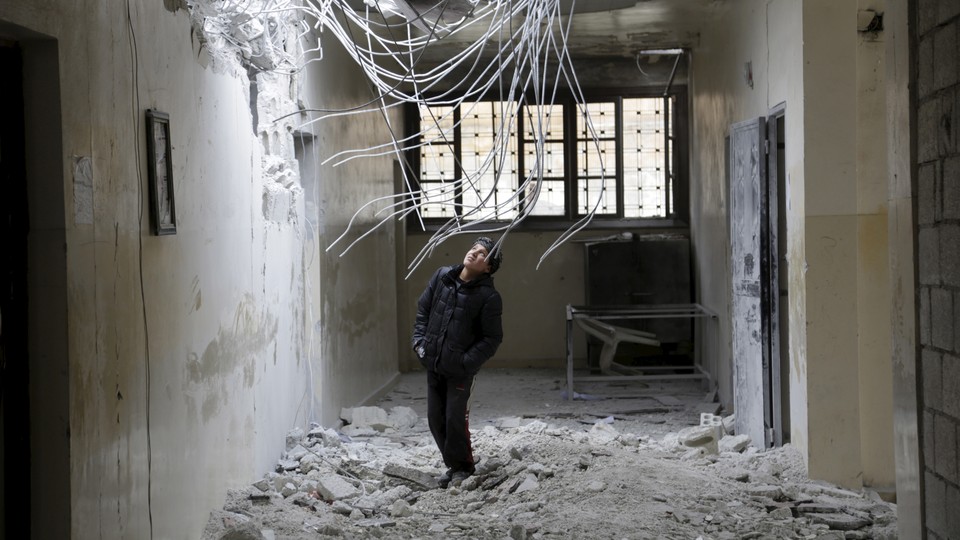 The residents of rebel-held eastern Aleppo had lived without bombardment and explosions for three weeks. The Syrian and Russian governments placed a moratorium on bombing the city on October 18, a pause meant to let civilians evacuate, and to let weary fighters surrender or flee. Then on Monday, residents received a text message warning them to flee or face aerial attack. On Tuesday, Russian jets rained missiles down on neighborhoods surrounding Aleppo, many of them occupied by U.S.-backed rebel groups. By Wednesday, helicopters had dropped dozens of barrel bombs on buildings, including a children's hospital and a blood-donation bank. At least 20 people were reported killed in the first two days, including several children, and the figure keeps rising as bodies are pulled from beneath the rubble.
Neither Syria nor Russia took responsibility for the bombings inside the city, but Syrian troops have deployed to the front lines as part of a renewed assault on Aleppo. For the rebels opposing Syrian President Bashar al-Assad, the loss of Aleppo would mean their greatest defeat, and surrendering the country's largest city back to the government. It's a prospect made more complicated last week with Donald Trump's election victory in the United States.
Trump has since spoken to Russian President Vladimir Putin, whom he has praised in the past. Details from Trump's team on the conversations were sparse, but Putin's spokesman said the Russian leader and Trump share a "phenomenally similar" outlook on foreign policy. On Tuesday, Senator John McCain from Arizona, who serves as chairman of the Senate Armed Services Committee, issued a statement warning Trump against becoming too close to Putin: "At the very least," McCain said, "the price of another 'reset' would be complicity in Putin and Assad's butchery of the Syrian people. That is an unacceptable price for a great nation." The "reset" to which he referred was the ultimately unsuccessful attempt by the Obama administration six years ago to mend relations with Moscow.
Putin's spokesman made it seem as if the Russian president and Trump were in alignment when it came to foreign policy, and had agreed "to join forces against the common enemy number one: international terrorism and extremism."
But one of the largest terrorist threats, the Islamic State, has no presence in Aleppo, so the city's bombardment isn't about removing the group from Syria. Aleppo is essentially a mass of half-smashed buildings and streets coated in the gray dust of rubble, and the people who've remained behind are the holdouts of five years of brutal war—the kind who say they will never leave, and who still send their children to school every day.
When the war began in March 2011, Aleppo was Syria's commercial hub. The civil war started at the height of the Arab Spring and has pit the government of President Bashar al-Assad, who is supported by Russia, Iran, and Hezbollah, the Shia militia group from Lebanon, against rebel groups that range in ideology from leftist to Islamist. Many, but not all, of these groups are backed by the U.S. and other Western countries, as well as Saudi Arabia, Turkey, Qatar, and other regional players. ISIS and groups linked to al-Qaeda are also involved in the fight against Assad. Although the Western nations and Russia are on opposite sides of the conflict, they both, separately, target these two groups and their affiliates.
Both the Syrian government and rebels want Aleppo, which has been divided since 2014. Rebels control eastern Aleppo, which Russia and Syria are targeting. Western  Aleppo is under Assad's control, and the government releases videos showing residents enjoying normal life. In the last year, with Russia's help, Assad has taken back many of the areas ceded to the rebels and now appears more firmly in charge of Syria than at any point since the civil war began.
Humanitarian groups say Assad frequently targets public markets, mosques, and medical centers. The Union of Medical Care and Relief Organizations (UOSSM) estimates that since 2011 more than 700 medical staff have been killed in attacks in Syria, and more than 250 medical facilities bombed. The city is also running out of simple goods like food, water, and medical supplies, and aid agencies say the 250,000 civilians holed up inside are in grave danger.
This week, Assad effectively targeted hospitals that saw around 23,000 people each month, and performed about 1,800 surgeries, UOSSM said.
An air strike hit a hospital on the city's edge at noon Monday, closing the facility. Two hours later, another bomb hit a hospital, injuring a doctor and eight nurses. It is also now closed. That night, a strike hit a third hospital and killed two staffers. This hospital, too, is now closed.
Western nations, including the U.S. have strongly opposed Assad and say they want him out of power. Indeed, the United Nations condemned on Tuesday what it called the Syrian government's latest human-rights violations. But with bombs falling "like rain" on Aleppo, the rebels on the back foot, and Assad bolstered, it's unclear if there is enough international will to stop the carnage in Aleppo—and the rest of Syria.