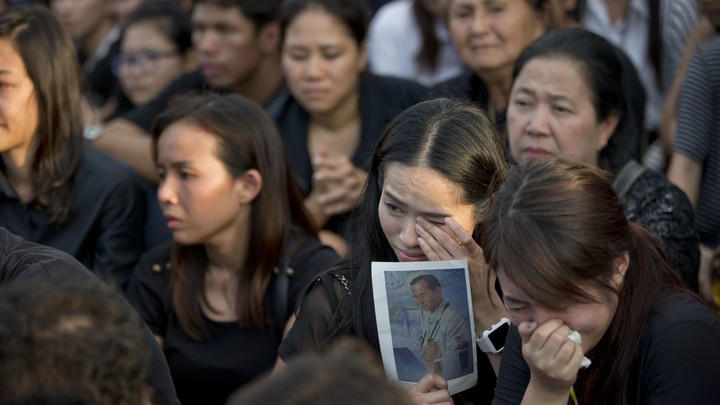 NEWS BRIEF Thailand entered a yearlong mourning period Friday as thousands of people wearing black took to the streets of Bangkok to observe the royal funeral procession of their beloved King Bhumibol Adulyadej, who died Thursday at age 88.
Here's what the crowd looked like:
Farewell to beloved king pic.twitter.com/TXfRYsMB5c

— veena T. (@veen_NT) October 14, 2016
The funeral procession, in which the monarch's body was transported from the capital's Siriraj Hospital to the Grand Palace, comes as the country begins a yearlong mourning period, during which time civil servants are expected to wear black. For the next 30 days, state agency flags will be flown at half-staff and citizens are expected to refrain from taking part in public festivities.
Since Bhumibol's death, Thai television stations and international channels were replaced with black-and-white broadcasts featuring footage of the king throughout his nearly 70-year reign. Thai newspapers followed suit by publishing without color. Here's the English-language newspaper The Nation's front page Friday:
The Nation newspaper. pic.twitter.com/qP0F6xOk1L

— Oliver Holmes (@olireports) October 14, 2016
Bhumibol's death brings an end to a nearly seven-decade rule—one which makes him the longest serving monarch in Thai history. As my colleague Krishnadev Calamur noted, "Bhumibol ascended to the throne shortly after World War II. His reign spanned 12 American president—from Harry S. Truman to Barack Obama. He outlived the Cold War and saw his country transformed from a mostly agrarian society in the 1940s into a rising Asian economy."
Prayut Chan-ocha, the Thai prime minister, announced Thursday that Maha Vajiralongkorn, the Thai crown prince and Bhumibol's only son, would assume the king's role, though he did not specify when. While it remains unclear how popular Vajiralongkorn, who is set to become the ruling Chakri Dynasty's 10th monarch, will be compared to his father, he will likely be shielded from public scrutiny, as the country's lèse-majesté laws strictly prohibit insulting the royal family—a crime punishable by up to 15 years in prison.
We want to hear what you think about this article. Submit a letter to the editor or write to letters@theatlantic.com.