The Death of the Thai King
Bhumibol Adulyadej, the world's longest-reigning monarch, was 88.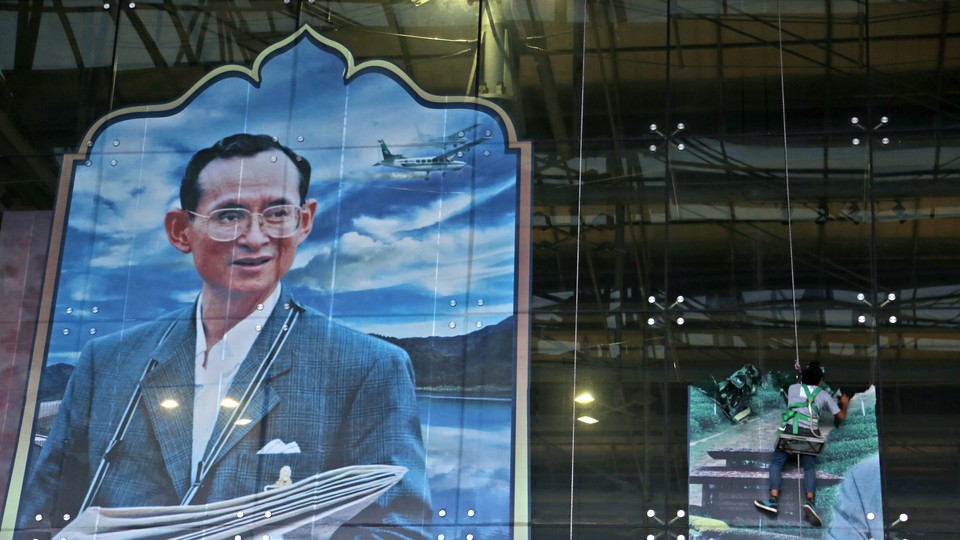 Updated at 9:36 a.m.
NEWS BRIEF Thai King Bhumibol Adulyadej, the world's longest-reigning monarch who served as a unifying symbol in his country, has died, the palace announced Thursday. He was 88 years old and had been ailing for some time with various illnesses.
The Royal Household Bureau announced that Bhumibol died at 3:52 p.m. at Bangkok's Siriraj Hospital, surrounded by his family.
The U.S.-born Bhumibol ascended to the throne on June 9, 1946, at age 18, and was the constant presence in Thai life for seven decades through successive governments and military coups, the most recent one in 2014. As the normally tight-lipped palace announced Sunday that Bhumibol was ailing, Thais took to the streets, many in tears, to pray for and honor their king. To put his reign in perspective, consider this: Bhumibol ascended to the throne shortly after World War II. His reign spanned 12 American president—from Harry S. Truman to Barack Obama. He outlived the Cold War and saw his country transformed from a mostly agrarian society in the 1940s into a rising Asian economy.
My colleague Kathy Gilsinan wrote in 2014 that Bhumibol had managed to stay in power—and popular—through a combination of dedication and image management. But she noted that while the king was revered, Thailand's strict lèse-majesté laws made it impossible to gauge the extent of anti-monarchy sentiments.
He is likely to be succeeded by Vajiralongkorn, the controversial 63-year-old crown prince, who is not as popular as his late father. Here's more from Joshua Kurlantzick of the Council on Foreign Relations:
[T]he crown prince has for decades acquired a reputation as an alleged hothead, womanizer, and poor decision-maker, in contrast to Bhumibhol, who despite flaws has generally been a moderating influence on the kingdom. Among other foibles, the crown prince allegedly used his own planes to blocked the plane of a visiting Japanese prime minister on the tarmac in Bangkok in a fit of pique, threw a lavish birthday party for his pet dog at which his wife appeared topless in a leaked video, and stormed home early from a visit to Japan after he felt subjected to a series of minor protocol slights by Thailand's most important investor.
Indeed, there has been speculation that Vajiralongkorn's close association with Thaksin Shinawatra, the former prime minister who lives in exile in the United Arab Emirates and is hated by the Thai elite, might result in him being bypassed for the throne—though whether that speculation is true is anybody's guess because lèse-majesté laws make even conversation about the royal succession illegal.