A Suspected Terrorist Commits Suicide in German Custody
Jaber al-Bakr, who was arrested earlier this week and accused of plotting to blow up an airport, hung himself inside his cell.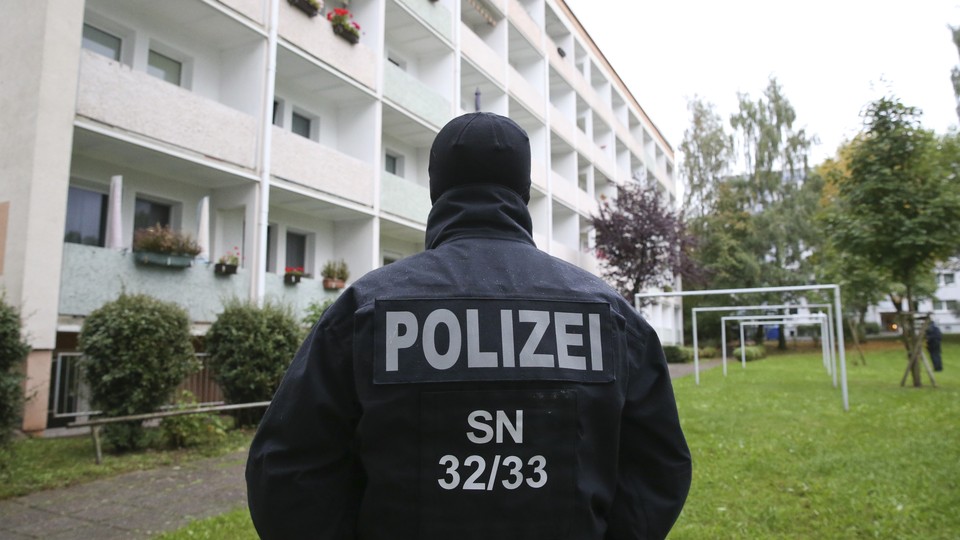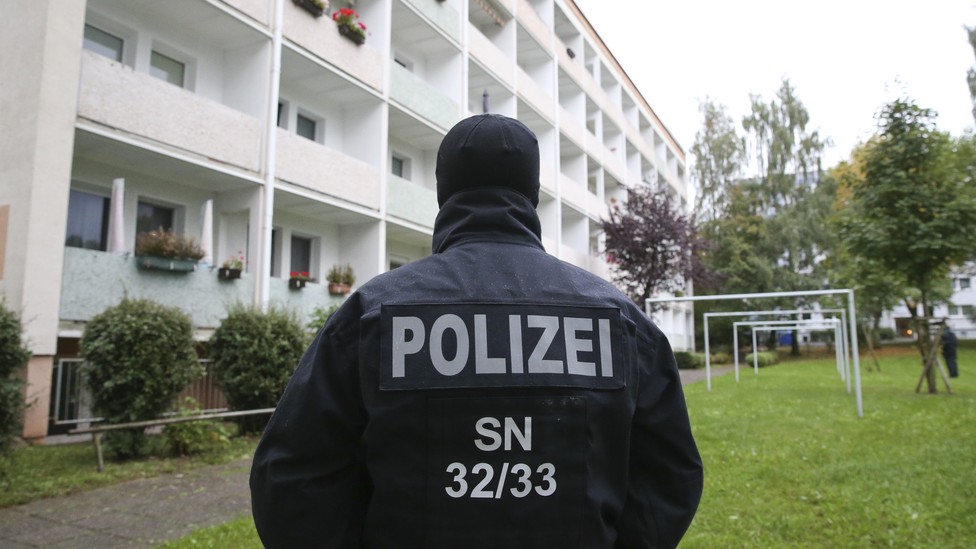 Updated on October 12 at 6 p.m.
The terrorist suspect in Germany caught by three Syrian refugees earlier this week has committed suicide, Der Spiegel reported Wednesday.
Jabar al-Bakr was arrested by German police Monday morning and accused of buying explosive material and plotting to detonate them at a public space near Berlin, most likely an airport. For two days over the weekend, German police searched for al-Bakr, a refugee who had come to Germany last year. Officers raided his apartment in the eastern city of Chemnitz and found explosive materials, but al-Bakr had slipped away. Police asked the public for help, spreading his name and photo on television and across the internet.
It was not clear why al-Bakr was not under constant watch, or how he was able to hang himself inside his cell.
Al-Bakr's arrest was the sort of news that has fueled anti-Syrian refugee sentiment in nationalist parties across Europe in the last year. In the last few months, several attacks carried out by refugees, including a stabbing and shooting, prompted critics to blame Chancellor Angela Merkel's immigration policies for allowing foreign individuals into the country without thorough screening—specifically the 1 million refugees granted asylum last year. It was her government's resettlement plans that were thought to have doomed her party in last month's regional elections, when her Christian Democratic Union lost to a new right-wing populist party. But the refugees Merkel's opponents are set on keeping out were the ones who led the police to al-Bakr: On Monday, three Syrian refugees turned the suspect terrorist into police when they realized he was on the run.
Al-Bakr had come to Germany from Syria in February 2015, and was granted refugee status five months later, The New York Times reported. In the last several months, he had come under surveillance by German authorities, and police raided his home Friday after agents received information al-Bakr planned to bomb a public place in Germany, possibly an airport in Berlin. They found the same explosive-making materials used by Islamic State terrorists to kill hundreds in the Brussels and Paris bombings last year. Al-Bakr escaped the raid, and police continued their search.
Early Monday morning, about an hour north of Chemnitz, in Leipzig, al-Bakr met a fellow Syrian at the train station. Al-Bakr told the man he was in need of immediate housing, according to Deutsche Welle, and, wanting to help a fellow Syrian, the man offered him a place to stay. The man and two other Syrians recognized that day that their new roommate was the suspect sought by German police, and they tied him up.
According to Deutsche Welle, one of the Syrians told a TV station that al-Bakr tried to bribe them, but the men refused. The man, identified only as Mohammed A., said he told al-Bakr: "You can give us as much as you like, but we are not letting you go. … I was so angry at him. I won't accept such a thing—especially here in Germany, the country that opened its door to us."
The three Syrians called police, but officers couldn't understand them, Deutsche Welle reported. So they took a cellphone picture of al-Bakr and went to the police station. Police arrested al-Bakr early Monday, and also took into custody a second suspect who is believed to have rented al-Bakr his apartment in Chemnitz.
But the Good Samaritan act is unlikely to quell the growing chorus opposed to Merkel's refugee policy. The policy was initially a point of pride among Germans in early 2015, during a time when other European countries had closed off their borders or pushed Syrian refugees along train lines and into other countries. Over the last year, however, several terrorist attacks led to shifts in public opinion and propelled a nationalist movement—in Germany and other European nations—that seeks to end refugee resettlement. The policy is considered Merkel's most challenging issue in next year's general election, which could give her a fourth term—or signal the rise of Alternative für Deutschland, Germany's right-wing populist party.