The Cops Who Discussed Whether to Hit a Black Man With Their Car
"I'm going to hit him," one Sacramento officer says as the car approaches Joseph Mann. "Go for it," the other officer says.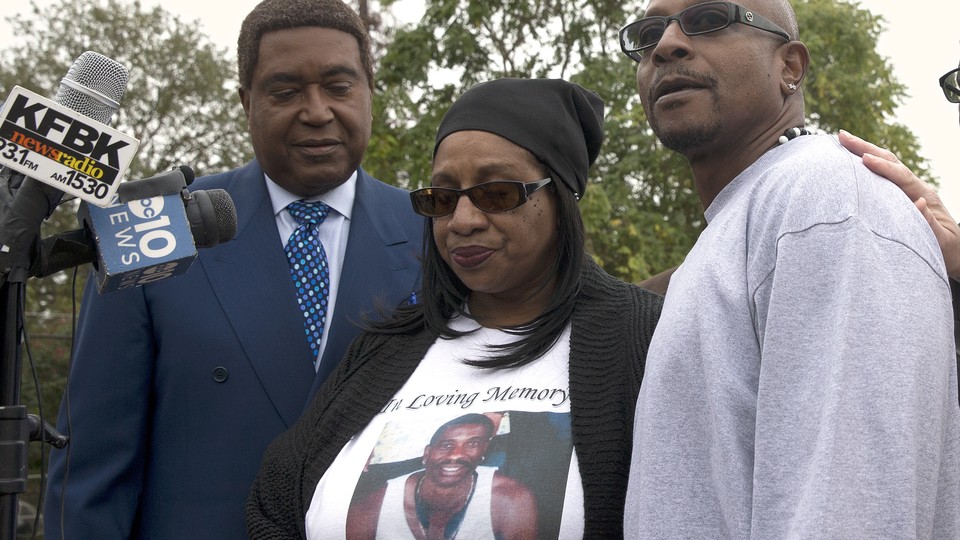 NEWS BRIEF Sacramento police have released the audio from dashboard-camera footage showing officers chasing a black man with their car, then discussing whether they should swerve to hit him.
The video captured the death of Joseph Mann, who officers shot 14 times in July after they received a 911 call that he was acting erratically. The video was released in September 20, but a version with enhanced audio published by The Sacramento Bee over the weekend has upset activists, city council members, and others. In the latest version, officers can be heard discussing whether they should use their car to hit the man as they arrive on scene.
A 911 caller had reported Mann had a gun or a knife and was walking down a busy street on July 11. Police responded and tailed Mann for several blocks as he ignored their repeated orders to stop. "Fuck this guy," one officer says. When Mann then comes into view an officer says, "I'm going to hit him."
"Go for it," the other officer says.
The car barely misses Mann, who makes his way across the street. The officers back up and swerve once more at Mann before he crosses the median and runs to the opposite side of the road, where more police have gathered. The video does not show Mann's death, but the gunshots that supposedly kill him can be heard.
Here's the video:
Mann's family later said he was homeless and suffered from a mental illness.
Officers said they later found a four-inch knife beside Mann. The footage has upset some Sacramento officials and city council members, who asked the police chief if this type of action is customary.
Using a car to injure someone is "tough to defend," retired Los Angeles County sheriff's commander Charles Heal told the Los Angeles Times. Heal cautioned that it is difficult to discern what happened before the clip begins. But the officers seem to declare intent to use lethal force before being provoked, which critics of police practices say constitutes excessive force.
To the south of the state, 20 minutes east of San Diego, in El Cajon, religious leaders and demonstrators protested similar uses of lethal force in the death of Alfred Olango, an unarmed refugee from Uganda killed last week. Police arrested 17 protesters in El Cajon over the weekend, many on suspicion of unlawful assembly. They began protests after last week's release of police body-cameras and dash cams showing officers draw their weapons on Olango, who then reached into his pocket for an electronic cigarette, then pointed it at officers like a gun. Olango's family also said he suffered from a mental illness, and was acting erratically when police shot him.