A Tale of Two Putin Visits
The Russian leader visited Turkey to mark improved relations, but canceled a trip to France over criticism of his actions in Syria.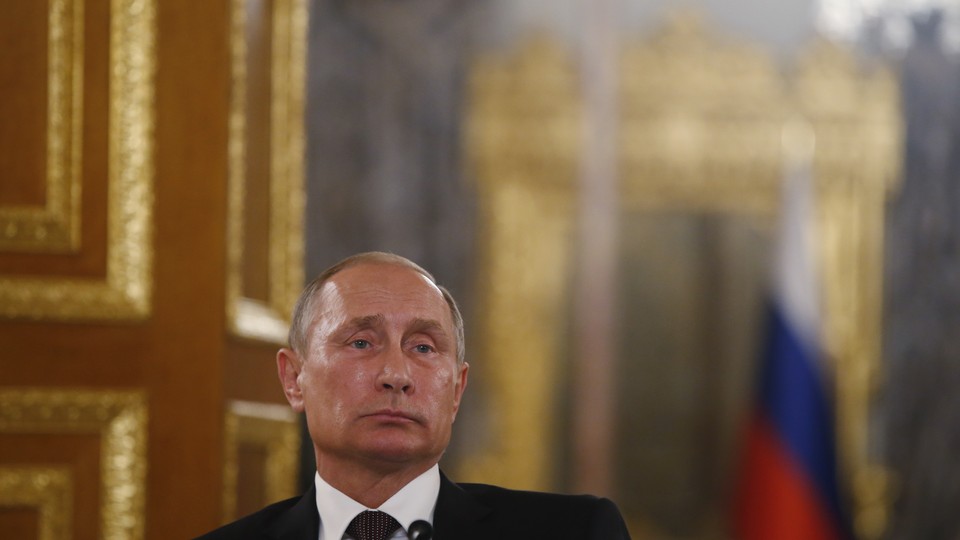 NEWS BRIEF Russian President Vladimir Putin has canceled an upcoming trip to France over Francois Hollande's remarks that he would use the visit to discuss Moscow's actions in Syria.
"There were some events scheduled, including the opening of a Russian cultural and religious center, [and] exhibitions," Dmitry Peskov, the Kremlin spokesman, said. "Unfortunately, those events were struck off the program, so the president decided to cancel his visit to France for now."
Tensions between the two countries have risen over the past few days over Russia's military support of Syrian President Bashar al-Assad in his campaign to wrest the eastern portion of Aleppo from the rebels. The recapture of the divided city would mark a major turning point in the Syrian civil war, as eastern Aleppo is the last major rebel redoubt. Western nations and monitoring groups say Russia and Syria have carried out airstrikes targeting civilian centers, hospitals, and humanitarian convoys in Aleppo, killing dozens; Russia denies those charges, saying it's targeting terrorists, a catchall term used by the Assad regime to describe all rebel groups. Last week, the U.S., whose ties with Moscow are perhaps at their lowest point since the height of the Cold War, accused Russia of war crimes in Syria. Hollande echoed those remarks on Monday.
"These are people who today are the victims of war crimes," he told French media. "Those that commit these acts will have to face up to their responsibility, including in the" International Criminal Court. While it's unclear if Western nations have the resolve to bring Russia to the ICC, they certainly lack the legal authority to do so because neither Russia nor Syria is a member of the court.
On Tuesday, following the Russian announcement, Hollande said he was prepared to meet with Putin to discuss Syria "at any time."
"I consider it is necessary to have dialogue with Russia, but it must be firm and frank otherwise it has no place and it is a charade," he said.
Russia's relations with the West might be at a low point, but Putin visited Turkey Monday to revive a suspended natural-gas pipeline and mark improving ties with President Recep Tayyip Erdogan. The two countries, traditional allies, had fallen out badly over the Syrian civil war, especially after Russia accused Turkey of shooting down a fighter jet, which Ankara said had crossed into Turkish airspace. Turkey opposes Assad and backs many of the rebel groups that are fighting him, but its relations with the West, especially the United States, have also deteriorated in recent months for two reasons: Ankara accuses Washington of supporting Kurdish rebel groups—which it views as terrorists—in the war against ISIS, and Erdogan is especially unhappy at what he regards as insufficient support from the U.S. after the failed coup attempt against him.
It is with this backdrop that Putin visited Turkey. He and Erdogan revived the Turkish Stream pipeline, which would allow Russian natural gas to reach Western markets, bypassing the network of pipelines that run through Eastern Europe. Turkish Stream would run under the Black Sea to Turkey from where it would carry natural gas to Greece.
Putin and Erdogan also said they would work together to bring peace to Syria—a task that appears slightly more complicated given they are on opposite sides of the civil war in that country.