The Rejection of Poland's Total Ban on Abortions
The plan to tighten the country's already restrictive rules governing the practice was defeated in Parliament after public outcry.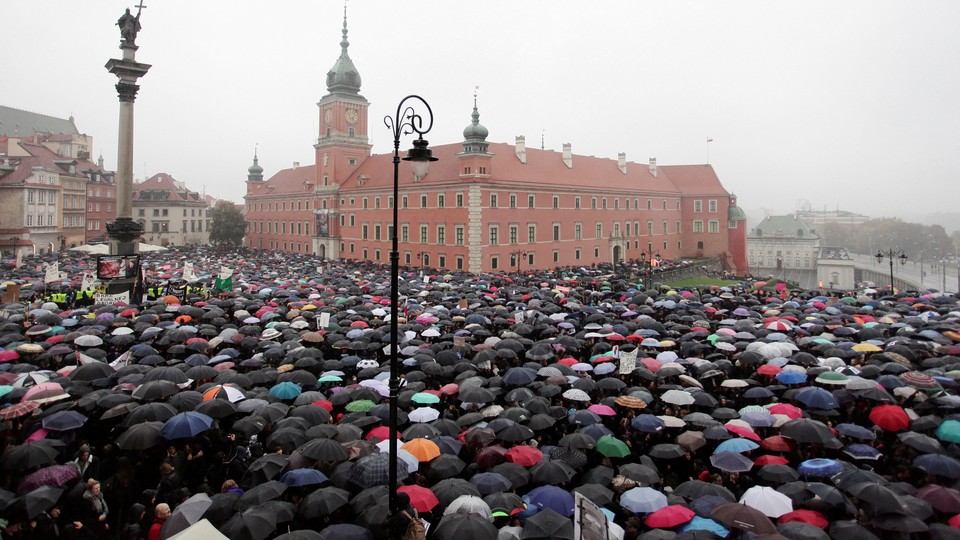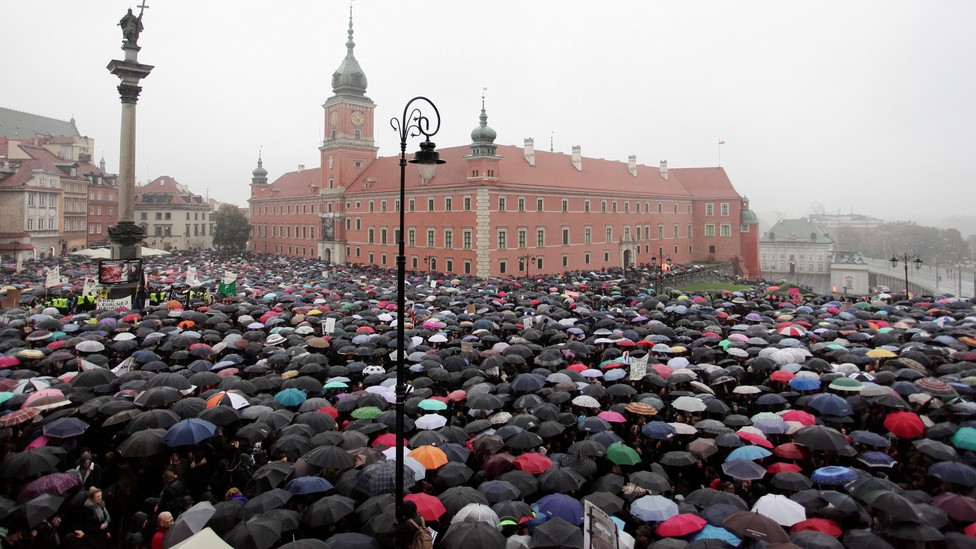 NEWS BRIEF Polish lawmakers in the Sejm, the lower house of Parliament, voted 352-to-58 to reject Thursday a measure that would have imposed a near-total ban on abortions in a country that already restricts them after massive public protests against the proposed law.
"We are dealing here with a giant misunderstanding," Jaroslaw Kaczynski, the head of the ruling Law and Justice party (PiS), said. "We have the utmost respect for those who signed the proposal [for the abortion ban]. But we have come to the conclusion, observing the social situation, that this would be a factor leading to protests."
The "social situation" being described are the protests this week against the proposed restrictions that would have introduced not only a ban on all abortions, but also prison terms for all those involved, including the pregnant woman. As my colleague J. Weston Phippen reported on Wednesday:
Thousands of women, dressed in black, marched in the streets of Polish cities earlier this week, waving black flags and holding black umbrellas. They protested the proposed law, which would ban abortion in all cases, including incest, rape, or when birth risks a mother's life. Current law, one of the strictest in Europe, makes exceptions for these cases. Police estimated more than 17,000 women joined protests in Warsaw alone, and Reuters estimated it at 100,000 nationwide.
The current law—based on a two-decade-old political compromise between Polish liberals and conservatives—allows abortions under certain conditions: if the mother's life is at risk; if the pregnancy is the result of incest or rape; or if the fetus is damaged.
The first sign of a government rethink emerged Wednesday when Jarosław Gowin, the minister of science and higher education, said the protesters "taught us humility."
The Associated Press adds that the defeat of the measure is a major setback for the ruling PiS party, which counts ultra-conservative Catholic voters among its base.
But the party also came to power thanks to centrist voters and young people who were attracted by the party's welfare program, with its promises to help the poor and even out the vast economic differences of the post-communist era.

Many in that latter group have been taking to the streets in recent days, and opinion polls show that the party's support has now fallen to its lowest point since it won elections a year ago.

Now the party finds itself on the defensive after angering groups on all sides — women, its traditional opposition, moderates among its own electorate and religious conservatives.
After Thursday's vote, Beata Szydlo, the prime minister, said the government would now turn its attention to a public education campaign against abortions.