Poland's Increasingly Unpopular Abortion Ban
Conservative politicians have reversed their position against the procedure following large protests in the country.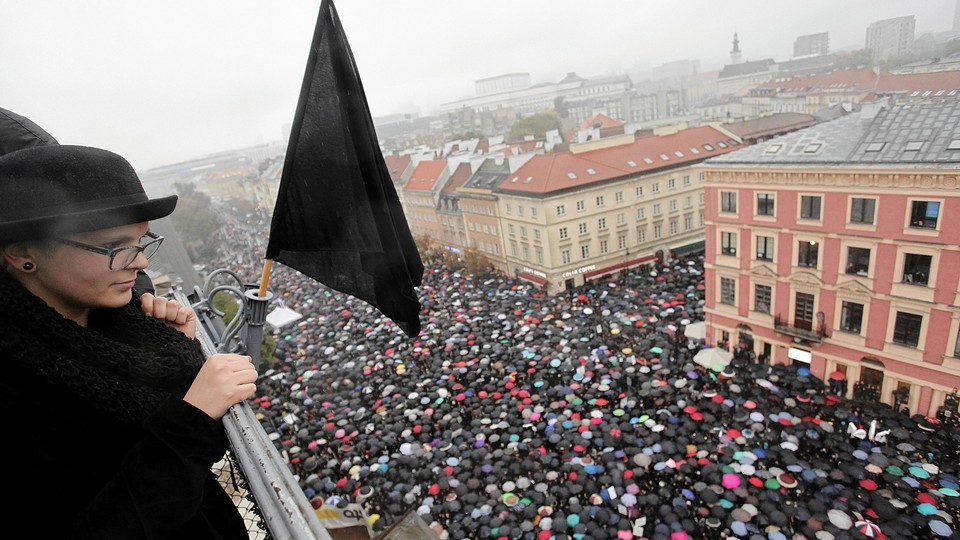 NEWS BRIEF Widespread protests over a proposed abortion law in Poland have led to a shift in political opinion, and some conservative politicians now say they will no longer support the legislation.
Thousands of women, dressed in black, marched in the streets of Polish cities earlier this week, waving black flags and holding black umbrellas. They protested the proposed law, which would ban abortion in all cases, including incest, rape, or when birth risks a mother's life. Current law, one of the strictest in Europe, makes exceptions for these cases.
Police estimated more than 17,000 women joined protests in Warsaw alone, and Reuters estimated it at 100,000 nationwide. On Wednesday, the Minister of Science and Higher Education, Jarosław Gowin, said the massive demonstrations forced him and other conservative politicians to rethink the abortion regulation, and that protesters "taught us humility."
The law, proposed by the ruling right-wing Law and Justice Party, would include a penalty of up to five years of jail for women who receive abortions and for the doctors who carry out the procedure.
Beata Szydlo, Poland's prime minister and the leader of the Law and Justice Party, backed away from the proposed law after the protests Monday (she has previously said she supported the measure). On Tuesday, when Witold Waszczykowski, the foreign minister, called the protests a "mockery of important issues," Szydlo said she disapproved of such comments and that not every member of her party backed the proposal. The party won strong support from women last year when it came to power, but after this week seemed to be at risk of losing female supporters. From Reuters:
Such criticism matters for PiS, whose appeal is based on a blend of Polish nationalism, Catholic piety and promises to help poorer Poles who have not benefited much from a decade of heady economic growth. Some 40 percent of women backed the party last year, compared to 38 percent of the wider population.
The Law and Justice Party won control of parliament last year. It is largely a nationalist, Euroskeptic, anti-immigrant party that is also staunchly pro-Catholic.
The Catholic Church has come out in favor of the law, which was inspired by a citizen-led petition that was taken up by parliament in September after it gathered more than 100,000 signatures. Newsweek Polska poll found 74 percent of citizens favor keeping Poland's abortion laws as is.