The Upcoming Palestinian Elections in the West Bank
Voters in the Gaza Strip and East Jerusalem will be excluded from the vote.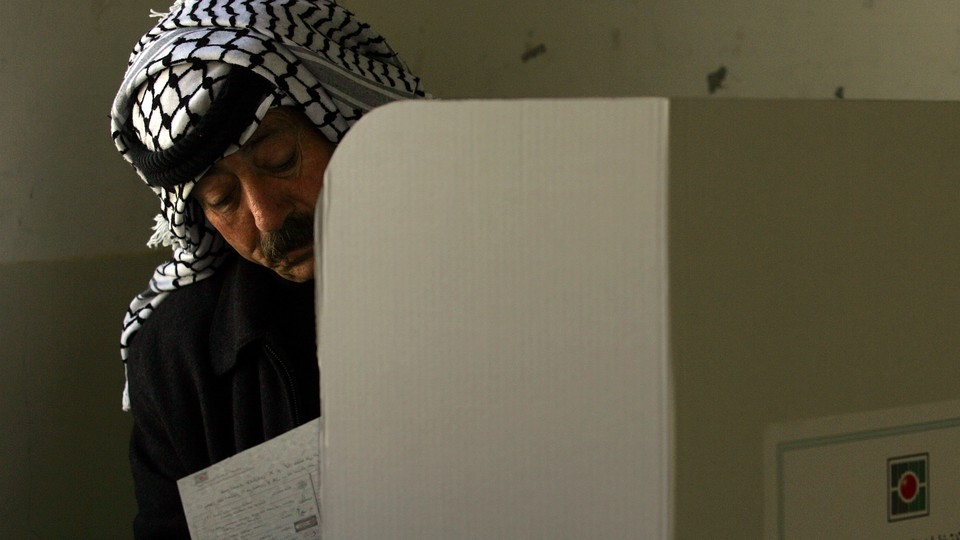 Updated on October 3 at 1:00 p.m. EST
NEWS BRIEF The Palestinian Supreme Court announced Monday municipal elections will be held exclusively in the West Bank, reversing expectations the election would take place throughout the Palestinian territories.
Last month the high court suspended the October 8 municipal elections, citing concerns with voting irregularities in the Hamas-ruled Gaza Strip, as well as the exclusion of East Jerusalem from the electoral process, according to Wafa, the Palestinian Authority's news agency.
Israel permitted limited voting in East Jerusalem in 2006, the last time elections were held, but in July said it wouldn't allow elections to take place in areas of Jerusalem deemed under its sovereignty. Israel annexed East Jerusalem, which Palestinians claim as their future capital, following the war of 1967, a move that has not been recognized under international law.
Hamas, which Israel and the U.S. regard as a terrorist group, rejected the court's decision, calling it discriminatory and politically motivated.
"The high court's decision to hold elections in the West Bank without Gaza is the politicization of the judiciary and a deepening of division which is unacceptable to the nation," Moussa Abu Marzouk, a senior Hamas official, said.
In a poll last week by the Palestinian Center for Policy and Survey Research, 61 percent of Palestinians said they opposed the court's decision to suspend elections, and 60 percent said they believed the decision was politically motivated. Of those surveyed, 39 percent said they believed elections would assist in reconciliation between the Palestinian Authority's ruling Fatah party in the West Bank and Hamas in Gaza, whereas 32 percent said they believed it would weaken reconciliation efforts.
The Fatah-dominated Palestinian Authority and Hamas haven't faced each other in elections in nearly a decade. The West Bank and the Gaza Strip have remained under separate rule since Hamas won the 2006 legislative elections and seized control of the coastal enclave from Fatah.
Despite the court's decision, the Palestinian Central Elections Committee recommended Monday that elections be postponed for six months on the grounds it may "exacerbate division" and "harm the public interest and the democratic process in Palestine," the Quds Net News Agency reports.
The new date for the upcoming election is expected to be announced next month.