The Nobel Prize in Literature
Bob Dylan has won this year's award.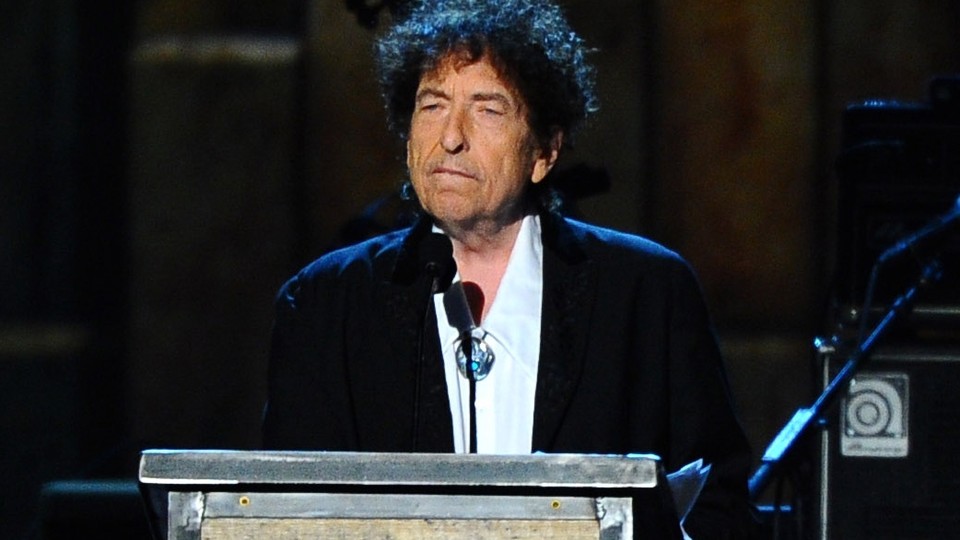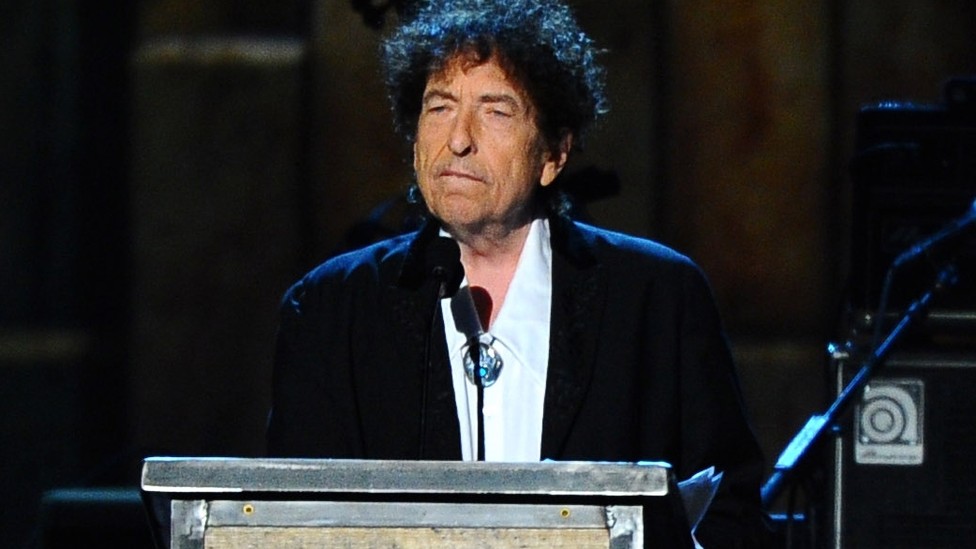 Updated at 8:00 a.m. ET
NEWS BRIEF Bob Dylan has been awarded the Nobel Prize in Literature.
Born Robert Zimmerman in Duluth, Minnesota, on May 24, 1941, Dylan, now 75, has redefined American music. The Nobel Prize in Literature caps a lifetime of awards for the musician. Among other honors, he has won a dozen Grammys, a Golden Globe, and an Academy Award, as well as the Presidential Medal of Freedom.
Dylan has long been considered a favorite for the award. In 2013, Bill Wyman, the arts writer (not the member of the Rolling Stones), made the case in The New York Times for Dylan to be honored with the Nobel Prize in Literature. He argued:
Mr. Dylan's work remains utterly lacking in conventionality, moral sleight of hand, pop pabulum or sops to his audience. His lyricism is exquisite; his concerns and subjects are demonstrably timeless; and few poets of any era have seen their work bear more influence.
But many others have argued against such a move. Writing in The Atlantic, also in 2013, Zach Schonfeld acknowledged that "Wyman is correct to place Dylan in that small category of pop performers who could rightly be called poets." But, he added:
[H]e doesn't quite consider the nature of Dylan's craft: songwriting. Albums. Rock music. That's an altogether different vehicle than a poem—or, say, a novel or story collection—and as New York Magazine's Jody Rosen argued in a lengthy quibble with Wyman and others, Dylan's verses certainly "don't sit inert on a page"; nor are his songs "mere word-delivery systems"
Sara Danius, the permanent secretary of the Swedish Academy, defended the choice.
"He is a great poet in the English-speaking tradition, and he is a wonderful sampler, very original sampler," she said. "He embodies the tradition."
Dylan's eponymously titled debut album was released in 1962. His most recent album, Fallen Angels, was released this year. In between them, Dylan released 35 studio albums, nearly a dozen live albums, and countless unreleased and bootleg music—and it's for this vast body of work that he was honored by the Nobel Committee in Sweden—an honor that comes with an 8 million kronor ($932,786) prize.
Danius, who recommended Blonde on Blonde, Dylan's 1966 album as a good introduction to his work, said while it might appear the Nobel Committee was broadening the scope of who should get the prize, "If you look back, far back, 2,500 years or so, you discover Homer and Sappho, and they wrote poetic texts that were meant to be listened to, they were meant to be performed, often together with instruments, and it's the same way with Bob Dylan.
"But we still read Homer and Sappho … and we enjoy it, and same thing with Bob Dylan: He can be read and should be read."
Dylan is the first American to win the award since Toni Morrison in 1993. Last year's award was given to Svetlana Alexievich, the Belarusian writer.