The Nobel Prize for Peace
This year's award went to Colombian President Juan Manuel Santos, who signed a historic peace deal with FARC rebels—one that Colombian voters rejected last week in a referendum.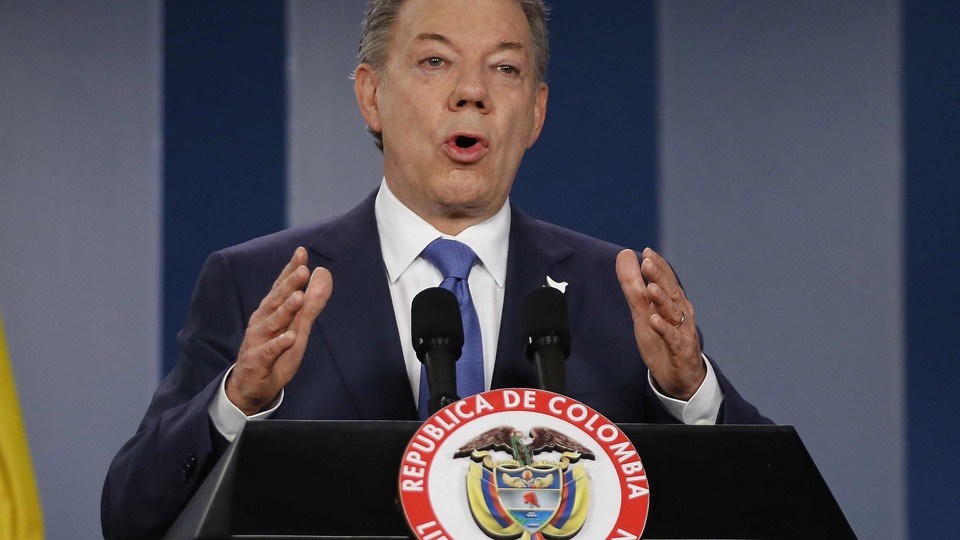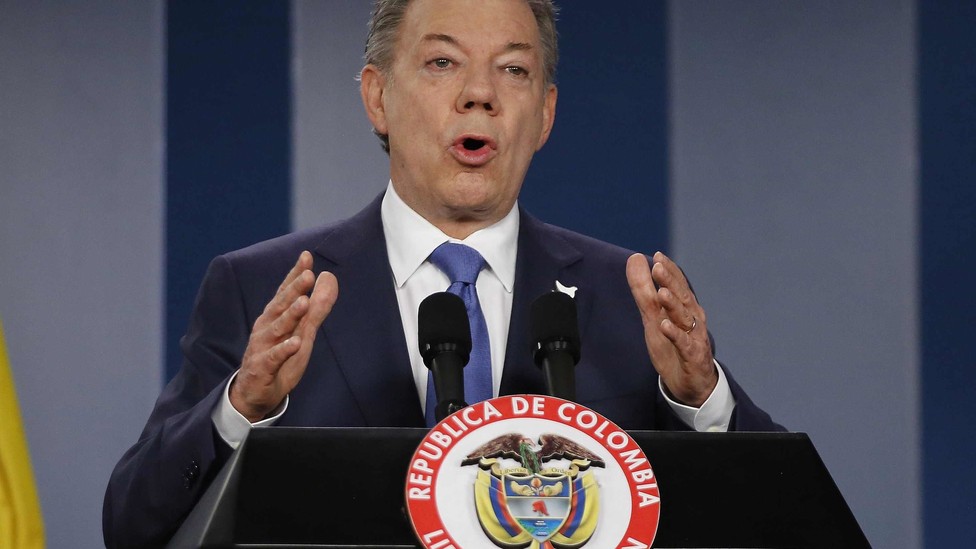 Updated at 7:44 a.m. ET
Colombian President Juan Manuel Santos has been awarded this year's Nobel Peace Prize for his efforts—rejected by voters last week—to end the country's decades-long civil war with FARC rebels.
The Nobel Committee said Santos was being given the award "for his resolute efforts to bring the country's more than 50-year-long civil war to an end." But the committee acknowledged that Colombian voters had narrowly rejected the deal in a nationwide referendum last weekend—one that stunned the world given that Santos and the FARC leader known as Timochenko had signed the deal on September 26 with much fanfare, flanked by officials from around the world, as well as members of the rebel group. Here's more:
The fact that a majority of the voters said no to the peace accord does not necessarily mean that the peace process is dead. The referendum was not a vote for or against peace. What the "No" side rejected was not the desire for peace, but a specific peace agreement. The Norwegian Nobel Committee emphasizes the importance of the fact that President Santos is now inviting all parties to participate in a broad-based national dialogue aimed at advancing the peace process. Even those who opposed the peace accord have welcomed such a dialogue. The Nobel Committee hopes that all parties will take their share of responsibility and participate constructively in the upcoming peace talks.
Indeed, the Nobel committee said the "award should also be seen as a tribute to the Colombian people who ... have not given up hope of a just peace."
Santos, in an audio interview posted on the Nobel Prize's Facebook page, said he accepted the award on behalf of "the Colombian people who have suffered so much in this war."
As my colleague J. Weston Phippen has reported, the details of the deal had angered many Colombians who said it was too lenient toward FARC rebels. The regions where the "no" vote won by the largest margins were the ones that had witnessed the worst violence in the five-decade-long conflict.
The peace deal, among other things, would have led to about 5,800 FARC soldiers laying down their arms and many being granted amnesty. Those accused of more severe war crimes would have been tried under special tribunals. Sentencing would likely have been light, because, under the deal's terms, leaders could qualify for community-service work.  
Although the fate of the peace deal is uncertain, negotiators representing the government and FARC are meeting in Havana to discuss a way forward.
Santos is the second Colombian to win a Nobel Prize: Gabriel Garcia Marquez was awarded the Nobel Prize in Literature in 1982.