Why Was NJ Transit Going Too Fast in Hoboken?
In the last minute before a fatal crash last week, a commuter train sped up to twice the limit, the NTSB says.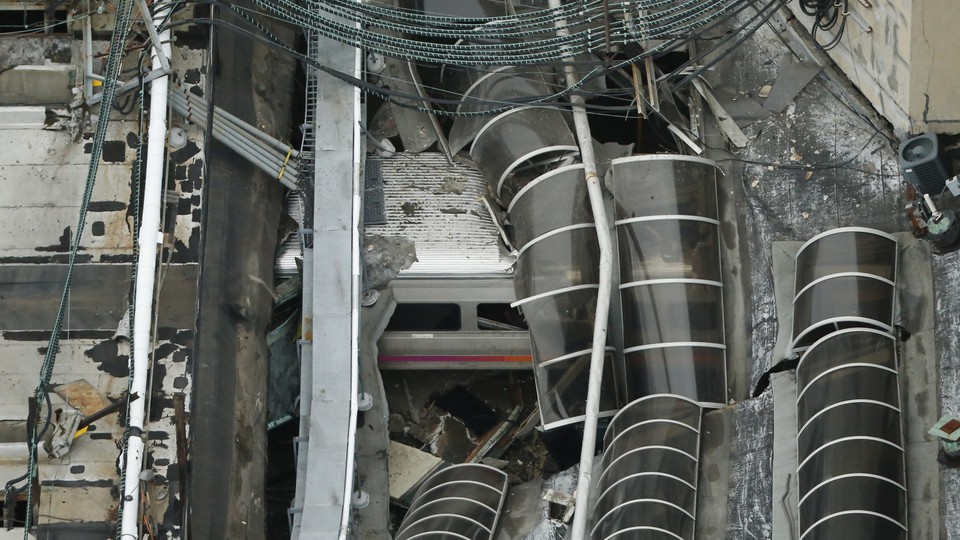 The NJ Transit train that jumped the tracks, killing one person, injuring scores, and inflicting serious damage at a Hoboken terminal last week was going twice as fast as the speed limit, transportation officials said Thursday.
The train should have been going no faster than 10 miles per hour as it entered the station, but instead it accelerated from 8 mph to 21 mph, starting just 38 seconds before the train collided with a bumper, according to the National Transportation Safety Board. Less than a second before the collision, the engineer applied the emergency brake.
Thomas Gallagher, the engineer, survived the crash and is cooperating with authorities. He says he has no memory of the incident. It has taken investigators longer than expected to gather facts about the crash, both because Gallagher does not recall what happened and because a data recorder at the back of the train was found not to be working. Instead, they had to wait several days while the recorder from the front of the train was found in the wreckage.
The news that the first recorder was not working has rattled some officials. "That's bizarre. And obviously not normal," Steven Ditmeyer, a former railroad official, told The Wall Street Journal.
On Wednesday, NJ Transit announced it had instituted new rules requiring that conductors be present alongside engineers in the cab as trains pull into Hoboken and Atlantic City stations, providing a second set of eyes and ears.
But there's still no indication what might have caused the accident, or why the train accelerated rather than braking during the final minutes before the fatal crash. NTSB investigations often take months to complete, so no answer may be immediately forthcoming. Meanwhile, the Hoboken terminal remains closed, with no word on when it might reopen.