What the Nigerian First Lady Said About Her Husband's Presidency
Aisha Buhari criticized Muhammadu Buhari's administration, which had promised change but, in the view of his critics, has delivered little. His response: "She belongs to my kitchen."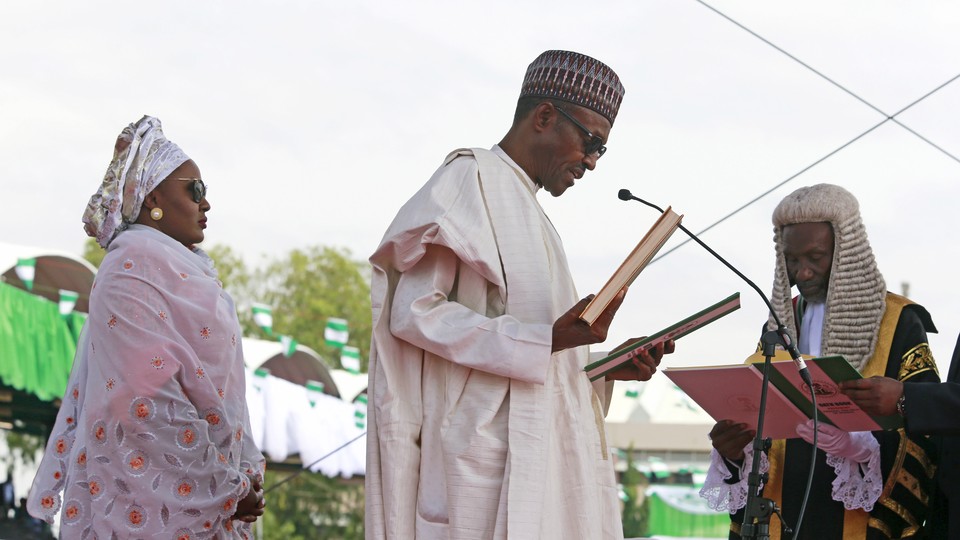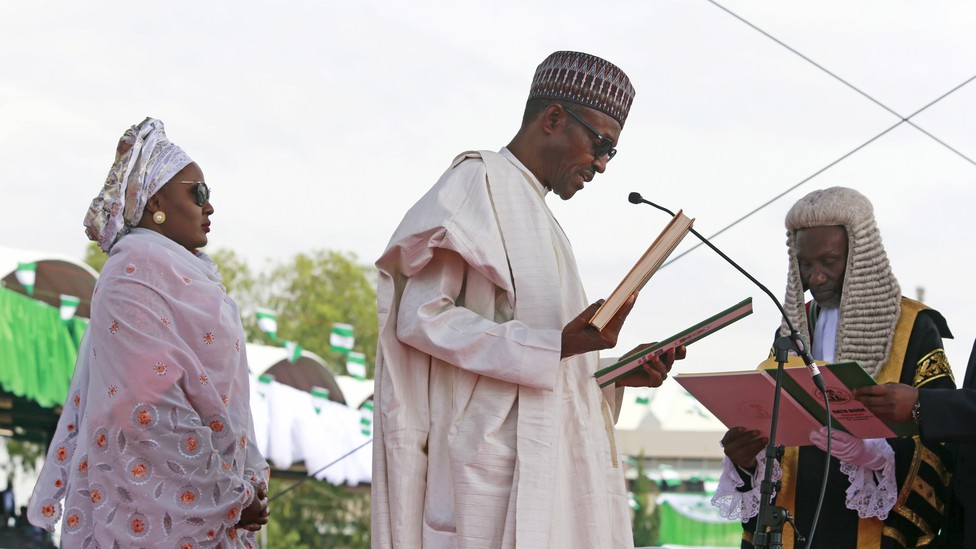 NEWS BRIEF Nigeria's first lady criticized her husband's work as president in an interview Friday with the BBC, even questioning whether she would vote for him if he sought re-election in 2019. Not much later, while on a trip to Germany, President Muhammadu Buhari told reporters, "I don't know which party my wife belongs to, but she belongs to my kitchen and my living room and the other room."
He made the comments while standing beside German Chancellor Angela Merkel, who, as the Associated Press reported, glared, and laughed.
The first lady, Aisha Buhari, told the BBC her husband doesn't know many of the top officials he has appointed, and that the government has been hijacked by a "few people" who are behind all the appointments. This is her husband's first year as an elected president (he was Nigeria's military dictator in the 1980s), and she campaigned alongside him. But since he won the election in 2015, Aisha Buhari has been pushed out of the public eye, mostly left to organize town-hall meetings with women's groups.
Her comments support already widespread claims of nepotism amid rising frustration that the government is corrupt.
Here's more from the BBC's interview with her:
Asked to name those who had hijacked the government, she refused, saying: "You will know them if you watch television."

On whether the president was in charge, she said: "That is left for the people to decide."
She added that the president had not told her if he'd contest the 2019 election.
"He is yet to tell me but I have decided as his wife, that if things continue like this up to 2019, I will not go out and campaign again and ask any woman to vote like I did before," she told the BBC. "I will never do it again."
Buhari ran on a promise to root out corruption, but critics say nothing has changed. There is also growing tension amid a recession, largely because of low oil prices, as well as lawlessness in the northeast of the country, where the Islamic militant group, Boko Haram controls much of the region. Buhari has been credited for putting the militant group on the back foot.