A Judicial Rebuke of Mike Pence's Syrian-Refugee Policy
The Seventh Circuit Court of Appeals rejected the Indiana governor's efforts to block their resettlement, calling his reasoning "nightmare speculation."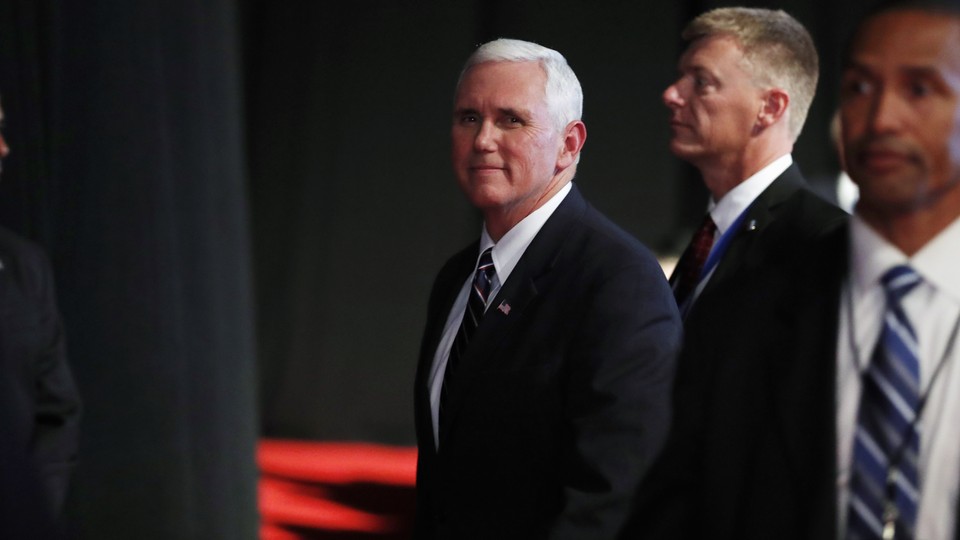 NEWS BRIEF A federal appellate court rebuked Indiana Governor Mike Pence's attempt to block Syrian refugees from resettling in his state on Monday, at one point comparing those efforts to racial discrimination against African Americans.
In a unanimous opinion, a three-judge panel on the Seventh Circuit Court of Appeals upheld a lower court's injunction against Pence, who is also the Republican vice-presidential candidate,  in Exodus Refugee International v. Pence. At the same time, they also rejected the security claims behind Pence's efforts as unfounded.
"The governor of Indiana believes, though without evidence, that some of these persons were sent to Syria by ISIS to engage in terrorism and now wish to infiltrate the United States in order to commit terrorist acts here," Judge Richard Posner wrote for the panel. "No evidence of this belief has been presented, however; it is nightmare speculation."
The case's origins trace back to November 2015, when Pence directed state agencies to deny federal grant money to organizations that assist refugees from Syria. His executive order, which was issued days after the Paris terrorist attacks, came amid similar resistance from other Republican-led states to the Obama administration's resettlement program.
Exodus, a nonprofit organization in Indiana that helps refugees resettle there, sued Pence in response. A federal district court sided with Exodus and issued an injunction blocking Pence's order from going into effect in February.
Other states, including Alabama and Texas, have also waged legal battles in the courts to block Syrian refugees. But what set Indiana's appeal to the Seventh Circuit apart was the high-profile three-judge panel that heard it. In addition to Posner, the nation's most-cited legal scholar, the panel also consisted of Frank Easterbrook, a star in the conservative legal firmament, and Diane Sykes, whom Donald Trump frequently suggests he would appoint to the Supreme Court.
During a contentious oral-argument session last month, both Easterbrook and Posner extensively criticized Indiana's legal position. Easterbrook zeroed in on the state's lack of authority under federal law to block the funds while rebuffing Indiana's disagreements with the State Department. Posner was more blunt. "Are Syrians the only Muslims Indiana fears?" he asked during a heated exchange with Indiana Solicitor General Thomas Fisher.
Monday's brief six-page ruling adopted the same hostile stance. Federal law prohibits Indiana from discriminating on the basis of nationality when disbursing federal funds, the court said in its ruling. This would be enough to uphold the injunction, but the panel also made clear its distaste. At one point, Posner says Pence's efforts to bar Syrian refugees would be legally akin to a hypothetical effort to banning African Americans from settling in Indiana.
[Pence] argues that his policy of excluding Syrian refugees is based not on nationality and thus is not discriminatory, but is based solely on the threat he thinks they pose to the safety of residents of Indiana. But that's the equivalent of his saying (not that he does say) that he wants to forbid black people to settle in Indiana not because they're black but because he's afraid of them, and since race is therefore not his motive he isn't discriminating. But that of course would be racial discrimination, just as his targeting Syrian refugees is discrimination on the basis of nationality.
The Seventh Circuit's ruling comes three days after Texas Governor Greg Abbott withdrew his state from the federal government's Refugee Resettlement Program. Abbott cited both security fears and the Obama administration's plan to accept 110,000 Syrian refugees over the next fiscal year when he announced the state's imminent departure last month.