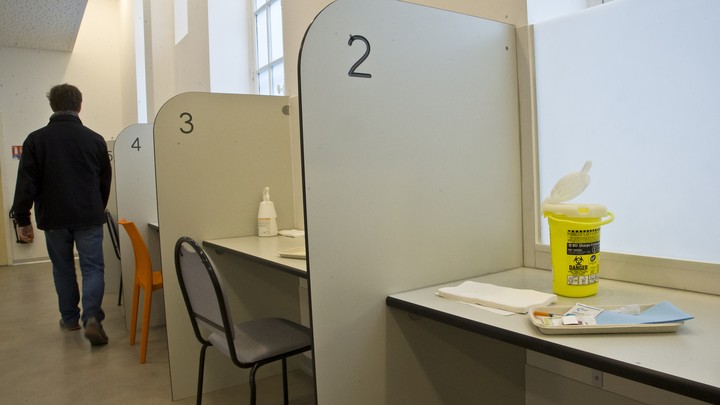 Home to one of the city's largest train stations, the neighborhood surrounding Paris' Gare du Nord in the 10th arrondissement serves as a major transit hub for tens of thousands of people each day. It's also one of the easiest spots in the French capital to find drugs.
It's within this neighborhood that the French government will debut Friday a facility where drug addicts can safely take drugs under medical supervision— the first of its kind in the country. The facility, known as the Supervised Drug Injection Site (SCMR), is part of a national effort to address the spread of infection and overdosing among drug addicts. The site is expected to serve as many as 200 drug addicts daily and will cost the state an estimated 1.2 million euros, or $1.3 million, per year.
Here's what it looks like:
#ReductionDesRisques : La France ouvre enfin une #SalleDeConsommation à moindre risque à #Paris10. #SCMR pic.twitter.com/AqjtMC1KcW

— DrugConsumptionRooms (@INDCRs) October 11, 2016
Anne Hidalgo, the mayor of Paris and a member of the country's Socialist party, described the facility during a visit Tuesday as "necessary for the people who are in complete disarray, because they know they have a door they can enter." She added: "They can come here, they can get counselling, they can get assistance, and get guided toward a life that will get them out of these addictions."
The SCMR, known commonly in France as a salle de shoot or "shooting gallery," seeks to give drug addicts a safe and supervised space for them to deal with their addiction. The center, run in coordination with the French government and Gaïa Paris, an organization that treats drug addiction, allows addicts to exchange hard drugs, such as heroin or crack, for safer substitutes, though it is unclear what those substitutes would be. In an effort to prevent the spread of viral infections, the center will also provide intravenous users with free access to sterile needles.
The initiative's supporters believe the government can effectively take drug users off the streets and transfer them to rooms where they can take their injections safely—all while under the watchful eye of trained medical professionals.
These medical professionals, however, can only do so much. Visitors to the center will be provided with sterile injection kits and must administer the injections themselves. The center's staff is permitted to intervene only in cases of overdose or if a visitor cannot find a vein, according to Le Monde. Under no circumstances can staff physically assist in the drug injection itself.
Marisol Touraine, the French health minister, said Tuesday the initiative "in no way trivializes drug use." But opponents see the initiative as perpetuating, not combating, drug addiction. Philippe Goujon, a member of the French parliament representing the center-right Union for a Popular Movement (UMP) party, accused the initiative of paving the way for the decriminalization and even legalization of illegal drug use.
"The state is saying, 'you can't take drugs, but we'll help you do it anyway," Goujon told Le Figaro.
The Association of Parents Against Drugs, which opposed the facility's establishment, told Agence France-Presse the group will launch a website to monitor drug use around the facility.
"Everyone will be invited to report incidents in the vicinity of the shooting gallery, and we know that there will be incidents," Serge Lebigot, the organization's president, said.
Medically supervised drug injection centers are hardly new in Europe, with the first appearing three decades ago in Bern, Switzerland. Since then, similar facilities have opened across the continent, including in Denmark, Germany, the Netherlands, and Spain. A report released in May by the European Monitoring Centre for Drugs and Drug Addiction found that while data surrounding the facilities' effectiveness is limited, available evidence suggests they have "an overall positive impact" on the communities where they exist.
Here's more from the report:
In summary, the benefits of providing supervised drug consumption facilities may include improvements in safe, hygienic drug use, especially among regular clients, increased access to health and social services, and reduced public drug use and associated nuisance. There is no evidence to suggest that the availability of safer injecting facilities increases drug use or frequency of injecting. These services facilitate rather than delay treatment entry and do not result in higher rates of local drug-related crime.
Despite the facility's potential effectiveness, the French public remains divided over whether the center should be in their backyard. A September poll by Ifop, a French polling agency, found that 55 percent of those surveyed opposed the concept of shooting galleries, while 45 percent supported it.
We want to hear what you think about this article. Submit a letter to the editor or write to letters@theatlantic.com.