Florida's Extended Voter Registration Deadline
A federal judge ruled Wednesday to change the date because of Hurricane Matthew, which passed near the state last week.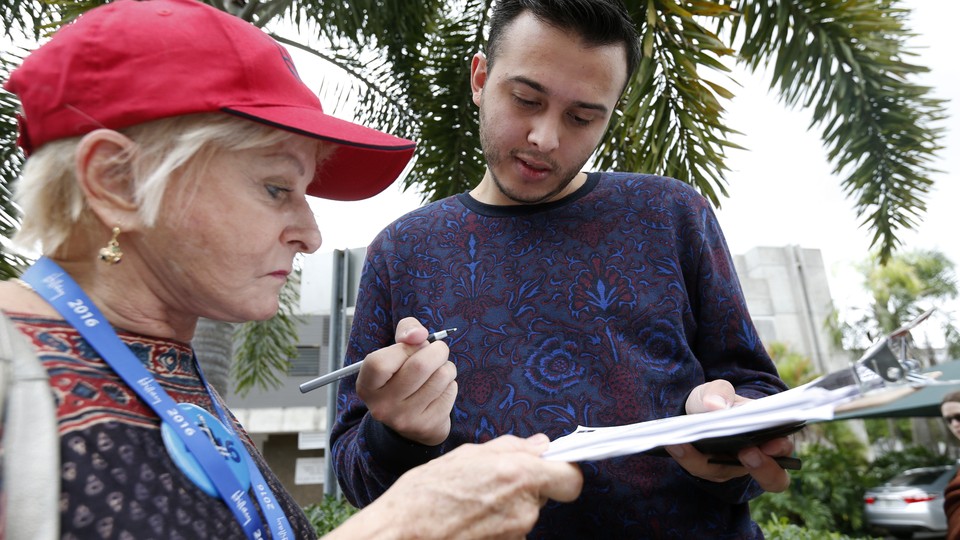 NEWS BRIEF A federal judge ruled Wednesday to extend the registration deadline for voters in Florida by six more days due to Hurricane Matthew, which passed near the key battleground state last week.
"No right is more precious than having a voice in our elections," Mark Walker, the U.S. district judge for the northern district of Florida, said Wednesday in Tallahassee during the hearing.
Walker ruled in favor of the Florida Democratic Party, which on Sunday sued Rick Scott, the Florida governor, demanding that the voter registration deadline be pushed back by one week. The lawsuit said the looming October 11 deadline and the storm forced voters "to choose between their safety and the safety of their families, on one hand, and their fundamental right to vote, on the other hand."
Nearly 1.5 million Florida residents were told Thursday to evacuate because of Hurricane Matthew, which passed several hundred miles offshore but produced heavy rains and powerful winds in the northern part of the state. The damage caused by the storm resulted in the deaths of at least five people and caused nearly 1 million people to lose power. It remains unclear how many people have been able to return to their homes.
Scott refused initial requests made by Robby Mook, Hillary Clinton's campaign manager, Thursday to extend the registration deadline on account of the storm, so the state's Democratic Party decided to legal action, the Miami Herald reported.
"Everybody has had a lot of time to register," the Republican governor said in response to requests. "On top of that, we have lots of opportunities to vote: early voting, absentee voting, Election Day. So I don't intend to make any changes."
The ruling could affect the electoral outcome of the key swing state, which boasts 29 electoral votes. According to a recent poll by Real Clear Politics, Clinton, the Democratic presidential candidate, holds a nearly three-point lead in the state over her opponent, Donald Trump.
Other states affected by Hurricane Matthew have also taken action to ensure voters' access to the polls. South Carolina extended its voter registration deadline and Georgia encouraged voters to register online.