What's Next for Colombia and FARC?
The peace plan was expected to easily pass, but voters rejected it on Sunday.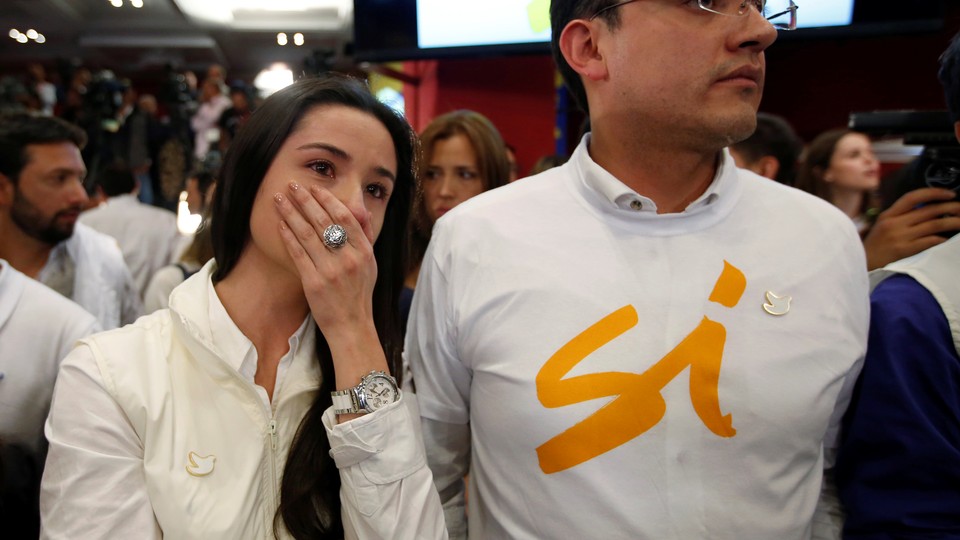 Uncertainty dominates Colombia after voters rejected a deal that would have officially ended the country's 52-year war with the Revolutionary Armed Forces of Colombia (FARC).
The "No" vote won 50.2 percent to 49.8, which, of 13 million total votes cast, came down to a 54,000-vote victory. Although turnout was low (less than 40 percent), it was a stunning upset, because nearly all polls predicted an easy win for the "Yes" campaign. Those who voted against peace with FARC said the deal was too lenient on top rebel leaders who were responsible for bombing civilians, kidnappings, hillsides full of deadly mines, and drug trafficking. Now the country must figure out what it will do after years of tense negotiations, and weeks of pageantry leading up to the peace deal that was expected to easily pass.
One week ago, the FARC leader known as Timochenko apologized to victims, saying, "I would like to ask for forgiveness for all the pain that we may have caused during this war." World leaders, including John Kerry, the U.S. secretary of state, and FARC rebels attended the signing on September 26. Colombian President  Juan Manuel Santos and Timochenko signed the peace deal with a pen made from a bullet, meant to represent the transition from war. Voters, however, weren't ready to accept that apology, or to let Timochenko and his followers off so easily.
The peace deal, among other things, would have led to about 5,800 FARC soldiers laying down their arms and many being granted amnesty. Those accused of more severe war crimes would have been tried under special tribunals. Sentencing would likely have been light, because, under the deal's terms, leaders could qualify for community-service work. This aspect of the deal pitted Santos, the deal's greatest advocate, against its most vocal critic, former President Álvaro Uribe, a longtime opponent of FARC. When Uribe first ran for president in 2002, he campaigned on a strong promise to fight FARC, which, at the time, was at the height of its power, numbering about 20,000 fighters. The war against FARC largely worked, and the Uribe government's crackdown led to a decrease in rebel ranks, and in violence. Then in 2012, Santos won the election, promising to strike a peace deal with the group and bring the war to an official end.
"We will now decide among us all what is the path we should take so that peace, the peace we all want, is possible," Santos said in a televised statement on Sunday. He seemed taken aback by the vote, but said a return to war was not an option.
Many of the regions with the highest percentage of votes against the deal were those that'd witnessed the worst violence in the decades-long conflict. That included much of central Colombia, which saw widespread bombing during the height of FARC's power. Uribe, whose father was killed by rebels, said Sunday, "We know that our compatriots who said yes will receive our message, that they'll hear us and we'll hear them."
The deal had been worked out over the course of many discussions in Havana, Cuba. Both the rebels and the government had repeatedly said it would be impossible to negotiate another deal. But after the results of the vote, they will have to. So far FARC seems willing to renewed talks, and FARC leader Rodrigo Londoño said in a statement: "FARC reiterates its disposition to use only words as a weapon to build toward the future. With today's result, we know that our challenge as a political party is even greater and requires more effort to build a stable and lasting peace."
FARC spent half a century fighting in the jungle—initially as a Marxist guerrilla group devoted to land reform and overthrowing the capitalist system, and then as a group that carried out terrorist attacks and trafficked drugs to fund its operations. The war with the rebels killed nearly a quarter of a million people, and it is this that Colombians on Sunday seemed unable to forgive.
Uribe and his supporters want stricter justice for those accused of war crimes. While the rebels do not seem willing to abandon the progress made, negotiating a new deal that puts many of their leaders in prison will be hard, especially since this past deal was four years in the making.