Colombia's Rejection of the FARC Peace Deal
An accord to end decades of violent war suffered a shocking defeat in a national referendum Sunday.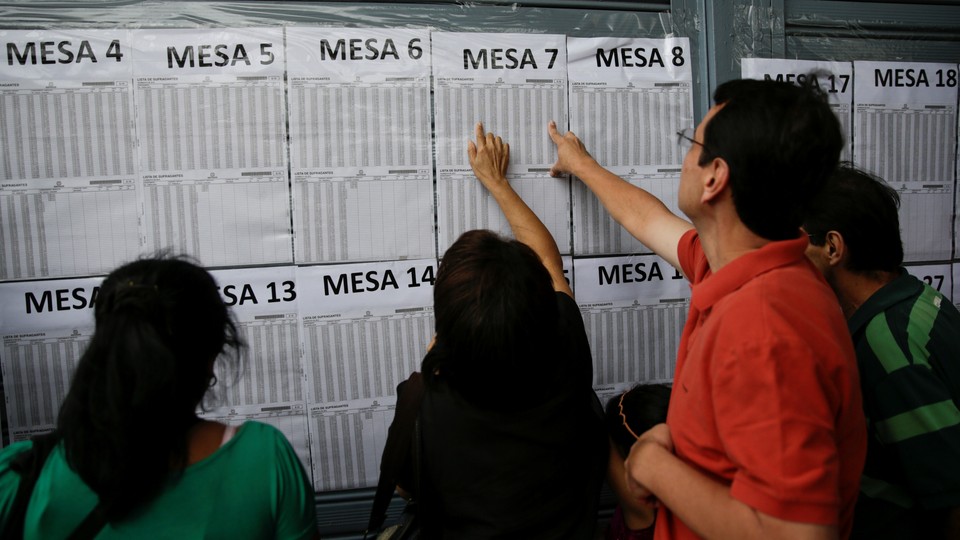 Updated on October 2 at 8:53 p.m. EST
NEWS BRIEF Colombians have rejected a peace deal to end more than 50 years of war between the government and guerrilla forces in a national referendum that was largely expected to support the agreement.
About 50.2 percent of Colombians voted Sunday against the deal, which was signed last week by Colombian President Juan Manuel Santos and Timoleon Jimenez, also known as Timochenko, the leader of the Revolutionary Armed Forces of Colombia, known as FARC, after nearly four years of fraught negotiations. About 49.8 percent voted in favor—a difference of less than 63,000 votes out of 13 million, according to the BBC.
Santos acknowledged the results in a televised address Sunday, the AP reported. He said will send government negotiators to meet with FARC leaders and leave in place a cease-fire with rebels that began August 29.
"I won't give up. I'll continue [the] search for peace until the last moment of my mandate," Santos said.
The referendum casts uncertainty on the fate of the conflict between the Colombian government and the Marxist rebel group that has killed more than 250,000 people and displaced thousands since 1964. National approval was required to ratify the peace deal. Under the agreement, FARC rebels had agreed to abandon their posts and give up their weapons to United Nations workers at special disarmament zones throughout the country. They would then be allowed to form a political party that would be recognized by the government and take 10 seats in the country's 268-member Congress. About 7,500 FARC rebels were expected to enter civilian life if the deal was approved.
Santos had been confident the deal would be accepted, and said there was no "Plan B" if the public voted against it. His opponents say they want both sides to negotiate a "better agreement" than the one they brokered, according to The Guardian.
Wire services photos from the country showed some Colombians who voted for the peace deal were in tears after the ballots were counted Sunday.