The Return of 21 Kidnapped Chibok Schoolgirls
Boko Haram took the girls in 2014 along with more than 250 others.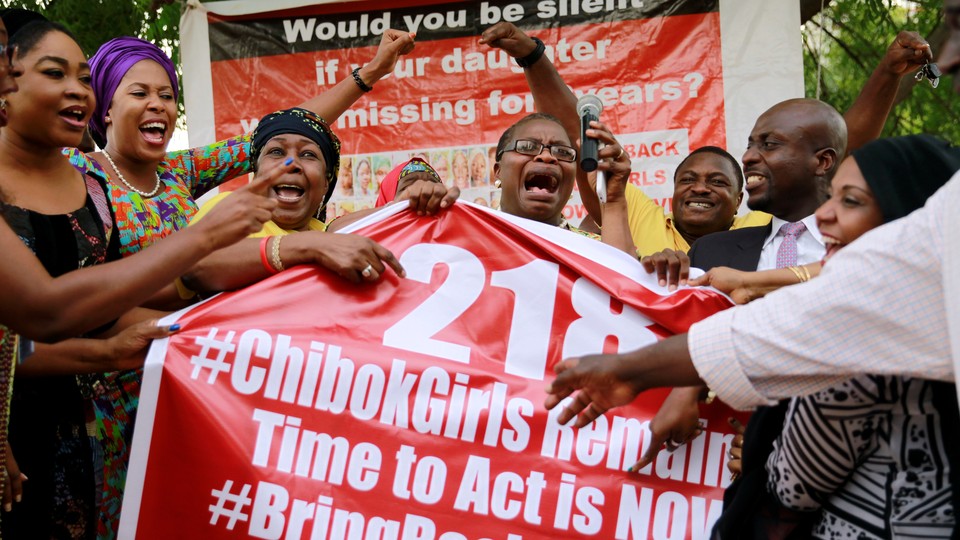 NEWS BRIEF Boko Haram militants released 21 of the kidnapped Chibok schoolgirls who were taken in 2014, the Nigerian government said in a statement Thursday.
The Islamic militants stormed the girl's hostel at their government boarding school in the town of Chibok two years ago and kidnapped about 270 students, all girls. Their mothers' ensuing fight for their return sparked a worldwide effort under the hashtag #BringBackOurGirls. Their disappearance also became a sign of the Nigerian government's inability to control parts of its territory in the northeast, one about the size of Belgium, that fell under control of Boko Haram. Crushing the militants became a presidential platform for Muhammadu Buhari, who took power in 2015.
The girls were released as part of negotiations between Boko Haram, the International Red Cross, and the Swiss government, the president's spokesman, Mallam Garba Shehu, said. Their names will come soon.
The names of the released girls follows shortly.

— Mallam Garba Shehu (@GarShehu) October 13, 2016
There were few details of the deal, but it's believed the government traded some Boko Haram prisoners in exchange for the girls' release. There are about 200 girls still missing, and some have periodically been sent home, or found in villages surrounding Boko Haram's territory. Some come back with horrifying tales of rape and forced labor.
For seven years, Boko Haram has fought to create an Islamic state in the northeast of Nigeria, and the fighting has led to the deaths of 30,000, according to the government, with more than 2 million people displaced. In the past year, however, Boko Haram's territory has shrunk as the Nigerian military, aided by U.S. and British forces, have bombed and attacked the militants on the edge of the country, as well as in Cameroon.
The negotiations represent a new stage in the fighting, and the Nigerian government said they will continue talks.