How Brock Turner Changed California's Rape Laws
Governor Jerry Brown signs two new bills into law inspired by the Stanford rape case.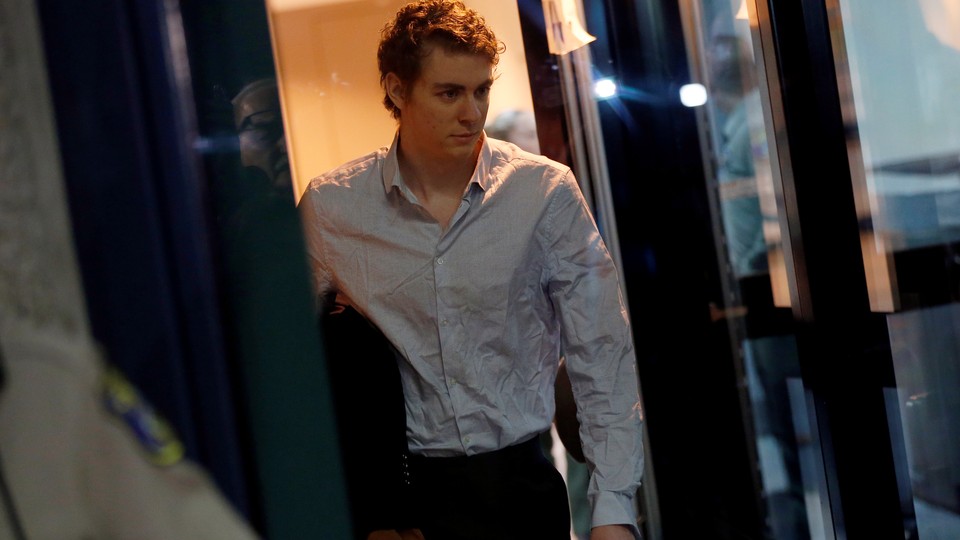 NEWS BRIEF California expanded its definition of rape and added new mandatory-minimum sentences for sexual assaults on Friday, five months after a judge's lenient sentence for former Stanford swimmer Brock Turner sparked national outrage.
State legislators approved the two measures, Assembly Bills 701 and 2888, as part of a broader effort to reform how California's criminal code handles sex-related crimes.
AB 2888 eliminates probation as an option for offenders whose victims are intoxicated or unconscious, while AB 701 expands the state's definition of rape beyond the use or threat of physical force. The Los Angeles Times has more:
Currently under the law, those convicted of rape using additional physical force must serve prison time. But offenders, like Turner, convicted of sexually assaulting someone who is unconscious or incapable of giving consent because of intoxication, can receive a lesser sentence based on a judge's discretion.

Rape has previously been defined as "an act of sexual intercourse" under certain conditions of force, duress or lack of consent. Other types of sexual assault, like penetration by a foreign object, were categorized as separate offenses.
In a statement announcing he had signed them into law, Governor Jerry Brown said he opposed adding new mandatory-minimum sentences in general. In this case, however, Brown justified his support for AB 2888 by noting it would bring "a measure of parity to sentencing for criminal acts that are substantially similar."
A Santa Clara jury found Turner guilty on three counts of sexual assault in March for attacking an unconscious 23-year-old woman after a party on Stanford's campus in 2015. Turner faced a maximum of 14 years in prison; prosecutors recommended six years.
In June, Santa Clara Superior Court Judge Aaron Persky instead sentenced Turner to six months in prison, plus three years of probation. The case rose to national prominence after BuzzFeed published the victim's courtroom statement, in which she describes the emotional toll of the assault in haunting, extensive detail. A campaign now is underway to recall Persky; Turner was released three months early in August.
The changes come two days after Brown signed a bill into law that nixed California's statute of limitations for sex-related crimes. State legislators drafted the measure after more than 50 women came forward with rape allegations against comedian Bill Cosby in 2015. Many of the allegations were decades old, including some in California. Cosby has denied any criminal wrongdoing.