A Spike in Hate Crimes After Brexit
More than 5,000 incidents were reported in England and Wales in July—a 41 percent increase from last year.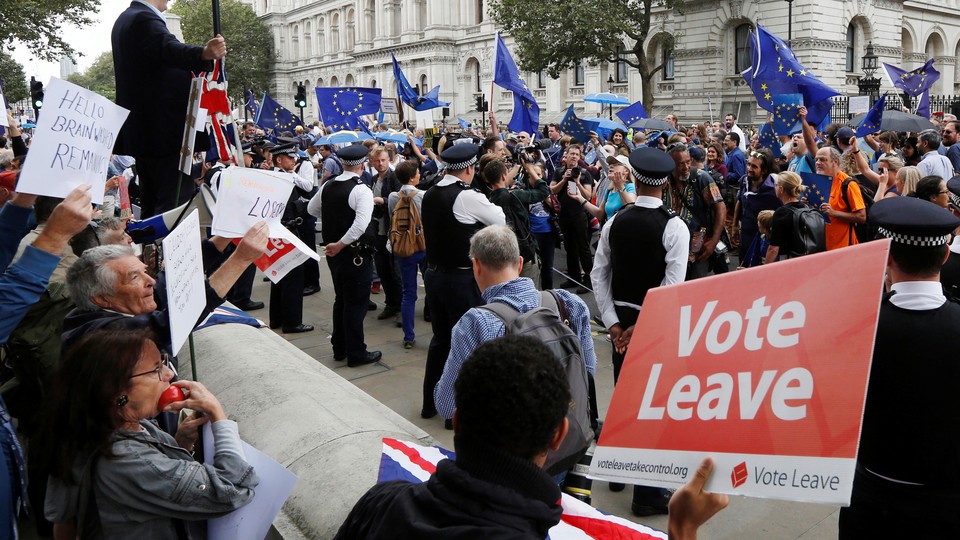 NEWS BRIEF England and Wales saw a sharp rise in hate crimes since the United Kingdom voted in a historic referendum to leave the European Union, a report by the U.K. Home Office revealed Thursday.
Police in England and Wales recorded 62,518 hate crimes between 2015 and 2016—a 19 percent increase from the previous year. Of those incidents recorded, 79 percent were classified as hate crimes based on race, 12 percent on sexual orientation, 7 percent on religion, 6 percent on disability, and 1 percent were classified as transgender hate crimes.
The most alarming rise in hate crimes, however, took place in the month after voters in England, Scotland, Wales, and Northern Ireland cast their ballots in favor of Britain leaving the EU. In July, a total of 5,468 hate crimes were reported to the police—41 percent higher than July 2015. More than 200 incidents were reported on July 1 alone.
Here's more from the report:
There is an increase in these offences recorded in June 2016, followed by an even sharper increase in July 2016. The number of aggravated offences recorded then declined in August, but remained at a higher level than prior to the EU Referendum. These increases fit the widely reported pattern of an increase in hate crime following the EU referendum. Whilst January to May 2016 follows a similar level of hate crime to 2015, the number of racially or religiously aggravated offences recorded by the police in July 2016 was 41% higher than in July 2015. The sharp increase in offences is not replicated in the non-racially or religiously aggravated equivalent offences.
The spike in hate crimes coincided with the announcement by Amber Rudd, the Home secretary, of a government initiative urging victims to report incidents of hate crimes "so that the full scale of the challenge facing communities can be understood and tackled." It is unclear how much of the increase is due to the heightened willingness to report hate crimes.
"We are the sum of all our parts— a proud, diverse society," Rudd said. "Hatred does not get a seat at the table, and we will do everything we can to stamp it out."
A survey by The Guardian last month found that European embassies in Britain reported an increase in suspected hate crimes against their citizens in the UK after the Brexit vote; a majority of complaints came from citizens of Eastern European countries. A total of 31 hate crimes were reported to the Polish Embassy, including the high-profile death of a Polish national who was killed following an alleged attack by a group of teenagers in Harlow, England. Six people were arrested in connection with the killing.