The Debate Over Australia's Same-Sex Marriage Vote
The country's major political parties support marriage equality but disagree on the process of legalization.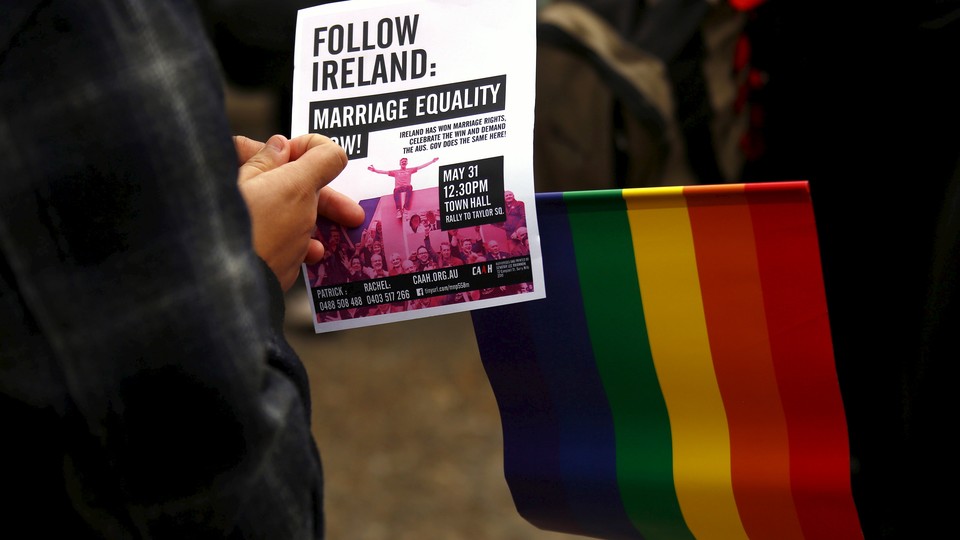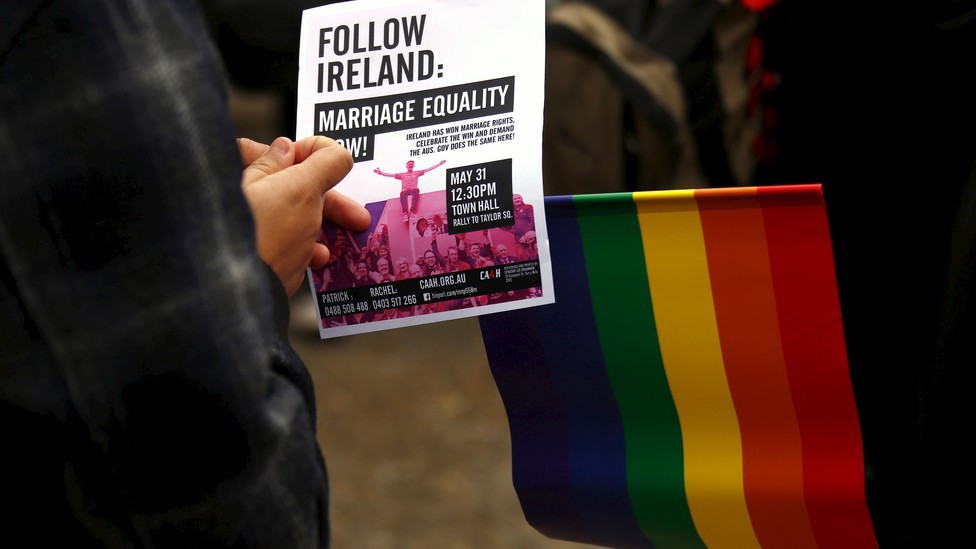 Updated on October 11 at 7:49 p.m. EST
NEWS BRIEF Leaders of Australia's opposition Labor Party said Tuesday they will oppose the government's plan to hold a national plebiscite on same-sex marriage next year, making it increasingly unlikely the vote will take place.
The Labor Party's unanimous vote to oppose the plebiscite follows a nationwide debate over whether Australia's existing laws, which prohibit same-sex marriage, should be changed. Though a majority of Australians—including the leaders of both the ruling and opposition parties—support legalizing same-sex marriage, they disagree on how the government should do it.
Malcom Turnbull, the Australian prime minister and the leader of the country's conservative Liberal Party, advocates for putting the issue to a non-binding national plebiscite, which would ask all eligible Australian voters if they think the law should be changed to allow gay couples to marry. The opposition, however, argues the issue shouldn't be put up to a vote at all on the grounds that a plebiscite would be costly and divisive, calling instead for parliament to legislate on the issue without a vote.
Bill Shorten, Labor's parliamentary leader, said Tuesday he feared the plebiscite could prompt divisive and hateful rhetoric toward the country's LGBT community.
"I could not in good conscience recommend to the Labor Party that we support the plebiscite about marriage equality … children do not need to go to school in the climate of a plebiscite and have the integrity of their parents' relationship challenged," he said.
Turnbull accused Shorten Tuesday of "trying to subvert a straightforward, democratic process."
"He has decided he does not want a plebiscite on any terms. He does not want the Australian people to have any say on any terms," Turnbull said. "Well we do, we have a mandate for it, and we are asking the Senate to do their job and support it."
Labor's opposition to the plebiscite makes the chances of such a vote taking place nearly impossible. In order for the plebiscite to pass the Senate, the ruling Liberal coalition would need to convince nine senators to support the vote—an attempt that the 26-member Labor Party, the nine-member Green party, the three-member Nick Xenophon Team, and the lone senator in Derryn Hinch's Justice Party have vowed to oppose. Mathematically, this leaves only seven remaining votes in play.
Australia remains one of the few remaining Western nations where same-sex marriage isn't legal.