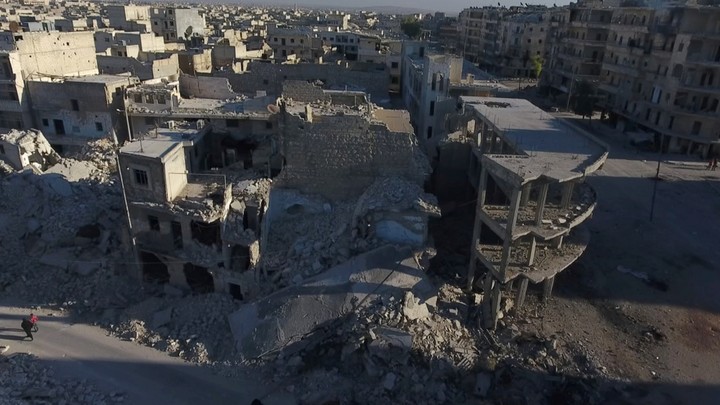 Updated on October 6 at 2:37 p.m. EST
NEWS BRIEF If the intensified bombing campaign by Russian and Syrian forces in Aleppo doesn't cease, the once vibrant eastern part of the Syrian city may face total destruction by the end of the year, the United Nations warned Thursday.
"The bottom line is in a maximum of two months, two and a half months, the city of eastern Aleppo, at this rate, may be totally destroyed," Staffan de Mistura, the UN envoy to Syria, said Thursday in Geneva. "We are talking about the old city in particular."
De Mistura's appeal to Moscow and Damascus follows the latest offensive by both countries to reclaim the eastern part of the divided city, considered the last major rebel stronghold whose takeover could mark a key turning point in the country's five-year civil war. The intensified airstrikes on the eastern half of the city, where 250,000 civilians remain, has resulted in unprecedented destruction—the kind de Mistura said the UN would not ignore.
"There is only one thing we are not ready to do: be passive, resign ourselves to another Srebrenica, another Rwanda, which we are sadly ready to recognize written on that wall in front of us, unless something takes place," the UN envoy said.
Bashar al-Assad, the Syrian president, said Thursday that rebels and their families in eastern Aleppo would be permitted to leave if they agreed to lay down their weapons, though he refused to end the offensive aimed at retaking control of the city. Rebels are unlikely to take up such an offer.
Indeed, after five years of civil war, much of the damage to the ancient city—once the largest in the country—has already been done. To grasp the full scale of Aleppo's destruction, here is an image from one of the city's main markets, or souks, taken in 2010 before the civil war.
Here's another image of a souk in Aleppo, this one taken three years later.
In an appeal to rebel forces in eastern Aleppo, de Mistura offered to personally escort up to 1,000 Islamist fighters from the city in exchange for an immediate halt in the bombing, as well as UN access to the besieged city in order to provide humanitarian aid.
The prospects of a cease-fire, however, appear slim following the rapid deterioration of U.S.-Russian ties in recent weeks. The two countries had organized the weeklong cease-fire, which ended September 19. Further attempts to restart a truce have failed. On Monday, the U.S. announced the suspension of bilateral talks with Russia over Aleppo, citing Moscow's failure "to live up to its own commitments."
We want to hear what you think about this article. Submit a letter to the editor or write to letters@theatlantic.com.