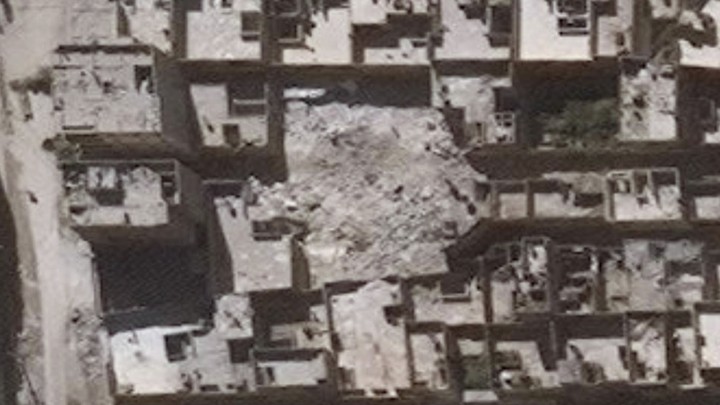 NEWS BRIEF Newly released satellite images show the extent to which rebel-held parts of Aleppo were damaged after the weeklong cease-fire in Syria ended on September 19.
The images, which were released Wednesday by the UN Institute for Training and Research's Operational Satellite Applications Program, show massive craters, damaged and destroyed houses, damaged schools, and collapsed buildings in the eastern part of Aleppo. The images, obtained by the UN under an agreement with the U.S. State Department, are dated September 25 and October 1, a period that coincides with intensified Syrian and Russian airstrikes on the city.
The scale of the destruction in the last major rebel redoubt is believed to be an attempt by Syrian President Bashar al-Assad and Russian President Vladimir Putin to reclaim the divided city in full before the U.S. presidential election. The New York Times reported that Putin believes President Obama is unlikely to intervene in the conflict before the November election.
The intensified airstrikes—which resulted in the targeting of a humanitarian convoy—has led to a rapid deterioration in U.S.-Russian ties. The two countries had negotiated the weeklong cease-fire, a move it was hoped would set the stage for a more comprehensive agreement. But earlier this week, the U.S. suspended bilateral talks with Russia over the situation in Aleppo, saying "Russia failed to live up to its own commitments."  
We want to hear what you think about this article. Submit a letter to the editor or write to letters@theatlantic.com.