A Not-Guilty Plea for the New York and New Jersey Bombing Suspect
Ahmad Rahimi's hearing was for state charges of attempted murder of police officers, not the federal charges accusing him of bombing public spaces.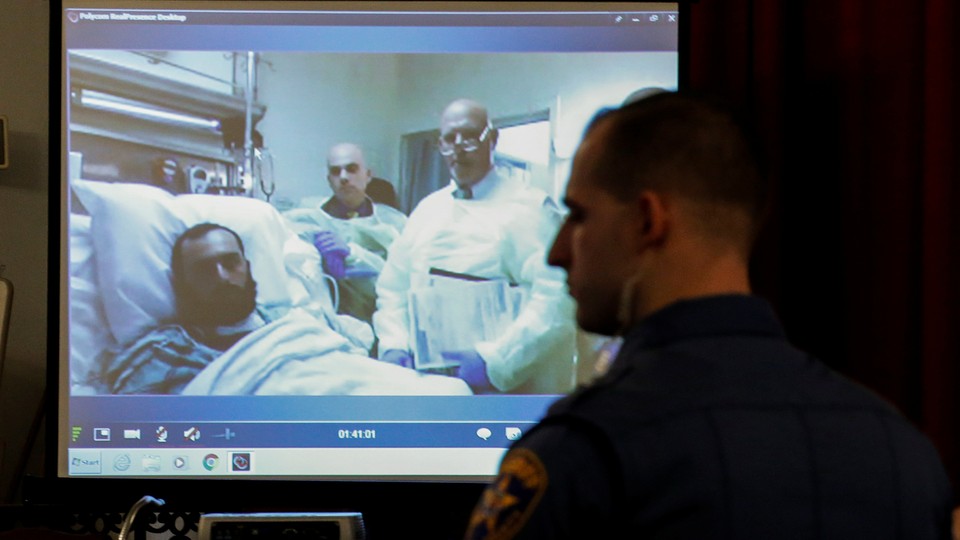 NEWS BRIEF Ahmad Rahimi, the man accused of setting off bombs in Manhattan and New Jersey last month, pleaded not guilty on Thursday in a New Jersey Superior Court to charges that he tried to kill several police officers.
Rahimi was not at the hearing in person, because he is still in the hospital recovering from gunshot wounds. Instead, he pleaded through a video connection. He was charged with five counts of attempted murder of a police officer, the alleged result of the shootout that injured Rahimi and brought a manhunt to a close. These do not include federal charges against Rahimi, in which he is accused of using weapons of mass destruction and bombing a public place, among other charges.
NJ.com has more details of the video hearing:
Rahimi appeared in Union County Superior Court just after 2 p.m. via Skype from his bed, with a bandage clearly visible around his neck. Rahimi spoke in a barely audible voice when responding to the county Superior Court Judge Regina Caulfield, who asked if he had received the charges against him.

"Yeah," Rahimi squeaked out after looking to his lawyer, the Union County Public Defender Peter Liguori, for approval to respond.

Rahimi also pleaded not guilty to two weapons charges through his lawyer Liguori, who stood beside Rahimi hospital bed. Liguori requested police reports supporting the charges
Officers found Rahimi September 19 sleeping outside a bar in Linden. It was the second day of a manhunt for the suspect who placed several bombs around New Jersey and New York, only some of which exploded. One bomb detonated September 17 along the route of a Marine Corps charity race in the New Jersey shore town of Seaside Park. A pressure-cooker bomb exploded in Manhattan injuring 31 people. A second pressure-cooker bomb failed to explode, as did several pipe bombs placed in a trash can near a light rail in New Jersey.
After officers realized they'd found the bombing suspect, a shootout ensued, and two officer were injured. Both were released from the hospital the next day.
Rahimi is a U.S. citizen born in Afghanistan, who attended high school in New Jersey. Federal agents are investigating whether he became radicalized over the course of several trips to his home country, as well as to Pakistan.