A WNBA Team's Protest Against Police Violence
Every member of the Indiana Fever knelt during the national anthem, as Colin Kaepernick's demonstration transcends professional sports.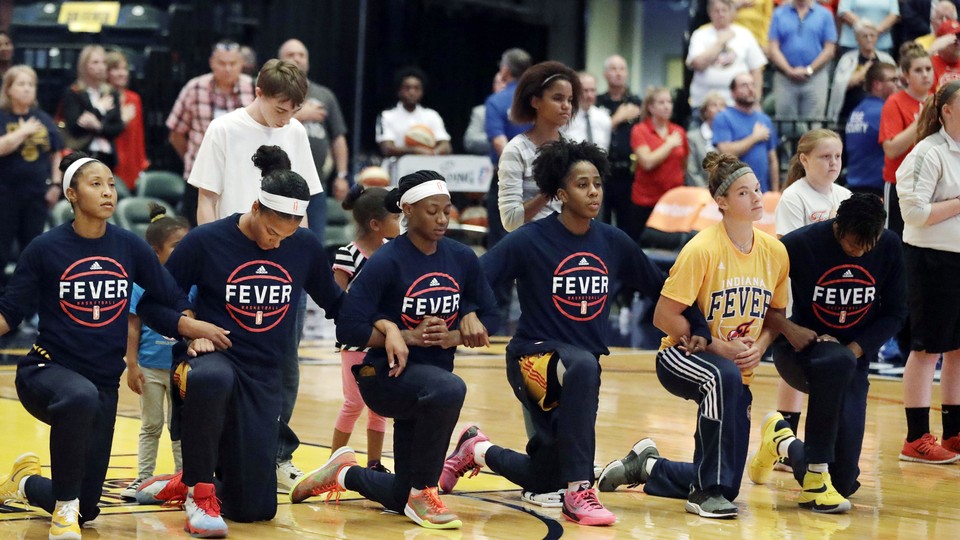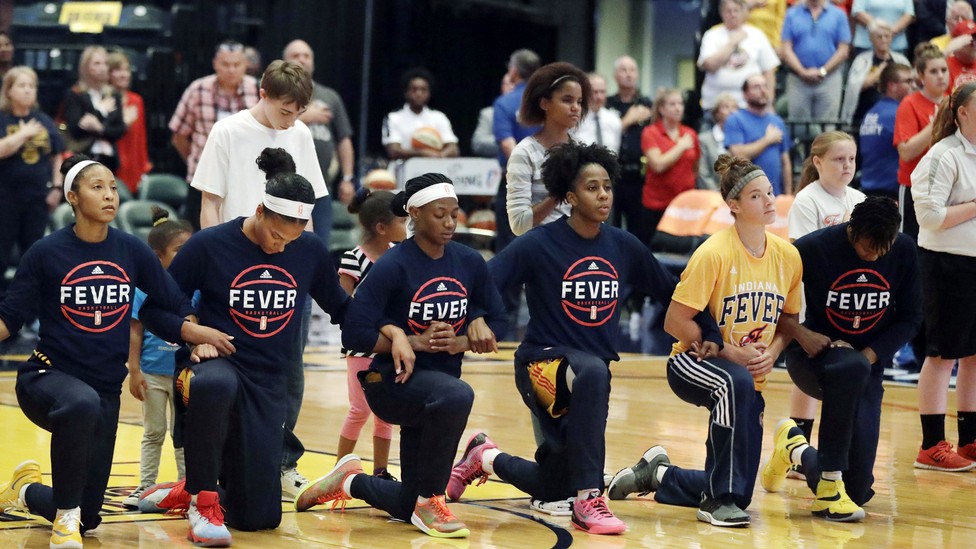 NEWS BRIEF An entire WNBA team knelt and locked arms during the national anthem Wednesday night, protesting recent police shootings.
Every player on the Indiana Fever and two players from the Phoenix Mercury decided to take a knee before their playoff game to protest police violence and racial inequality. A protest that began with San Francisco 49ers quarterback Colin Kaepernick has spread across the sporting world.
After "The Star Spangled Banner" played, Fever coach Stephanie White told her team:
I'm proud of y'all for doing that together. That's big. It's bigger than basketball.
WNBA players have been leaders in recent protests by professional athletes. In July, four players on the Minnesota Lynx wore black warmup shirts to honor victims of fatal shootings by police, and others have joined them in speaking out.
Also on Wednesday, the NBA and National Basketball Players Association sent a memo to their players asking them to come up with ideas to create "positive change" in American communities, the Associated Press reports. The two organizations are coming together to "take meaningful action." The memo read:
These ideas are based on the actions many of you have already taken or supported, including convening community conversations in NBA markets to engage young people, parents, community leaders and law enforcement in a candid dialogue.
Since Kaepernick started his protest several weeks ago, dozens of other football players have joined him in one way or another. But beyond just kneeling, locking arms, or putting fists in the air, football players are starting to use their position as professional athletes to explain their position in more detail.
Seattle Seahawks cornerback Richard Sherman refused to take questions from reporters Wednesday, instead explained that he's making a statement during the national anthem—in his case, locking arms with his teammates—because of police shootings like the ones from this week. He added:
The reason these guys are kneeling, the reason we're locking arms is to bring people together to make people aware that this is not right. It's not right for people to get killed in the street…

And so when a guy takes a knee, you can ignore it. You can say he's not being patriotic, he's not honoring the flag. I'm doing none of those things. I'm saying, straight up, this is wrong and we need to do something.
Former NFL star Marshawn Lynch and Carolina Panther quarterback Cam Newton also came out Wednesday in support of Kaepernick's continuing protest.