A White House Tribute at Last
President Obama met with the families of the African-American athletes of the 1936 Olympic Games in Berlin, offering praise that Franklin Roosevelt didn't.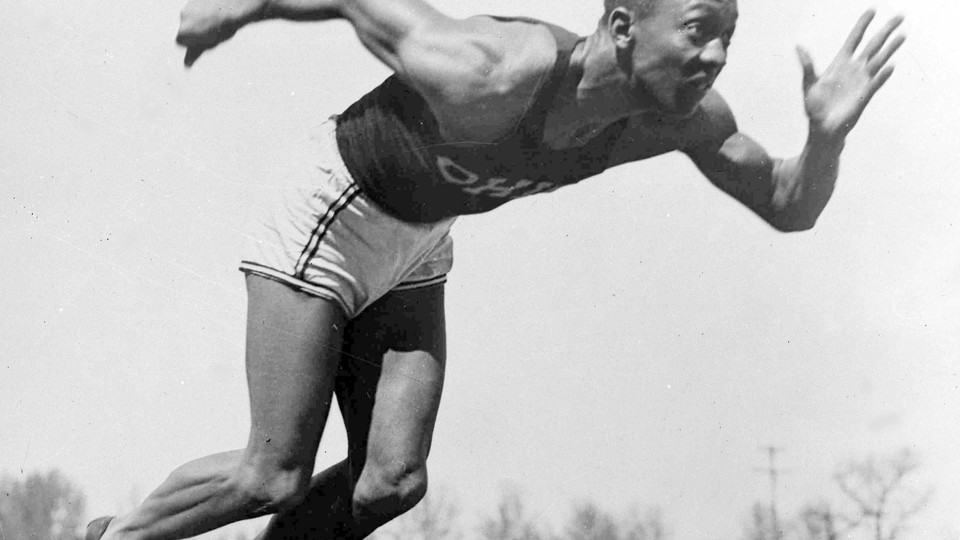 In 1936, 18 African American athletes left the Berlin Olympics with 14 medals, a quarter of the total medals won by the U.S. team that summer. They returned to a segregated United States, where the American public mostly celebrated their victories—but their president didn't.
"Hitler didn't snub me; it was our president who snubbed me," said Jesse Owens, the 23-year-old track star who won four gold medals, of Franklin Roosevelt. "The president didn't even send a telegram."
Eighty years later, the athletes—16 men and two women—received their overdue recognition by a U.S. president Thursday when their relatives visited the White House for an event honoring the U.S. team at this year's Rio games.
"It wasn't just Jesse. It was other African American athletes in the middle of Nazi Germany under the gaze of Adolf Hitler that put a lie to notions of racial superiority—whooped 'em—and taught them a thing or two about democracy and taught them a thing or two about the American character," President Obama said Thursday.
The other athletes were Dave Albritton, John Brooks, James Clark, Cornelius Johnson, Willis Johnson, Howell King, James LuValle, Ralph Metcalfe, Art Oliver, Tidye Pickett, Fritz Pollard Jr., Mack Robinson, Louise Stokes, John Terry, Archie Williams, Jack Wilson, and John Woodruff. Eighteen relatives attended the White House event and shook the president's hand, according to the AP.
Obama also praised Tommie Smith and John Carlos, who were in attendance, for their silent protest at the 1968 Summer Olympics in Mexico City. The athletes, who won gold and bronze medals in the 200-meter run, each raised a glove-covered fist on the winner's podium while the national anthem played, an act that resulted in their expulsion from the games. Obama said Thursday the controversial move "woke folks up and created greater opportunity for those that followed."
After the 1936 games, Owens gained national attention. The lives of the other athletes, largely forgotten to history, were the focus of Olympic Pride, American Prejudice, a documentary by Deborah Riley Draper released in July. "They were Olympic athletes when they were on the medal stand," Draper told NPR in an interview last month. "When they came back home to a segregated America, they came back to being Negroes."
John Woodruff, who won gold in the 800-meter run, recalled this experience in a 1996 interview published on the U.S. Holocaust Memorial Museum website. "It was very definitely a special feeling in winning the gold medal and being a black man. We destroyed his [Hitler's] master race theory, whenever we start winning those gold medals," Woodruff said. "So I was very proud of that achievement and I was very happy, for myself as an individual, for my race, and for my country."
But when he returned to the U.S., Woodruff was reminded of his own country's lack of acceptance of blacks:
After the Olympics, we had a track meet to run at Annapolis, at the Naval Academy. Now here I am, an Olympic champion, and they told the coach that I couldn't run. I couldn't come. So I had to stay home, because of discrimination. That let me know just what the situation was. Things hadn't changed. Things hadn't changed.
Owens later received White House recognition in 1976, when Gerald Ford presented the athlete with the Presidential Medal of Freedom, the highest award given to a civilian. Owens died in 1980. His granddaughter Marlene Dorch, who was among the relatives at the White House Thursday, told the AP Obama's recognition would make Owen "so happy."
In his praise for this year's Olympians, Obama began with gymnast Simone Biles, shot putter Michelle Carter, and swimmer Simone Manuel, all of whom are black.
"Imagine what it means for a young girl or a young boy who sees somebody who looks like them doing something and being the best at what they do," he said. "There's no kid in American who can't look at our Olympic team and see themselves somewhere."