Another Flogging for Wells Fargo
As lawmakers grilled the bank's CEO, the Justice Department announced a $4 million settlement for a separate scandal.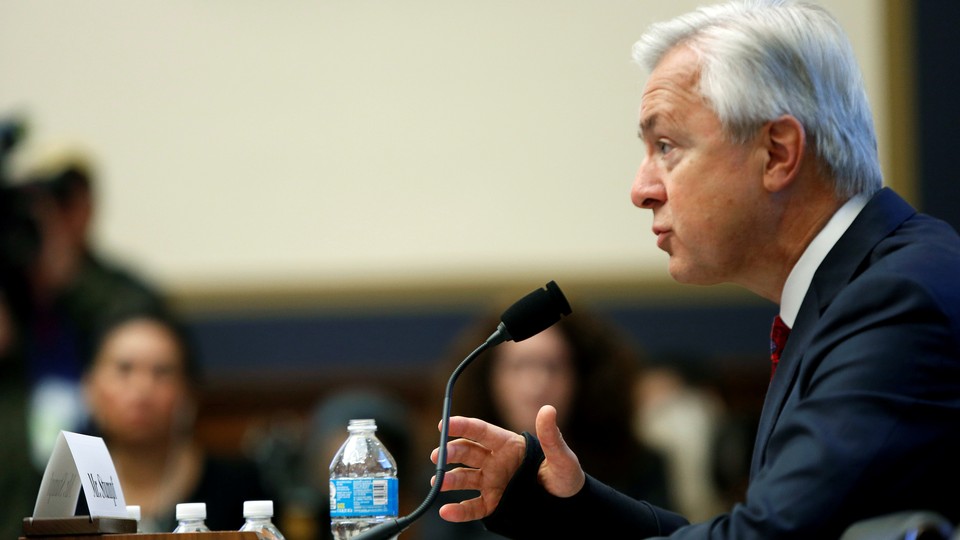 NEWS BRIEF Wells Fargo has agreed to paid more than $4 million in a settlement after federal investigators found the bank illegally repossessed 413 cars owned by American servicemembers over the last seven years.
The Justice Department announced the agreement Thursday, alleging Wells Fargo violated the Servicemembers Civil Relief Act, which gives certain legal protections to members of the military. The settlement comes after a yearlong investigation. According to investigators:
Wells Fargo had repossessed Army National Guardsman Dennis Singleton's used car in Hendersonville, North Carolina, while he was preparing to deploy to Afghanistan to fight in Operation Enduring Freedom.  After Wells Fargo repossessed the car, it sold it at a public auction and then tried to collect a deficiency balance of over $10,000 from Singleton and his family.
Investigators found that Wells Fargo failed to obtain necessary court orders to repossess Singleton's car, along with more than 400 others. A federal court must now approve the settlement, which also restores credit to the servicemembers affected.
Wells Fargo was fined additionally for the scheme, CNN reports:
The bank was fined $20 million more by the Office of the Comptroller of the Currency for breaking three provisions of the same law by denying members of the military certain banking protections, including capping their interest rates at 6%. Those violations began in 2006, the OCC said.
The bank is already under heavy scrutiny for its fraudulent practice of creating fake bank and credit-card accounts to collect fees. CEO John Stumpf was lambasted by members of the House Financial Services Committee earlier Thursday in his second visit to Capitol Hill in as many weeks. Committee Chairman Jeb Hensarling said:
Mr. Stumpf, I have a mortgage with your bank. I wish I didn't. I wish I was in the position to pay it off because you have broken my trust as you have broken the trust of millions.
Several lawmakers demanded Stumpf step down as CEO. One Democrat even suggested the need to break up the bank, saying it is too large to control.