Wells Fargo CEO's Financial Punishment
John Stumpf forfeits $41 million in stock awards because of a scandal at his company.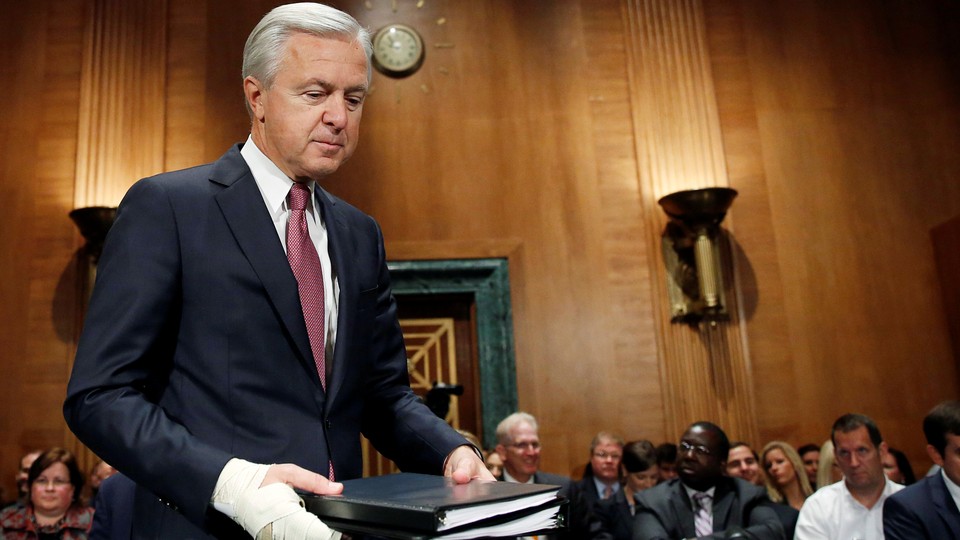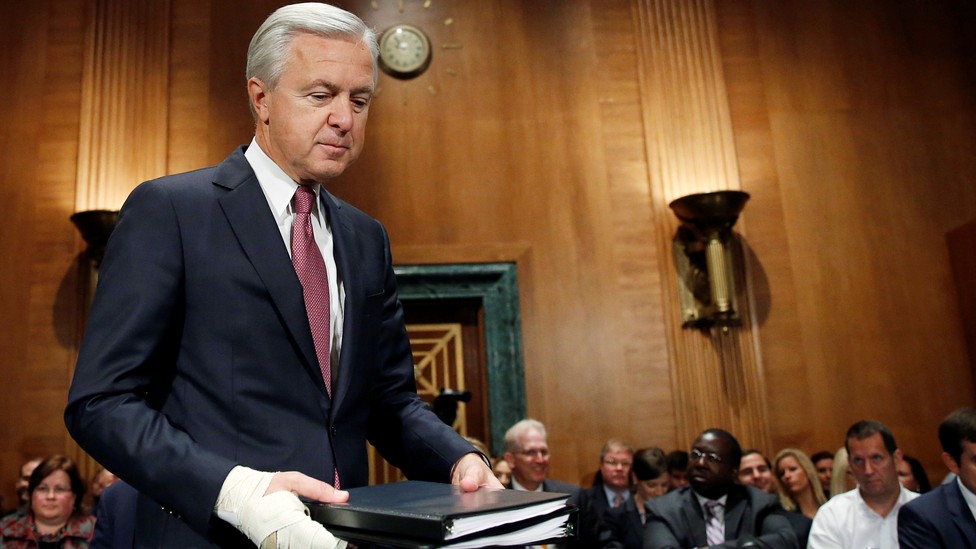 NEWS BRIEF In light of a scandal that has rocked one of the leading banks in the U.S., Wells Fargo CEO John Stumpf will not collect $41 million in stock awards, nor will he accept any bonuses this year.
Stumpf was harangued last week by the Senate Banking Committee for his company's widespread practice of creating phony bank and credit-card accounts to collect fees. Senator Elizabeth Warren, a Massachusetts Democrat, told him he should resign and give back all the money he made while the scam was going on.
The company fired 5,300 employees who were involved in the scandal, while U.S. and California regulators fined the company $185 million.
On Tuesday, the company announced Stumpf would not collect much of his salary this year while Wells Fargo conducts an independent investigation into its sales practices. Stephen Sanger, the lead independent director of Wells Fargo's Board of Directors, said in a statement:
We will proceed with a sense of urgency but will take the time we need to conduct a thorough investigation. We will then take all appropriate actions to reinforce the right culture and ensure that lessons are learned, misconduct is addressed, and systems and processes are improved so there can be no repetition of similar conduct.
Carrie Tolstedt, the head of the Wells Fargo division where the phony account scheme took place, has since left the company. She did not collect $19 million in stock awards, nor did she collect a severance that all would have added up to $124 million.
The Labor Department also announced Tuesday that it would start an investigation into the company's sales practices to determine who encouraged the fraudulent practices that lead to this scandal.
But Stumpf has not been left in dire financial straits as a result of these probes. As CNN reports:
Wells Fargo paid Stumpf $19.3 million in total compensation for 2015, in part due to the bank's growing number of accounts. An intense focus on adding new accounts, former employees say, led to a pressure-cooker atmosphere at Wells Fargo.

Last year, Stumpf received $4 million in awards for factors that included "primary consumer, small business and banking checking customers" that year. Wells Fargo also rewarded Stumpf last year for his success in "reinforcing a culture of risk management and accountability across the company."
Stumpf will sit before the House Financial Services Committee on Thursday, where he is again expected to face fierce criticism from lawmakers.