The Van Gogh Paintings Found in an Italian Mafia Country House
Police were investigating an international drug ring when they discovered the stolen artwork.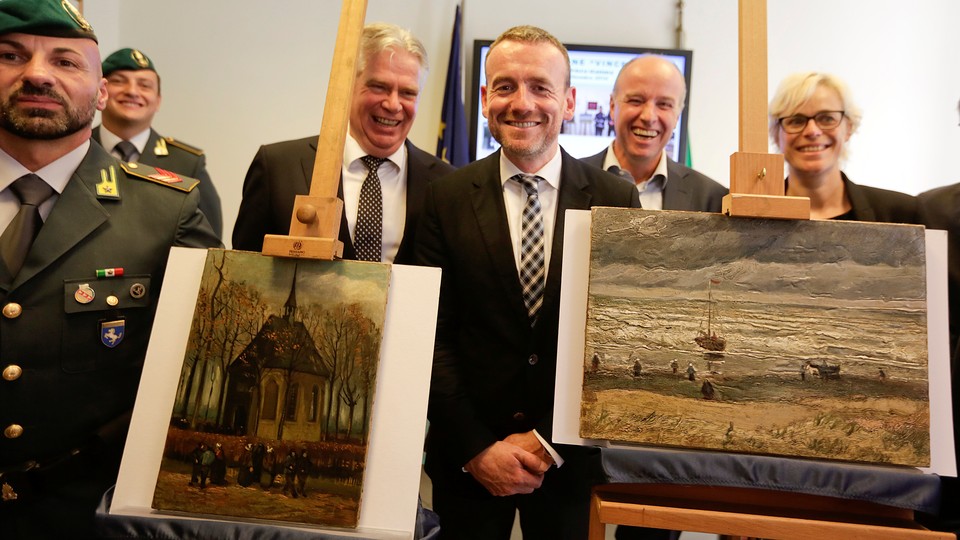 NEWS BRIEF More than a decade after they were stolen in a museum heist, two priceless Van Gogh paintings were recovered in the home of a man linked to an international drug-smuggling ring, Italian officials announced Friday.
"The paintings have been found!" Axel Rüger, the director of the Van Gogh Museum, said Friday in Naples. "That I would be able to ever pronounce these words is something I had no longer dared to hope for. … We have been waiting for this moment for 14 years."
The paintings, "Congregation Leaving the Reformed Church in Nuenen" and "Seacape at Scheveningen," first went missing in 2002 after it was discovered that two thieves managed to climb onto the roof of Amsterdam's Van Gogh Museum, break into the building, steal the paintings, and escape using a rope—all without being detected by the museum's guards or security system. The FBI listed the heist among its top 10 art crimes.
Italian police recovered the paintings during a raid of a Naples country house belonging to Raffaele Imperiale, a 41-year-old businessman linked to the Amato-Pagano clan, one of Italy's notorious mafia groups. According to Reuters, police were first tipped off to the location of the paintings after arresting 11 of the group's suspected members. Imperiale, however, remains at large and is believed to be hiding in the United Arab Emirates.
A video of police extracting the artwork from the home, where they were hidden behind a mirrored wall, can be found here.
Museum officials confirmed the authenticity of both paintings, which they said remained in relatively good condition despite minor damages. When the stolen artwork will be returned to the museum in Amsterdam has not yet been determined.