Suspending Aid to Syria
The decision by the UN comes a day after an airstrike struck a humanitarian convoy.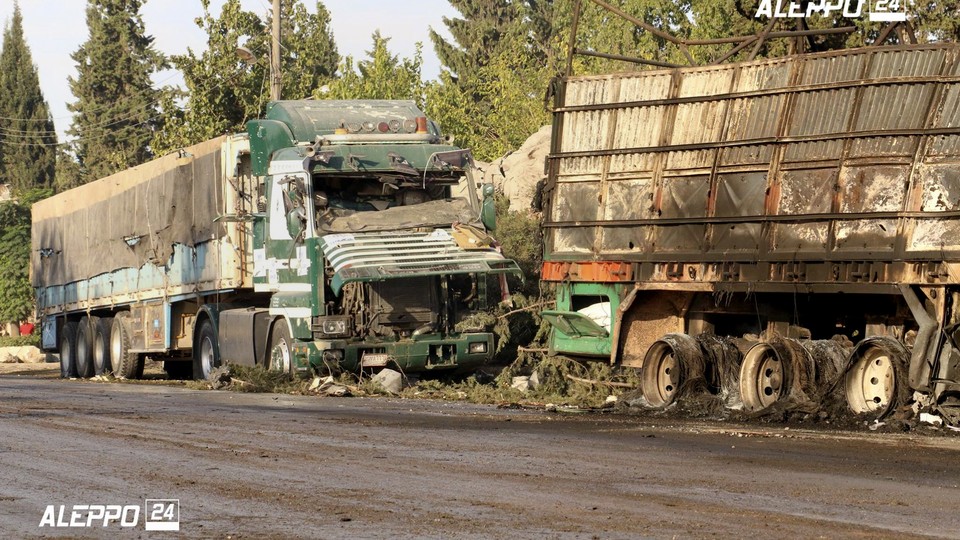 Updated at 2:31 p.m. ET
NEWS BRIEF The United Nations said Tuesday it's suspending humanitarian aid to Syria a day after an airstrike—carried out allegedly by Syria or Russia—struck an aid convoy headed to Aleppo.
"As an immediate security measure, other convoy movements in Syria have been suspended for the time being, pending further assessment of the security situation," Jens Laerke, a spokesman for the UNOCHA, the UN humanitarian office, said in Geneva.
Monday's airstrike, which killed at least 12 people, including Omar Barakat, the head of the Syrian Red Crescent, came after the collapse of the weeklong Syrian cease-fire brokered by the U.S. and Russia. The government of President Bashar al-Assad accused rebel groups of using the truce to mobilize fighters and attack government-held positions; the rebels blamed the government for violating the agreement, which was supposed to allow aid groups into some besieged towns. Add to these accusations a U.S. airstrike over the weekend that killed about 60 Syrian soldiers. The U.S. said the strike was accidental, but both Syria and Russia, which backs Assad, have questioned that version of events; Syrian groups have the reported heavy bombing of neighborhoods in rebel-controlled areas since the collapse of the cease-fire.
The UN said the humanitarian convoy was headed to Aleppo with supplies for about 78,000 civilians, who last received aid in July, when it was struck near the city, destroying 18 of 31 trucks. The Syrian Observatory of Human Rights, a London-based monitoring group, said the convoy was hit by either a Russian or a Syrian airstrike. Both sides denied they had anything to do with the strike. The London-based group also said 12 people were killed.
David Swanson, an UNOCHA spokesman, was quoted by BuzzFeed News as saying all parties to the conflict knew of the convoy's route.
"With all this knowledge of [the delivery] in advance, and the fact that it was pre-planned, and the fact that all parties of the conflict were notified," he said, "how could this attack take place?" He added that it it emerged that the convoy was deliberately targeted, "then you have what can easily be classified as a war crime."
The International Committee of the Red Cross, the U.S. State Department, and UNOCHA all condemned the strike. Officials in both Moscow and Washington acknowledged that the prospect of resuming the cease-fire was dim.