The Separatists' Cease-Fire in Ukraine
Rebel leaders in the eastern part of the country say they will stop military operations starting Wednesday at midnight.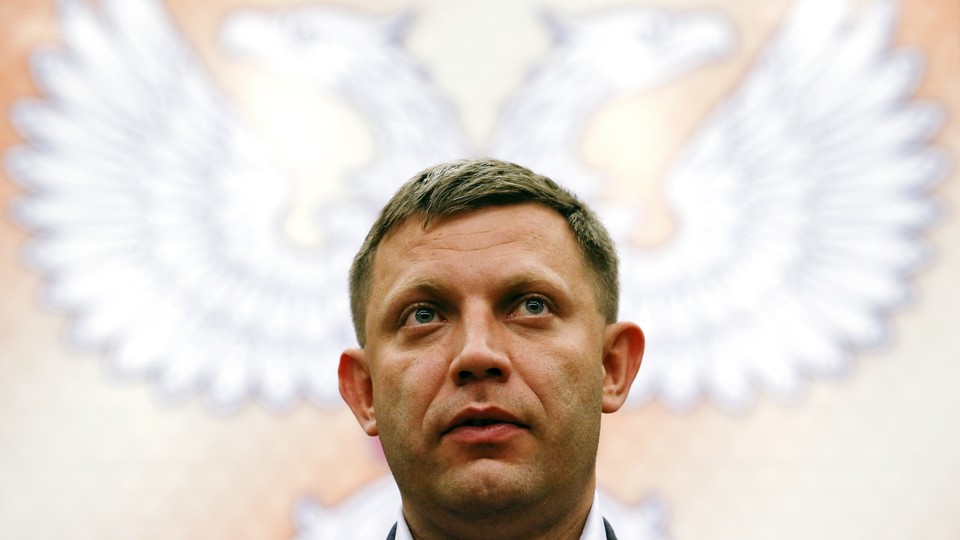 NEWS BRIEF Russian-backed separatists in eastern Ukraine announced a unilateral cease-fire Tuesday, the first to be proposed by rebel groups since violent conflict began in that country in 2014.
Alexander Zakharchenko, a Ukrainian separatist leader and the head of the self-proclaimed Donetsk People's Republic, told Russian television the cease-fire would go into effect on Wednesday at midnight local time. Zakharchenko said his troops would cease military operations at that time, and called on the Ukrainian military to do the same. If successful, it could bring a pause to the two-year conflict that has killed at least 9,500 people.
"Military units of Donetsk People's Republic do not consider it as a weakness rather than a demonstration of a good will," Zakharchenko said, according to Ruptly TV, a news agency funded by the Russian government. "In case of any violation of the cease-fire by the Ukrainian side, our units will respond in kind. We won't allow shelling of our territory to continue unpunished."
The Luhansk People's Republic, another self-proclaimed state in eastern Ukraine, also announced a cease-fire Tuesday, the Associated Press reports.
Zakharchenko gave his support for the Minsk agreements brokered last year, in which representatives of the Ukrainian government and separatist groups agreed to a number of conditions, including the withdrawal of heavy artillery from eastern Ukraine and the establishment of a demarcation line between Ukrainian forces and separatist troops. Zakharchenko called those accords "the only solution" to the ongoing conflict. But the Minsk agreements have so far failed to stop the violence.
The cease-fire announcement comes hours after Ukrainian President Petro Poroshenko said he expects parliament to vote on a constitutional amendment to extend greater autonomy to the two rebel-controlled areas in eastern Ukraine—a key concession to the two rebel groups who have long sought to assert their independence in the eastern region. Poroshenko has previously ruled out granting full independence in eastern Ukraine, warning that disunity would only allow neighboring Russia to "destroy us from within."
Poroshenko also announced his plans to meet with leaders from Germany, France, Britain, and Poland Wednesday, in which the situation in Ukraine is expected to be discussed.
The unrest in Ukraine first began in 2014 following the ousting of then-Ukrainian President Viktor Yanukovych by street protesters. Conflict flared when Russia annexed the Ukrainian peninsula of Crimea one month later, and Russian-backed separatists and Ukrainian government forces have been locked in battle in eastern Ukraine since.
In the 24 hours before Tuesday's cease-fire announcement, Ukrainian government officials said three government troops were killed and 15 wounded. One person was reported missing.