Britain's First Nuclear Power Station in a Generation
The U.K. government approved the French- and Chinese-financed Hinkley project—with caveats.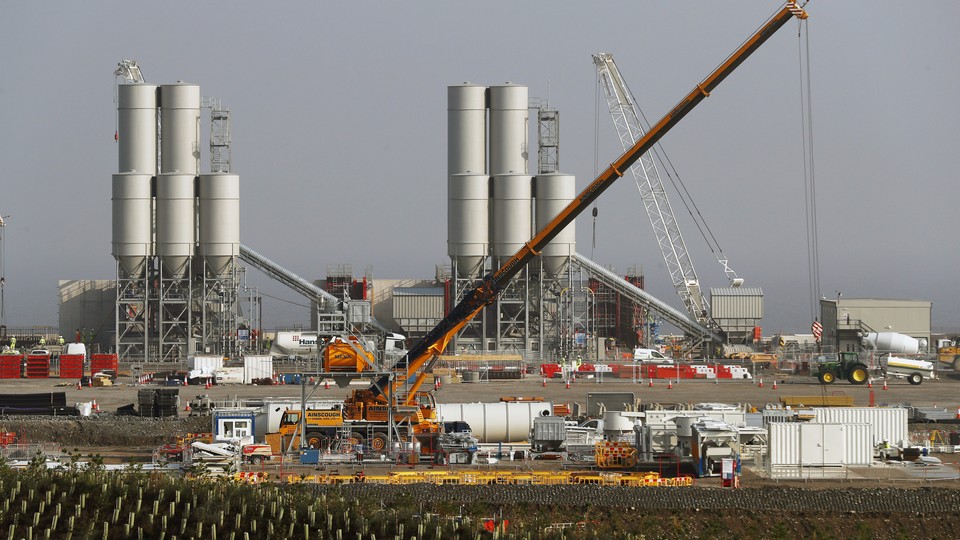 The British government has approved—with caveats—the country's first new nuclear power station for a generation, one that will be built with French and Chinese financing.
Here's more from the U.K. government on the deal with EDF, the French energy firm, on the  Hinkley Point C project:
The Government will be able to prevent the sale of EDF's controlling stake prior to the completion of construction, without the prior notification and agreement of ministers. This agreement will be confirmed in an exchange of letters between the Government and EDF. Existing legal powers, and the new legal framework, will mean that the Government is able to intervene in the sale of EDF's stake once Hinkley is operational.
What this means is the British government must approve any sale of the stake held by major investors in the project.
The project was controversial, with critics questioning the role of foreign governments building the U.K.'s nuclear infrastructure. Indeed, EDF, which is largely owned by the French state, is financing about two-thirds of the 18 billion pound (about $24 billion) project; China will pay for the rest. The BBC adds:
The Chinese agreed to take a stake in Hinkley, which will meet 7% of Britain's energy needs, and to develop a new nuclear power station at Sizewell in Suffolk on the understanding that the UK government would approve a Chinese-led and designed project at Bradwell in Essex, which has raised questions over national security.
The Hinkley project is expected to create more than 25,000 jobs.