A Manslaughter Charge for the Cop Who Shot Terence Crutcher
Tulsa Officer Betty Shelby faces a minimum of four years in prison if she's convicted in the death of the unarmed black man.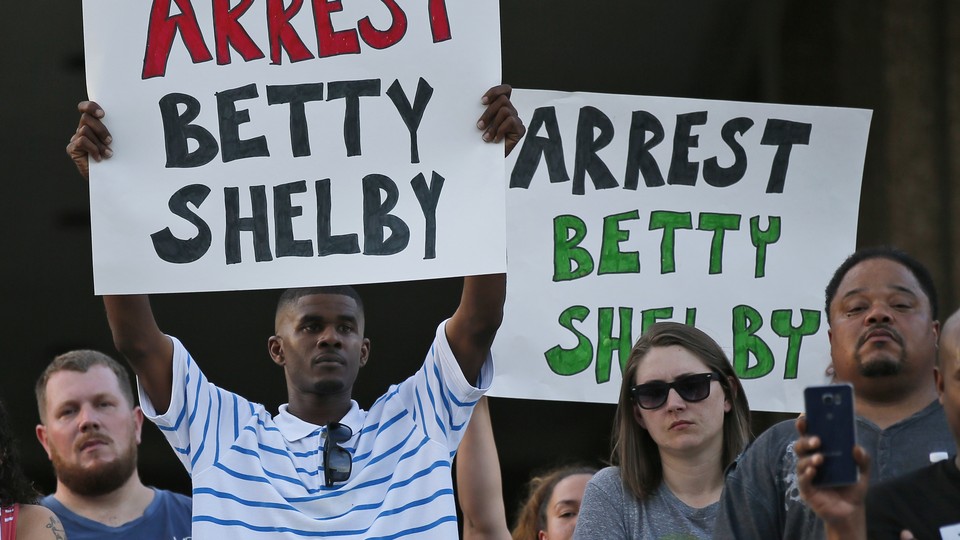 Tulsa Police Officer Betty Shelby, who on Friday shot and killed Terence Crutcher, has been charged with felony first-degree manslaughter, the Tulsa County district attorney announced Thursday afternoon.
If convicted, Shelby would face a minimum of four years in prison, and a maximum of life. Oklahoma law differentiates between murder and manslaughter largely on the matter of intent; manslaughter in most cases is homicide committed without the design to kill. In an affidavit, District Attorney Steve Kunzweiler wrote:
Your affiant feels that Officer Shelby reacted unreasonably by escalating the situation from a confrontation with Mr. Crutcher, who was not responding to verbal commands and was walking away from her with his hands held up, becoming emotionally involved to the point that she over reacted.
Kunzweiler said a warrant had been issued for Shelby's arrest, and that negotiations were under way for her to surrender to the Tulsa County Sheriff.
Crutcher, who was black, was unarmed and had his hands up when he was shot. Shelby, who is white, gave a statement after the shooting saying that she feared for her life. She was placed on paid leave after the shooting. Shelby has worked for the Tulsa Police since 2011. Before that, she was a county sheriff's deputy.
The charges against Shelby come unusually quickly—just six days after the shooting. Prosecutors tend to move particularly deliberately in cases involving police officers. In several high-profile deaths at the hands of police, prosecutors have opted to take cases to grand juries rather than to bring charges themselves. But Kunzweiler said he had made his determination after reviewing video from dashboard cameras and a helicopter as well as 911 calls.
Tulsa Police on Monday released footage of the shooting, which was captured by a police car's dash cam and which showed Crutcher walking away from officers with his arms raised over his head. His death, paired with the shooting of Keith Lamont Scott in Charlotte, North Carolina, has returned the matter of police killings of black people and particularly black men to the headlines. Tulsa has a long history of racial tensions, including one of the largest race riots in the nation, in 1921. In that incident, a white mob descended on the city's black quarter, killing hundreds and destroying the neighborhood.